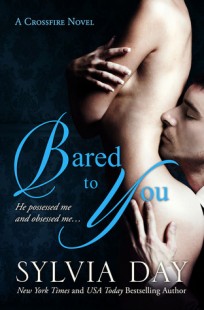 Bared to You
(
Crossfire #1
)
by
Sylvia Day
Purchase on:
Amazon
, 
iBooks
Add to:
Goodreads
I don't know how I feel about this book. There are a lot of factors that influenced my rating. For one: I stopped in the middle of this book to start another book I REALLY wanted to read and could not wait to start..so that's not really giving this book a fair trial. I do think it says something that I could so easily leave this book, though.
I actually was surprised at how interesting and well-written it was at first, and I really liked Gideona and Eva.
But some things bothered me the more I kept reading, but I will stay with the positives first:
Like I mentioned before, I did like the characters a lot. I loved Cary, Eva, Gideon, etc. I didn't even mind Magdelene, since she wasn't such a beyotch near the ending. I liked that Day didn't make it totally BDSM. I know, I know, when I started the book I expected it to be that way and when it wasn't I really enjoyed it. So when Gideon eventually led into the "you're submissive…", I had to roll my eyes-maybe because I thought it wasn't going to happen because most of the book was over when it did happen. I know when people start this book they like that aspect of erotica, but I guess that is the one thing about Fifty Shades I would liked there to have been less of. So to the point: I did not mind the way Day ended up making the Dom/Sub relationship. It wasn't overly done and I liked that.
I really don't know why I became more disappointed toward the ending, and this is the part where I can't be totally fair. I DID interrupt the story to read another book, so this in turn did interrupt the proceedings of the novel. I can't put a finger on why this wasn't five stars, because when I first started reading I was hands down-"Oh this is better than Fifty Shades," and "This is definitely 5 stars..". I left this story, read a HANDS DOWN five star book, and I truly believe it made this less of a 4 or 5 star read for me.
Soo I will not analyze why I disliked parts of this book, because in a circumspect thought process, I was thinking about a totally different series and how I wish the next novel in THAT series was out so I could be reading that.
Overall a decent read, and it had a lot of promise. Maybe the next in the series will delve into their problems and make them a more steady, complete couple.
Related Posts