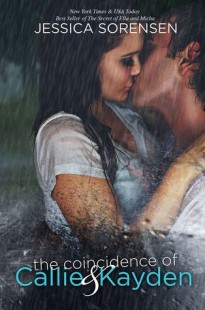 The Coincidence of Callie & Kayden
(
The Coincidence #1
)
by
Jessica Sorensen
Purchase on:
Amazon
, 
iBooks
, 
Book Depository
Add to:
Goodreads
Wow, an absolute page turner…I only started this novel because I was bored and then I just couldn't put it down-Isn't that always how it happens? I finished it in less than a day.
A story that can be explained as both tragic and happy, where two people truly "meet" under the worst of cirumstances. They are forever imprinted into each other's lives, never to forget not only that one circumstance that fatefully pulls them together, but all the events that lead up to it. They both have dark secrets and scars (both physical and mental) to show for those secrets, and no one who has truly cared to know what's beneath Kayden's scars or Callie's sudden baggy clothing meant to shield herself from the rest of the world.
They both have crutches that help them to get through their dark times, and it truly horrified me that they felt they needed to do these things to feel alive again. It saddens me to think of all the people in plain sight that feel they have no one to turn to for emotional support or help, that they feel they need to do these things..it's heartbreaking. And that's the way I felt the whole novel, just when one of them would experience something happy, they would go to a dark place, much like how their lives were at certain points of time.
The whole novel keeps leading up to a dramatic ending we know is coming, but it doesn't effect the shock factor of what comes to be, despite us knowing that we are being lead somewhere we don't want to go. The final words give me the chills, finalizing what happens with a bang.
So until the release of the second novel, I'll be waiting and hoping for the best in the second book, because I don't think I could survive another brutal cliffhanger like this one.
Related Posts