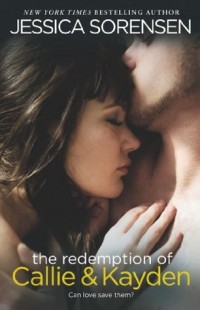 The Redemption of Callie & Kayden
(
Coincidence #2
)
by
Jessica Sorensen
Purchase on:
Amazon
, 
iBooks
Add to:
Goodreads
Oh my gosh, it pained me to rate this any less than 5 stars, but when it doesn't do it for you, it just doesn't do it for you. I was ecstatic to start Redemption after the cliffhanger we were left with in book 1. I had waited for most of the summer and was getting anxious to see Callie and Kayden's fate. What I didn't realize when I started reading was that I was in for a lot of "rinse and repeat".
The last thing I see before I pass out is the most beautiful blue-eyed, brown hair girl I've ever laid eyes on. The only girl who's ever owned my heart and I hold onto the image with every ounce of strength I have. Otherwise, I'd probably lose the will to breathe.
I loved the beginning of this book. My status updates make it quite clear I was really enjoying myself. Kayden was as sweet and vulnerable as ever, and Callie was determined to make sure Kayden had the best life he could possibly have. I was highlighting like crazy-I could hardly finish a page without having to stop and make a mark so I could go back and re-read all the sweetness that stained these bitter pages.
Seth: We'll be there in a little bit. We had to stop at the store.
Me: For what?
Seth For stuff.
Me: Is something wrong?
Seth: No…we just think you two might need a few minutes to yourselves.
Me: When will you be here?
Seth: Soon. And remember: Skittish cat.
But then something happened-No, wait, and then the repeating happened. For those who truly just sped through this book and swore to ♥ it 4eva, this was a subtle detail that they will probably never notice-and while I was/wanted to continue to be one of those girls, I couldn't. How many times can one thing happen in a story before it gets redundant? How many times can you run from someone who cares about you, straight into a home where you clearly aren't loved or cared for? I know there is absolutely no way I can begin to understand what it's like for the victims of these horrible circumstances, but if someone makes it clear they love and want to help me….I'm most likely not going to run away 20 times. Maybe a couple, sure, I'd try to be noble, but there comes a point and time where you have to realize who's trying to help you and who could give a shit about you. It took our main man quite a while to get his ducks in a row, and I about went mad waiting for it to happen.
I can't say it's all Kayden that attributed to my annoyance level. But I also can't say that Callie did anything wrong…per se. She was insistent with Kayden, which, I suppose you have to be with someone who needs help and is going through a very dark time, but the dialogue did get a tad obnoxious.
I don't know. Maybe something is wrong with me. It was a cute story, I just wanted more from it, but maybe in this case: less is more. Had this story been 50 pages shorter, more condensed, I believe Callie and Kayden's struggle would have had a stronger impact, a deeper level of sorrow and struggle, therefore leading to a more uplifting redemption. Left as is, I felt the pages dragged a little and I found myself thinking of other books and what I was going to be reading next. It's a shame, because this story had so much going for it, so much potential to be something great.
All in all, a cute read. I had missed Kayden and his loyal demeanor, how he cared so much for Callie and what he would do to keep her safe and happy-even at his own expense, even in this second installment. It's adorable and commendable, but not enough to make me love this story. There has to be more than a character's personality and supposed good looks to make a story whole and complete, and for me, this story was just a multiple repeat of the same scenario, different situation. I wish this book nothing but the best, but it just wasn't a win for me.
Related Posts