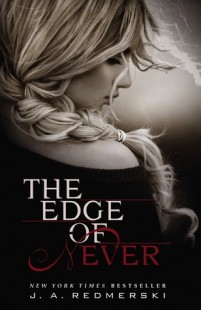 The Edge of Never
(
The Edge of Never #1
)
by
J.A. Redmerski
Purchase on:
Amazon
, 
iBooks
, 
Book Depository
Add to:
Goodreads
I, for lack of better words, WAS IN A GLASS CASE OF EMOTION near the end of this book. The world dropped from beneath my feet and I thought I was going to die-yes, literally die.
Words cannot express how much I loved, no..wait, hold on-LOVE Andrew Parrish. He was the sweetest, most endearing guy I have read about in a long time.
His passion for life was so refreshing and I found myself drawn deeper and deeper into his story. Never one to hold back on the things he wanted to do with his life, he pushes Cam into uncharted territory where she can explore her innermost passions and desires. What Andrew doesn't know is that Cam will do the same for him, in ways he never imagined possible.
I really enjoyed the journey from when they first met, ummmmmm buy me a bus ticket please…., to the finale of their road trip. The whole novel I just couldn't put my finger on what Andrew's secret was, and the closer we got to finding it out, I was getting increasingly anxious- rightfully so, I might add. I never even saw it coming. Shame on me.
Anyone who picks up this novel will be drawn to the path of self discovery Camryn and Andrew face, bringing out the best of each other. I absolutely adore and fall in love with climactic endings with a bang, and while it isn't an action filled bang, it is a large bang indeed and I couldn't help but to be pushed over the edge of loving this book.
Related Posts