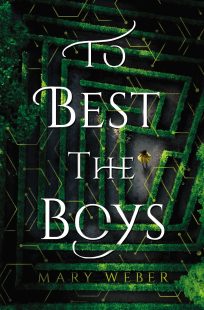 To Best the Boys
by
Mary Weber
Purchase on:
Amazon
, 
iBooks
, 
Book Depository
Add to:
Goodreads
Synopsis:

Every year for the past fifty-four years, the residents of Pinsbury Port receive a mysterious letter inviting all eligible-aged boys to compete for an esteemed scholarship to the all-male Stemwick University. Every year, the poorer residents look to see that their names are on the list. The wealthier look to see how likely their sons are to survive. And Rhen Tellur opens it to see if she can derive which substances the ink and parchment are created from, using her father's microscope.

In the province of Caldon, where women are trained in wifely duties and men are encouraged into collegiate education, sixteen-year-old Rhen Tellur wants nothing more than to become a scientist. As the poor of her seaside town fall prey to a deadly disease, she and her father work desperately to find a cure. But when her Mum succumbs to it as well? Rhen decides to take the future into her own hands—through the annual all-male scholarship competition.

With her cousin, Seleni, by her side, the girls don disguises and enter Mr. Holm's labyrinth, to best the boys and claim the scholarship prize. Except not everyone's ready for a girl who doesn't know her place. And not everyone survives the maze.
Review:

What do you want?
I want my mum to live.
I want the right to earn an education.
I want to be the first female scientist.
I want to create my own happiness.
I want . . .
Okay this was a really interestingly good book. Like I almost don't even know how to begin this review???? This is another case of me starting an ARC, being interrupted and reading a million other books, and then finally finishing it. Luckily, I finished the last 52% today all in one sitting so it's still really resonating with me at this moment.
I think the biggest thing that stuck out to me was the writing. Weber is a new-to-me author so I really had had no idea what to expect. Sometimes though, you can tell right away whether or not you are going to like an author's writing or not. With this book, I literally was entranced within the first paragraph. I can't really put my finger on what it is about it but I can tell you right now that it was quality writing. I'm actually really happy I immediately thought of the word entranced to describe it. I think the same can be said about the actual story, too.
Like…..it was just so unique. There were times throughout the book where I found myself very interested in this world that Weber created because it all could feel very foreign at certain points but never in a way that made me feel disconnected. At times the language that was used and customs that were mentioned seemed to be a nod at almost a medieval, old fairy tale kind of place??? They all referred to each other and Miss and Mr and women were expected to just become mothers and wives but then Rhen and her father also worked on vaccines and she experimented on rats and dead bodies and there was a king and also an eccentric old man who no one had ever seen but hosted a game within a labyrinth and all these other things that kind of didn't make sense together but also weirdly meshed and made sense and the same time. That was an incredibly long and convoluted sentence but that's also how I felt reading this at times lol. BUT NOT IN A BAD WAY! That's why it's so hard to explain!
So basically I'm just going to stop trying so that you can pick this book up for yourself and be sucked into this new world and be entranced yourselves!
I will say this, though. I LOVED the characters. Rhen was so amazing and was a genius (while also having dyslexia and never letting it slow her down). She never tried to be anything other than who she was or tried to pretend like her interests (medicine and science and dead bodies) were any different to impress ANYONE. In fact, I loved that when she was truly happy she seemed to word vomit facts about the human body and it made me laugh and love her a little more every single time. Seleni and Beryll, too, were interesting and well fleshed out and I LOVED how Seleni always supported her cousin to the very end. And Lute. OH LUTE. BBF. Like from the very first time he was mentioned I knew I was going to love him and he never let me or Rhen down. Ugh what a dream boat. 
This, overall, is just purely a tale that warmed my freakin heart. I loved every single bit of Rhen and what she achieved over the course of this book (just all sorts of women empowerment in general). I loved that she didn't have to sacrifice any bit of her happiness at the end, either. I was worried she might have to for a hot second. I also loved that note from Weber at the end explaining that certain characters were representative of people in her own life (Rhen having dyslexia and Lute's brother having what seemed like autism to me). So while those things might seem different to other people who have dyslexia or know people with Down syndrome and autism, these specific characters and traits came from the people she knew and loved. I had an uncle with Down syndrome and he lived with my parents and me for the last four years of his life when I was in high school and community college. You don't know what it's like to be a caregiver to someone with those special needs unless you actually are one. Even with this challenges and specific quirks, I LOVED having him with us because it meant that I now have a better understanding and love for people with Down syndrome. I loved him more than almost anyone in my entire life so knowing Lute acted as caretaker for his mother and brother like that made me love him so much more than I already did. 
Gotta wrap things up before this gets too crazy long but I also kind of liked that this was a standalone? Or is it??? Seems like it is. I haven't read a great fantasy standalone in who knows how long but everything was tied up perfectly in my opinion. I very much recommend! 
"You take this world and make it what it should be. And don't let the beliefs of a backward system define you. You are the one who has to live with the future, baby girl. So you live it. You understand?" 
I received a complimentary copy of this book from Thomas Nelson through NetGalley. Opinions expressed in this review are completely my own.♥
Giveaway:
✮ Enter to win 1 of 2 finished copies of To Best the Boys by Mary Weber (1 INTERNATIONAL winner & 1 US ONLY winner)
About Mary Weber:
Hi. I write books. I eat things. I kiss things. I believe in mermaids.

 

I'm also the author of the Storm Siren Trilogy, The Evaporation of Sofi Snow series, and the March 2019 release, To Best the Boys. When not working, I sing 80's hairband songs to my three muggle children, and ogle my husband who looks strikingly like Wolverine. We live in California, which is perfect for stalking aging movie stars while wearing fanny packs and sweatpants.

 

For those who like to know such things (mainly my mom), Storm Siren was featured in the Scholastic Book Fair and my novels have been endorsed by such nice humans as Marissa Meyer, CJ Redwine, Shannon Messenger, and Jonathan Maberry (in fact, Marissa Meyer and I have a fun interview in the paperback of her book, CRESS). Also, Boba tea & sweatpants are life. {We can chat about life (in sweatpants over tea, obviously) in my 

Newsletter

.

Website I Twitter I Instagram I Facebook I Pinterest I Goodreads
Related Posts