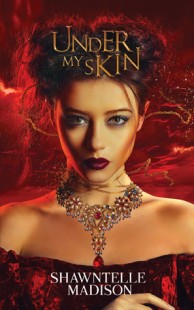 Under My Skin (Immortality Strain #1)
by Shawntelle Madison
Purchase on: Amazon, iBooks, 
Book Depository
Add to: Goodreads


Synopsis:

Everyone wants to either be a member of the Guild or work for them. Little does the populace know that the Guild hides sinister secrets...

For Tate Sullivan, life in her small, coastal town is far from glamorous. The affluent lives of the Guild members and their servants isn't something she has ever wanted. But all sixteen year-olds must take a simple test, and Tate's result thrusts her into the Guild's world, one where they hide horrible plans for those they select. Tate must fight the relentless General Dagon for control of her mind, body, and soul to keep the one precious thing she has always taken for granted: herself.

Her only ally is the same handsome boy she is pitted against in General Dagon's deadly game. Quinn desires nothing more than to end the life of General Dagon who has taken over Tate's mind. While romance blooms between Tate and Quinn, General Dagon plots to eventually take over Tate's body, and love might end before it even begins.
Well, well… How can I do justice to that original and alluring book?
First I think I can say without a doubt that the writing is compelling, as it was such a page turner for me – even with the sleepy way I acted the whole week – Last event : falling asleep on my couch and waking up in the middle of the night, believing my boyfriend who said to me it was 7a.m. Yes. I was that tired.
Second I grew fond of these characters : We follow Tate's journey in the Guild, and well, that's difficult to tell you more without spoiling you – really difficult – but let's say she has a hard time staying herself and to see her fight for her believes is truly fascinating and heart-breaking, as slightly creepy her situation is. Because trust me, that's f*cking creepy. That kind of horror which brings me chills. Not ghosts. Not vampires. Not even a doll or a clown, and the whole world knows how much I'm afraid of those bulging eyes – What? Aren't you?
No. Just the very kind of monsters I despise the most, the regular ones : those who walk on two legs, you know, humans.
So, Tate. She's not far from the kind of heroines I love the most : strong-minded, courageous, yet relatable because she goes through moments of doubts – and trust me, she does has valid reasons to. Yet she's a fighter, and I'm always incredibly pleased to see that side in a character.
Therefore, do I want more female leads like Tate in the books I read?
☛ Yes, pretty please.
As for the love interest, hummm. 3 words, guys : Master. Of. Blades.
"Die trying?" Wow, he was a piece of work.
"Isn't that a bit harsh, Captain Belfry?"
" That's the reality of your situation. The name's Quinn, by the way."
Whaaaat? Don't you see where I go with that? Come onnnn. Master. Of. Blades. Nope? Is it only me? Naaaaah, I can't believe that. Okay, let's move on.
Quinn is such a mysterious character. Apart from the fact I told you before (master of blades, you know, and no I'm not obsessing here. Nope), I must admit we spend the major part of the book without learning many information about him. But even if I get it can be taken as a flaw, it never really bothered me because I loved every single apparition of him. He even succeeded in waking me up when I struggled to keep my eyes open. Yes. He had that effect on me.
I sighed. "Still offering me an out? You make a great hero, Quinn."
"All in a day's service."
Plus, I kind of share his vision of the dreadful effect the power has on people, even if well, that's pretty pessimistic : it reminds me of Stello, a classic French book from Alfred de Vigny I studied when I was in college : one of the main character, the "Docteur Noir" – black or dark doctor, explains that in his opinion if we'd choose any person and give him too much power, that person could become a tyrant, no matter how kind he's been at first.
Yes, that's depressing and yes I think it's almost always true.
"He laughed. "You still believe in the human race. I like that about you. But that's not the way the real world works."
Oh, and before I forget : no instalove, no What-is-the-plot-I-don't-care-I-saw-a-cute-boy-let-me-dream-of-his-eyes. Quinn is here, he's interesting, even adorable sometimes, but he never owns the show. Tate does.
Let's talk about the plot : In a word? Captivating. And, yes, that's the only thing you'll get because I strongly believe the book is actually better if you begin it without any clue. So nooo, that's not because I'm lazy. I guess.
Why didn't I give it 5 stars though?
– The lack of world-building. No, that's not right. The lack of world exploration : I might be harsh about it because the plot is wrapped in a way which leaves no room for a world exploration so what I see as a flaw can easily be explained and more than that, justified. But that's a dystopia and in that kind of book I'm willing to discover a new world and I'm not very indulgent with the lack of details, where many readers might not care about it. Yet this is the first book of a trilogy, so I might change my rating in the future if the sequel provides what I missed here.
– I didn't laugh. I know, I knooow, all the books aren't written to make me laugh but still, it stays something I seek out in the books I read and that's definitely a plus this one didn't offer me. How can I explain? In dystopias, and harsh stories in general, I need bubbles of laughter to reduce the pressure. What can I say? Funny comments are one of my main peeves.
With this being said, let me answer to the two most important questions :
Would I recommend it? Absolutely.
Will I read the sequel? What don't you understand in the words "kind of heroines I love" and "Master of Blades"? Huh?
*** ARC provided by Netgalley in exchange for an honest review ***

Giveaway:
Related Posts