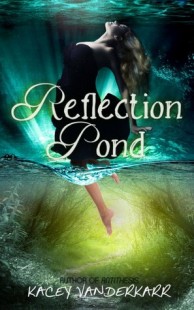 Reflection Pond
(
Reflection Pond #1
)
by
Kacey Vanderkarr
Add to:
Goodreads
Synopsis:

Sometimes you find home, sometimes it comes looking for you.

Callie knows a lot more about pain than she does about family. She's never belonged, at least, not until she falls through a portal into her true home. The beautiful faerie city of Eirensae doesn't come free. Callie must find her amulet and bind herself to the city, and most importantly, avoid the Fallen fae who seek her life. Seems like a small price to pay for the family she's always wanted.

Then she meets cynical and gorgeous Rowan, who reads the darkness of her past in her eyes. He becomes Callie's part-time protector and full-time pain in the ass. He has secrets of his own for Callie to unravel. What they don't know is that the future of Eirensae lies with them, and the once peaceful city is about to become a battleground for power.

Book One - Reflection Pond (FREE on Amazon):
Amazon│Barnes & Noble

Book Two – Poison Tree:
Goodreads│Amazon│Barnes & Noble
Review:
Faeries, murder, magic.  How  the hell did she end up in the middle of it?
Callie is running away from the horrors of having her boyfriend touch her.  She doesn't want him touching her body, she doesn't care how crazy looks, she just needs to escape.  Lost in her rash decision and being caught up in the moment, she dodges an oncoming vehicle and falls into a pond.  The pond is a portal for her kind, and it leads her to Eirensae and two boys, Ash and Rowan.  Callie is now on a path to discover who she is and what the future already has in store for her.
Save
Save
Related Posts
I am so excited to be a part of Reflection Pond's Blog Tour because this was such a fun book to devour! Below you will find my Review, a Giveaway and go grab a copy of the book today, because it is free on Amazon. Enjoy!