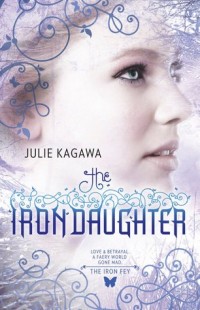 The Iron Daughter
(
The Iron Fey #2
)
by
Julie Kagawa
Purchase on:
Amazon
, 
iBooks
, 
Book Depository
Add to:
Goodreads

I'd sacrificed everything-family, home, a normal life-for the stupid greater good. I had worked so hard; I was trying to be brave and mature about everything, but now I had to watch while the thing I loved most was killed in front of me?

It's so hard to write reviews for series that you are consecutively reading, especially if you don't have access to an internet or computer on the weekends like me. So hopefully I can separate the two books I've been reading so close together so that I can assemble a somewhat coherent review. It turns out that after book one of this series, I have been hooked and unable to put these down no matter what I'm doing or who I'm ignoring.
When you can't breathe, each second feels like an eternity.
The Iron Daughter was, for me, on a whole different level than book one.
Now, I loved the end of TIK, but compared to the action and forbidden romance and heartache in book two, there just isn't a competition for me. In this installment, we start off with Meghan upholding her end of the bargain-she is residing in the Unseelie (winter fey) palace and unable to leave because of her promise to Ash (promises/pacts/vows) which can't be broken once made. But, aside from that, she doesn't want to break it-she has fallen in love with Ash and wants nothing more than to face the world with him at her side. There's just one problem-once they reached the winter court, Ash no longer shows his affections for Meghan and has started treating her with disgust and disdain. He is once again the icy prince she first met not so long ago and she doesn't know what to make of it-didn't he share the same feelings as she? Was he not the one who saved her countless times and risked his life for her? And the biggest question: Is he just acting for the winter court to keep her safe, or was it all an act with her…to get what he wanted out of the bargain?
What would I do now? Ash despised me. Everything he'd said and done was to bring me to his queen. He was a cheat. He'd used me, to further his own ends. And the saddest part was, I still loved him.
One thing I will say is that Meghan started out a little like a lovesick puppy, but it never really annoyed me as it did others. She is hurt, confused, and she doesn't know what she will do in the freezing palace without her ally, the boy she fell in love with. Being that she is of the summer court, she is in an environment that is hard to live in and the winter fey are less than receptive-constantly trying to toy with her, cause her problems, taunt her with her claims of love for the unattainable prince and how he could never love her in return-she has never felt more alone.
I didn't want to face him now. I didn't want to think that he could be gone from my life forever, vanishing into a world where I couldn't follow.
Ash, again, stole the show for me. He is brooding, mysterious, protective, and lethal-we didn't get him 100% of the time, but we got enough of him that I was more than happy. His decisions and proclamations of love were so swoon-worthy that I had to settle down and just. Stop. highlighting. While Ash appeared stubborn at first, we get to see his emotions unfold as the journey progresses and it makes it all the sweeter when we reach the climactic and (woot woot) perilous conclusion.
"Forgive me," Ash murmured, and I heard the faintest of tremors beneath his voice. "But I can't…I won't…give her up. Not now, when I've just found her."
I am so beyond ecstatic that I found Julie Kagawa and her magnificent writing. It has been a while since I have found a book that has that perfect mix of romance, action, suspense, forbidden love…and a totally handsome prince who keeps my mind occupied way more than he should. When was the last time I've been so excited after a book….oh wait, wasn't it? Yes. Yes it was-it was her otheeerrr series (The Immortal Rules, The Eternity Cure) that had me desperate for more. What I love most about Kagawa is that while she throws in additional love interests, her main characters know what they want. They might look at the prospect of what else there is, but they don't veer from what they want and need-there are no senseless love triangles or unnecessary drama. Every problem has a place and she pieces it together seemlessly. She weaves such beautiful strings of words together that continue to mesmerize and render me useless. I love this author and I love what she does with her worlds. There is no lack of creativity and there is no dilemma the same.
"…Make your choice."
Ash looked at me. I saw pain in his eyes, and a little regret, but they shone with such emotion I felt breathless. "I already have."
Sooo here I am in the middle of book three and I'm still completely satisfied. The fantasy has stayed even with the other elements and kept me completely at ease in my comfort zone. Now, I can only continue and hope that nothing horrible happens (well…..nothing tooooo horrible hahaha) and that we keep getting Ash and Meghan time…because I am completely and utterly hooked on their adorable relationship and the dangers they face because of it.
"They see only this outer shell, not who I really am, beneath. You have. You've seen me without the glamour and the illusions, even the ones I show my family, the farce I maintain just to survive. You've seen who I really am, and yet, you're still here." He brushed his thumb over my skin, leaving a trail of icy heat. "You're here, and the only dance I want is this one."

…..Final thought-one of the new characters tore my heart completely open and left me speechless with the loyalty that came with that alliance-HE is not one to be missed and is a completely fun addition to this compelling series. That is all…
Related Posts