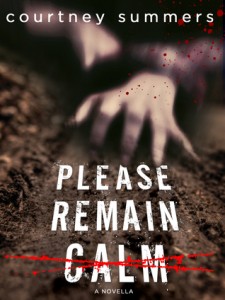 Please Remain Calm
(
This is Not a Test #2
)
by
Courtney Summers
Purchase on:
Amazon
, 
iBooks
Add to:
Goodreads
Synopsis:

In this gripping sequel to THIS IS NOT A TEST, Rhys and Sloane are headed for a safe haven when they get separated along the way. Rhys is determined to reunite with Sloane until he discovers people who might need him more--people who offer him the closest he'll get to everything he's lost, if they can just hold on long enough.

Rhys thinks he has what it takes to survive and find the girl he lost, but in a world overrun by the dead, there are no guarantees and the next leg of his journey will test him in unimaginable ways ...
There's not much to say that hasn't already been said in my review for This is Not a Test. But I do think there were some small differences that clearly showed a distinction between the two, so it deserves it's own review. For instance, if you thought the first book was heartbreaking, you're in for a whole new world of hurt. And if you thought you saw quite a few zombies before?? Think again.
People aren't supposed to be able to fathom eternity. It's an amount of time beyond all human comprehension. But ever since everything ended, I think I'm getting closer to understanding it. These little tastes of it in the way hell stretches around us, making pain endless and moments like this one rare and fleeting.
Making moments like this one everything.
This novella takes place right where we left off in book one. Rhys and Sloane are traveling to the 'safe house' because they can't stay in the school forever….but by leaving the safety of the school, they are putting themselves in grave danger, because each city they come across is even more infested than the last.
"I have to piss," I mutter.
It takes her a minute and for that minute, my face burns and it all seems too goddamn stupid to be embarrassed about, but it's what I'm not saying that's making it uncomfortable. I have to go to the bathroom and I don't want to die and then come back with my dick out, so…
It's no secret I was obsessed with Rhys in the last book, so I was ecstatic to see that this novella was in Rhys's POV. I don't normally love when authors make the second, or even the third, books in the male POV after being in the heroine's head because I feel there is always a disconnect and a lack of characterization because the author can't quite seem to capture both the male and female truthfully anymore. I think it's because they are trying so hard to give us ladies an insight into the male's head we so love and adore, but more often than not, they fail. So, I was very excited to see that, in true Courtney Summers fashion, she didn't let this happen. Her writing was exactly the same and fifty times scarier.
This book, just as I said a second ago, was 50 times freakier to me than TINAT. Don't think for a second the first wasn't scary, but being out amid the zombies causes a whole new kind of panic attack moments that I couldn't help but to lose my breath over time and again. It was very raw and heartbreaking, causing me to cry more than once-and this novella was, like, only 100 pages. I was shocked. But it's truly not all that surprising, if you think about it-Courtney Summers has a way of getting under your skin and bringing out your worst and deepest fears and making them reality. So, naturally, when she does the thing that no one thinks she could possibly do to us…she does it. That's my only warning to you. Don't for a second think this novella, or world, is fluffy because Rhys and Sloane are into each other. It's not.
Times like these, you go so far out of your way to assure yourself you're not alone. You memorize the person you're with: the way they breathe, the way they move, the warmth of their body. All these things, you reach for every second of the day and when they're gone, you don't even have to open your eyes to know it.
So, I can't believe this is as long as it is, but I think I got my point across without being excessive. This novella is wonderful and essential to this series. So, if you have an hour, give this one a try. You'll most likely really enjoy it if you loved the first.
***********************************************************
AGH SO GOOD AND SO HORRIBLE !!!!! Rhys you are so loyal, ugh ❤️
Review to come :))))
Related Posts