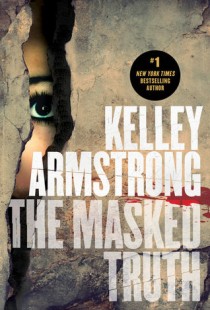 The Masked Truth
by
Kelley Armstrong
Purchase on:
Amazon
, 
iBooks
, 
Book Depository
Add to:
Goodreads
Synopsis:

Riley Vasquez is haunted by the brutal murder of the couple she was babysitting for.

Max Cross is suffering under the shadow of a life-altering diagnosis he doesn't dare reveal.

The last thing either of them wants is to spend a weekend away at a therapy camp alongside five other teens with "issues." But that's exactly where they are when three masked men burst in to take the group hostage.

The building has no windows. The exits are sealed shut. Their phones are gone. And their captors are on a killing spree.

Riley and Max know that if they can't get out, they'll be next—but they're about to discover that even escape doesn't equal freedom.
► Let's start with several questions, okay?
1) Are you able to repeatedly suspend your disbelief?
✘ It doesn't bother you if the therapy weekend aimed at teenagers is organized in an old office building without windows (because apparently when you're disturbed/suicidal/suffering from random mental illness issues, spending days without natural light is going to help you) and which is not up to fire code. You think that parents would willingly put their children through this.
✘ It seems natural to you that a teenager whose dad was part of a SWAT team actually knows loads of details about the way hostage operations are handled, but wait, hey, he knew that he couldn't say anything, so they only watch SWAT TV shows and debriefed them. I'm so silly sometimes.
✘ If someone tells you that … Oh, damn, spoiler. Well, let's just say that I couldn't buy several scenes here.
The good news is, it's not predictable, because obviously if it's not believable every twist has the power to throw you off.
2) Are you excited about a plot which revolves around two teenagers who are running around in an office building for at least 50% of the novel? (I can't say more, I stopped there)
✘ You don't mind that most of their discoveries are constituted of doors, and doors, and more doors. They run. In an office building. Oh, a villain. Let's fight. They run in an office building. A door. Did you hear that noise? *insert random childhood event* They run. THEY RUNRUNRUNRUNRUNRUNRUN.
✘ You intend to work on your frustration management : this book is perf for that!
3) Do you love ramblings?
✘ You just adore yelling to your characters to GO TO THE FREAKING POINT DAMMIT.
✘ Info-dumping and random anecdotes about the characters' past are your thing.
✘A female-lead who spends her time internally dismissing herself for something GREAT she did doesn't annoy you one bit.
► If you answered YES to every question, you should be good. As for me, I'm done at 50% : there's only so much time I'm willing to lose on books that bore me. Of course, of course, perhaps it gets better after. It's your call, as usual, and maybe my frustration management does need improvement.
Ps. Let's talk about Max. Okay, I feel bad. Shame on you Max to make me feel as if I was lacking common understanding and empathy. See, Max rambles a lot in his head. But Max is entitled to be a serial rambler because of his condition[he's schizophrenic (hide spoiler)]. I loved him at first. Really, I did. I swear. It remains that as much as his ramblings were understandable and defendable, sometimes I just wanted him to GO TO THE FREAKING POINT.
So, Max, you make me feel as if I was a nasty bitch. You don't want that now do you? DO YOU? I love him, and I thought that it was an amazing idea to incorporate such a different character. I did root for him and Riley to hook up. But it doesn't replace an actual PLOT!
So unfortunately even him reached the limit of my patience. However, you should know that my extra half-star is for him. I might skim the rest to get to the kiss scene.
#Notevenashamed
Related Posts