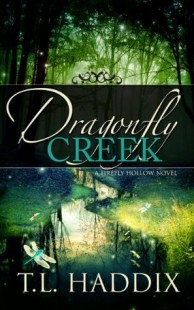 Dragonfly Creek
(
Firefly Hollow #3
)
by
T.L. Haddix
Purchase on:
Amazon
, 
iBooks
Synopsis:

When Ben Campbell returns home to Hazard, Kentucky after a five-year absence, the last person he's expecting to run into is the girl who broke his heart - the girl who left town and married someone else. He's done his best to move on, but he knows he's only been going through the motions of living. Determined to exorcise Ainsley's ghost, he approaches the young widow with an offer for a steamy liaison to do just that.

Ainsley Brewer Scott carries a lot of weight on her shoulders, weight that's left deep emotional and physical scars. Her dreams of an everlasting love with Ben were dashed thoroughly, thanks to her malicious and conniving mother. Back in town to wrap up the old woman's estate, Ainsley's world is turned upside down when she sees Ben. And when he propositions her, he lights a match to her temper that flames into a burning attraction just as strong as what they shared years earlier.

When the truth behind Ainsley's leaving comes out, the long-held secrets shatter the fragile trust they've started to build. She and Ben have to decide to either walk away from each other for the second time or stand together and fight for their future.
This book has EVERYTHING. Thought you might want to know. That's why I prepared a little to-do list of all the things you're going to want to do after reading it.
✘ Break into the Campbells's house.
♬ ♪ Hello, incredible family, can I come? Yeah, I totally mean to intrude.
I mean – first of all, Ben's parents are Owen and Sarah from Firefly Hollow. OWEN, remember? Well, the only thing I can say is that even as a dad, the guy is pretty awesome, and I couldn't help but swoon each time we got to see him. How can I describe the Campbells family? Well … They care about each other, so, of course, they tease each other. They are completely unable to mind their own business. Does that make them infuriating? Of course it does. But, more important, that makes them utterly likeable, real, and fun to follow.
"On a date," Sarah answered.
Owen scowled. "It isn't a date. It's a get-together with some of her friends, and a couple of them happen to be boys. She's just sixteen. It's not a date."
Ben looked at his mother, who nodded.
" It's a date.(…)"
I love them. I want to move with them. I think I want to be a deer. Or a wolf. Whatever, I'll take what I'll get, because they aren't only nice and supportive when one of them needs it. They're an incredible family. Period.
✘ Steal their friends.
♬ ♪ While I'm it, I also want to meet your friends.
"He didn't. Seriously? For old times's sake?" Zanny pursed her lips. "He's lucky a dunking is all you gave him."
Be prepared for the shock of your life. Wait for it…. In this books the girls have friends, and even more – they act like nice persons when they meet another girl.
I know, that's pretty overwhelming, right? After reading a lot of romance, especially in New Adult and Young Adult, I was firmly convinced that women were fucking bitches. Did people lie to me? Women can be nice to each other? REALLY?
✘ Prepare some stuff before reading.
♬ ♪ Beware of the rollercoaster of emotions!
– You're going to need tissues
– You might want to read it alone in order to hide your irrepressible giggles and your awwww moments.
– You can prepare some punching-ball (a pillow is okay too) to punch at some point.
"And she's worth more than my pride. That wasn't an easy realization at first. We're supposed to be manly and invulnerable and let the women be the weaker sex. That's complete and utter bull."
✘ Hate even more the creepy love-stories that are released every day.
♬ ♪ I want to read more about this adorable main couple.
Ben is Owen's son. Do I really need to say more? Yeah? Okay, so let's go. Hurt. Funny. Adorable. Respectful. Hot. HOT. Chemistry warning!
"Noah studied her with a seriousness that was unexpected in a boy his age. "Good. He needs a girlfriend."
Ainsley couldn't help but smile. "Why is that?"
"Dad says he's been sad. And that he got his heart broken, but if he could get past being so stubborn, he might get it unbroken."
"He what?" Ben's cheeks flushed.
Ainsley is been through hell because of the fucking bitch of her mother – I'm going back to her later, and I'm weighting my words here, trust me. From 19 to 24, she learns to be confident and to open to others. Okay, I know what you think, oh. my. Again, AGAIN a woman with self-acceptance issues, seen that, been there, tired of this shit. NO. You aren't. Because the way T.L. Haddix deals with it? This is REAL. Understandable. Moving.
Their interactions are perfect because they are REAL, and as for book 1, I was incredibly pleased to see how much their relation and the way they handled issues were believable and so damn cute and heartbreaking.
✘ I want to find a way to kill Ainsley's mother. What? I don't care if she's already dead, I might find some voodoo way to bring her again into life in order to kill her slowly. Yeah, I hated her like that. What a fucking bitch.
Oh, yeah, and you might want to buy each and every one of these wonderful books.
PS Warning : Don't expect PNR here. There are some elements, but really, you have to read it as a contemporary/historical romance (the story takes place in the 80s)
Related Posts