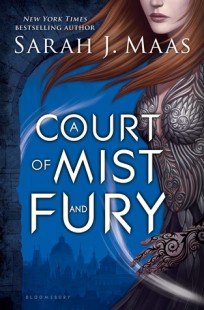 A Court of Mist and Fury
(
A Court of Thorns and Roses #2
)
by
Sarah J. Maas
Purchase on:
Amazon
, 
Book Depository
Add to:
Goodreads
Synopsis:

Feyre survived Amarantha's clutches to return to the Spring Court—but at a steep cost. Though she now has the powers of the High Fae, her heart remains human, and it can't forget the terrible deeds she performed to save Tamlin's people.

Nor has Feyre forgotten her bargain with Rhysand, High Lord of the feared Night Court. As Feyre navigates its dark web of politics, passion, and dazzling power, a greater evil looms—and she might be key to stopping it. But only if she can harness her harrowing gifts, heal her fractured soul, and decide how she wishes to shape her future—and the future of a world cleaved in two.

With more than a million copies sold of her beloved Throne of Glass series, Sarah J. Maas's masterful storytelling brings this second book in her seductive and action-packed series to new heights.
"I was not a pet, not a doll, not an animal.
I was a survivor, and I was strong.
I would not be weak, or helpless again. I would not, could not be broken. Tamed."
Once upon a time, I decided to give A Court of Thorns and Roses a chance and… I hated everything about it : Feyre's apathy, Tamlin's control-freak issues, the lack of any world-building or, I don't know, plot.
Wait – did I say everything? I lied. Hidden in this forest of dullness and platitude, shined Rhysand. That little shit. Cunning, layered, and oh so intriguing – his scenes snapped me out of my intense boredom.
I loved everything about A Court of Mist and Fury.
And to think that I almost didn't read it. What a fool I'd have been : I would have missed this nastier, sexier, darker, more captivating and splendid tale.
Are you most likely to enjoy this sequel if you hated the first book? Honestly, it depends on what annoyed you in A Court of Thorns and Roses, but if it was the romance and Feyre's boring life in that freaking castle, I'd say yes, yes, YES.
Will you like this book if you fell in love with the first one? Maybe. Read further and let see what you'll decide.
* SPOILERS FOR A Court of Thorns and Roses *
Oh, that. In all honestly, it depends on what you saw when you looked at Tamlin in A Court of Thorns and Roses. As far as I'm concerned, I saw an overprotective, liar ass, and I did not think for one minute that his behavior in the sequel was unbelievable. Feyre was blind to his control-freak issues in ACOTAR but I sure wasn't.
Tamlin wasn't a good guy in my book, and here's why (all quotes are from A Court of Thorns and Roses)
Proof #1 : His need to shelter Feyre was already present
"No, I don't want you to live somewhere else. I want you here, where I can look after you – where I can come home and know you're here, painting and safe."
See, he said something similar in the beginning of A Court of Mist and Fury and it reminded me why I despised him : he never, ever wanted Feyre to be powerful and to learn to fight, oh god no. His views on her role always were traditional and sexist. He, the male, would protect her, even if it meant lying to her, "for her own good".
Proof #2 : Assaulting someone is okay when you're a High Lord
"I bit her", Tamlin said, not pausing as he cut his steak. "We ran into each other in the hall after the Rite." (…) "So, if Feyre can't be bothered to listen to orders, then I can't be held accountable for the consequences."
It was her damn fault! She shouldn't have been there! Why didn't she listen to me and stay sheltered! I cannot help! I realize that many people wouldn't be bothered by this because *cheap plot device* oh, sorry – it's not his fault, he's high on Fae celebration or some shit. Yet – yet. That reaction the day after? IS IT THE ONE OF THAT GOOD GUY EVERYONE IS WEEPING ABOUT NOW? Fuck me, really, because I did not see that in him. Nobody told her WHY she should stay in her room. RING A BELL? The way Tamlin keeps hiding things from her in A Court of Mist and Fury was no surprise for me, given the fact that he couldn't be bothered to tell her that she would most likely be RAPED if she got out of her room that day. Fuck you, Tamlin. No, really. Fuck you.
Proof #3 : He would go to any length to keep her "safe", even against her own wishes
Tell me, does Feyre want to leave when he puts her in the carriage that takes her back to the mortal realm? No, she doesn't. Does she have a choice? No, never. Here's a man who says please and means obey, who sure has no hold on his temper when what he thinks belongs to him is threatened. Too bad humans aren't mere objects.
This, again, depends on what you thought about them in A Court of Thorns and Roses. I, for one, saw a broken girl who needed to be protected and was blinded by a castle and his handsome master. I did not see love, but merely attraction, and even then, their absence of chemistry made me wonder why the fuck she stayed with him (she could paint, though).
"I'm thinking that I was a lonely, hopeless person, and I might have fallen in love with the first thing that showed me a hint of kindness and safety. And I'm thinking maybe he knew that—maybe not actively, but maybe he wanted to be that person for someone. And maybe that worked for who I was before. Maybe it doesn't work for who—what I am now." There."
But this frightened, broken girl is dead. Her need to be sheltered and protected vanished, and with it, her acceptance of Tamlin's tantrums. I personally loved how she addressed the fact that her own growth made her seek another kind of relationship, and I thought that it was realistic and believable.
While Tamlin cannot see that his overprotective behavior suffocates her, Rhysand wants to give her the tools to be independent and self-reliant, free. In what world – I mean it – in WHAT WORLD am I supposed to expect her to stay with someone who thinks that she doesn't need to be powerful?
"And I realized—I realized how badly I'd been treated before, if my standards had become so low. If the freedom I'd been granted felt like a privilege and not an inherent right."
First of all, it was pretty obvious from the moment we met him in A Court of Thorns and Roses that the High Lord of the Night Court was more complex than he wanted us to see. Yes he is cunning and yes he's ready to make harsh decisions in order to reach his goals. I won't deny it, because that's part of what I love about him. When it comes to fairies who are hundreds of years old, I do not expect some knight prince in shining armor. Of course he isn't! Yet the sacrifices he made for his people, the masks under which he hides make him so much more captivating and endearing.
It does not mean that I excuse all his actions, but contrary to Tamlin, he is honest about who he is, and I respect him for that.
Not to mention that the growth of his relationship with Feyre – gradual, slow, and full of tension – was everything I wanted in A Court of Thorns and Roses and didn't get. These two made my heart pound, drove me to giggle at their constant banter, shared a hell of a chemistry and the way he supported her in her freedom made me want to hug the guy.
I will always prefer a hero who wants the heroine to be strong and lets her make her own choices. ALWAYS.
This wicked Lord is just right up my alley, okay? He's full of surprises and everything I expected him to be – even more, if I'm being honest. I understand and love him, and I won't be sorry about that.
Also, sexting through magic notes should totally be a thing.
Finally, the new characters he brings with him? Absolutely delightful. And by that, I mean the best kind of crazy (Amren, I'm looking at you).
YES THERE IS! I am so glad to inform you that we finally get to explore the world and let me tell you, it was fantastic : from the beautiful descriptions of the settings (plural) to the numerous details about the politics at stake, I was pleasantly surprised to discover that we weren't drowning into some blank space like in A Court of Thorns and Roses.
Don't look at me like that – what did she do in A Court of Thorns and Roses except painting and swooning over Tamlin? Nothing. If the plot got better once they were under the mountain, it remains that the romance was so overwhelming that I wouldn't have called the first book fantasy for one second. This sequel is different : if the romance is still there, it takes a step back and there is an actual plot to follow. Thank you.
As for Feyre, if her new powers flirt dangerously on spechul snowflake territory at some point, it remains that her growth and development is perhaps what I loved the most about this book (okaaaay, except Rhysand, but come on). Gone is the idealist human, who thought that the boundaries between right and wrong were impermeable : she's no stranger to fear, but she's more ruthless, cunning, and fierce. With Rhysand's help, she finally becomes the heroine of her own life, and I really, really appreciated that.
I say YES to women's empowerment. Of course I say yes.
I HAVE NO IDEA. The ending was fantastic, epic, and left me starving for MORE. Well done.
► Granted, A Court of Mist and Fury wasn't perfect by any means, the writing was a little too dramatic for my tastes and the comparision between Tamlin and Rhys lacked subtetly sometimes. Yet I loved every second of it, and for that, it deserves its 5 stars.
PS. "In an interview, Sarah J Maas stated that Rhys would be sorted into Slytherin if he attended Hogwarts." NOW I KNOW. New pick in my Team woot!
Related Posts