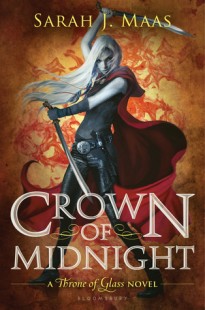 Crown of Midnight
(
Throne of Glass #2
)
by
Sarah J. Maas
Purchase on:
Amazon
, 
iBooks
, 
Book Depository
Add to:
Goodreads
While I will probably always be in the minority on this one, I do have my reasons. This book was totally action-packed, crazy, fun, and even quite the angst fest when it comes to the relationships brought forth and…I just wasn't completely obsessed or engrossed. Now, for most books this is exactly my cuppa tea, but for some reason, and I think I know what that reason may be, I just couldn't let myself fully immerse into the story. Have no doubts, I will be very excited when book three comes out in September, but for once I am glad I have a longer wait for the third release. It's not so much because the story was lacking, which it was not, it was more that I had a hard pill to swallow and with time it will just become what is rather than what was pushed on me.
He took a step toward her, but she held her ground. "Believe me, Celaena," he snarled, his eyes flashing, "I know you can look after yourself. But I worry because I care. Gods help me, I know I shouldn't, but I do. So I will always tell you to be careful, because I will always care what happens."
I think my biggest problem was that all the signs were pointing one way (DAMN YOU love triangles) and I just was too stubborn to accept what was coming. Now, this story is so much more than romance, and I love that, but I was still very turned off that a certain someone had his widdle heart broken. This is no spoiler, there is nowhere you will look that the fact isn't plastered everywhere, this was, in fact, NOT a love triangle. No, Celaena chose to end her relationship with the prince because of the fact that she was, and always will be, an assassin. And he will ALWAYS be royalty. She just didn't see how it could work. But let's be totally honest here-her and the guard, Chaol, are, I'll begrudgingly admit this, meant for one another. They both have heartbreak from former 'loves' and devastation and hurt in their past, and more than that, they know what it's like to defend, and protect, and to live a common life. But it's MORE than that-they have a connection. It was sweet, pretty adorable, and they fit together like two puzzle pieces separated from the same board…but I still don't like it lol.
"You hurt her," he said, his voice hoarse from a day without water, "and I'll rip you apart with my bare hands."
There were thirty of them, half fully armed, and they all turned to him.
He bared his teeth, even though his face ached. "You so much as touch her, and I'll gut you."
The relationships formed, severed, and reformed in this story were actually beautiful. Chaol and Celaena together made sense, and they really would do anything for one another. I loved Chaol's cute jealousies and willingness to stand in front of Celaena when things got tough (though, she really doesn't need ANYONE's help-she's still a badass, as I stated in my first review). I loved that he would risk his life to alter her path or sway the king in a deceitful direction. And more than that, I have to say I loved their story-mild hate to reluctant allies, to friends, to lovers. Though, we all know they always had feelings for one another.
There had never been any line between them, only his own stupid fear and pride. Because from the moment he'd pulled her out of that mine in Endovier and she had set those eyes upon him, still fierce despite a year in hell, he'd been walking toward this, walking to her.
So Chaol brushed away her tears, lifted her chin, and kissed her.
What I DIDN'T love was having to see Dorian's heartache, no matter how small, as Celaena and Chaol stole sweet, secret moments, and hidden dances, and….you get the picture-he saw it all. But what I guess I adore about the prince is that he was enough of a man to let them be and to not cause any problems-but he still made it clear that Chaol better never hurt Celaena, because no matter whether their relationship is terminated, he still loves her and, he also, would do anything for her. The friendship that formed between him and Celaena was adorable, meaningful, and led me to believe they will continue to be very close-close enough that I am appeased with the amount of Dorian time in the near future, because he is my favorite character. We even started to see a different side to Dorian, a side that no one knows, and can never know, about-but what will he do with his secrets? Because if the king, or anyone else for that matter, finds out, he will be dead.
Now, something BIG happens in this book. In fact, LOTS of big things happen in this book-it was highly action packed with lots of world building and secrets and relationship forming that hardly a page went by where we weren't holding our breaths from the recent developments. But, something happens that changes the course of Celaena and Chaol's life forever…and I couldn't help but scoff a tad when we got the extended reaction of Celaena. I mean, come on, give me a break. Yes, you are UPSET, of course you are. But the way she acts, the way she continues to handle herself, the way she snaps was a bit melodramatic. Sorry, just my opinion. And all I can say is that neither of those boys would do anything to hurt her and continually stand by her side no matter how many times her tongue lashes at them, and it made my heart expand even further for them (though, Dorian gets the brunt of it most of the book, so I still love him the mostest)-now, this isn't a series solely built around dramatic relationship angst, so therefore I can't say that she is mercurial and a tease and all the things you'd expect when I say she lashes her tongue at them, no she definitely has a mind of her own but in no way is she going back and forth between boys and being a drama queen (aside from her prolonged reaction to a certain event, mentioned above). So, if this would be a deterrent, fear not, the relationship drama is kept to a minimum-there are bigger things (like lies, deceit, and the control of a kingdom) at stake.
Chaol believed in trusting his instinct. He didn't think humans had survived for so long without developing some ability to tell when things were wrong. It wasn't magic-it was just…gut feeling.
And it was Chaol's instinct that told him who this was about before Dorian opened his mouth.
All in all an expertly woven novel that keeps you guessing from start to finish, never leaving any room to be bored or even upset-things move so quickly that you are left with just enough romance, drama, action, and peril….and I think many will fall in love with this series. Assassins, magic, fighting for their kingdoms, romance, and betrayal laced throughout each individual….there is not much more that's left to be said-this book has everything.
Related Posts