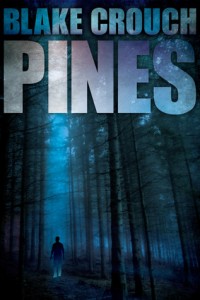 Pines
(
Wayward Pines #1
)
by
Blake Crouch
Purchase on:
Amazon
, 
iBooks
, 
Book Depository
Add to:
Goodreads
Synopsis:

Secret service agent Ethan Burke arrives in Wayward Pines, Idaho, with a clear mission: locate and recover two federal agents who went missing in the bucolic town one month earlier. But within minutes of his arrival, Ethan is involved in a violent accident. He comes to in a hospital, with no ID, no cell phone, and no briefcase. The medical staff seems friendly enough, but something feels…off. As the days pass, Ethan's investigation into the disappearance of his colleagues turns up more questions than answers. Why can't he get any phone calls through to his wife and son in the outside world? Why doesn't anyone believe he is who he says he is? And what is the purpose of the electrified fences surrounding the town? Are they meant to keep the residents in? Or something else out? Each step closer to the truth takes Ethan further from the world he thought he knew, from the man he thought he was, until he must face a horrifying fact—he may never get out of Wayward Pines alive.

2013 International Thriller Award Nominee

The international runaway bestseller is now a Major Television Event from executive producer M. Night Shyamalan, starring Matt Dillon and premiering May 14th on FOX.
"Where'd you live before Wayward Pines?"
"I've always lived here."
"You've never left this town?" Ethan asked.
"You can't leave," the boy said.
"Why?"
"You just can't."
"I don't accept that."
"That's why you're going to die."

Not too long ago, it feels like yesterday, really, I saw a television commercial for a show called Wayward Pines. It was utterly compelling and drew me in every time the commercial aired. I never got around to watching it, I never really catch TV shows unless they're re-runs of my all time favorites, so I kind of forgot about it….and Oh. My. Gosh….am I glad I did.
The final strands of horizontal sunlight were striking the cliffs at his back, and he turned around and took a moment to stop and watch the glow fade away.
When the light was gone, the rock turned instantly to the color of blued steel.
And the nature of it changed.
It was still beautiful.
But more remote.
Indifferent.
I was totally blind when I went into this, not really knowing what I was getting myself into. There were only three things I knew: 1. It is addicting. 2. The sentences are kind of fragmented, sending a message of nonchalance, simplicity, and rushed situations for our main character-Which I loved. And 3). We were in the mind of an unreliable narrator-Which I also loved. And honestly…that's all anyone needs to know.
"Thanks for your help, and your concern," he said, pressing G three times until the button illuminated, "but I think I got it figured out."
"What?"
"It's this town that's wrong."
Who wants to read a book that is totally spoiled for you? Okay, okay, if it's a severe love triangle or I think a main character may be in danger of dying, I might do a little reconnaissance to see how it happens, who they end up with, or what the situation might be. Hey! Don't judge! I just don't want to be devastated, so sue me. But all in all, especially in these types of thrillers, which I am SO TOTALLY IN THE MOOD FOR, I like the idea that I know next to nothing about these stories.
…All he wanted to do was to curl up in a bed in a dark room. Sleep off the pain. The confusion. And the base emotion underlying it all that was getting harder and harder to ignore.
Terror.
The strengthening sense that something was very, very wrong.
I will give you a little to go off of, though. Our main character, Ethan…he's not what you would call an upstanding guy. He's not a bad dude, per se, but he definitely has had some shaky behavior and indiscretions in his past. And, for the first time in as long as I can remember, this aspect didn't bother me. Maybe it was his loyalty and fierce love now, in this moment, but, for whatever reason, I loved him.
Are you losing your mind?
You tell me.
I can't.
Why?
Because I am you.
I loved his determination, his iron-clad will, his unwillingness to believe the bull shit he was obviously being fed….I loved his reactions to this freaky as fuck town he landed in. He's confused and alone, and everyone is hell bent on calling him crazy, saying he's delusional, that everyone in town is happy and why don't you try and make a life of it here? It's so nice! Why don't you have your ID or wallet?? Are you lying to us, Mr. Burke? How dare you do such a thing! Needless to say I'm already finished with book two-Yeah, I love this series that much.
The scream could only be compared to human suffering or terror. Like a hyena or a banshee. Coyotes at their maddest. The mythologized Rebel Yell. High and thin. Fragile. Terrible. And on some level, humming under the surface like buried electrical cables, was a dim awareness that this wasn't the first time he'd heard it.
Chilling and grotesque, Ethan is stuck in a town with virtually no way out…and no answers. Continually running in circles and trying to find answers-each one more spine-tingling than the last-Ethan is going out of his mind. Cloaked in an eerie atmosphere that you can't help but to fall in love with, I guarantee this could be your next page turner. I wish I could say more, but that's not in the spirit of this book, so I'll be blunt: While depraved and intentionally mysterious, this book will keep you on the edge of your seat. And, while not for everyone, anyone who loves a good thriller and a man determined to win-at any cost-will likely find great enjoyment out of this book. I hope that these measly words will be enough to influence you to give this one a chance. Easy. Dark. Manipulative. What more could a girl ask for?
**************************************
Epic. Absolutely, positively epic. Chilling.
This series will be the end of me. Bad. Ass.
Review to come 🙂
Related Posts