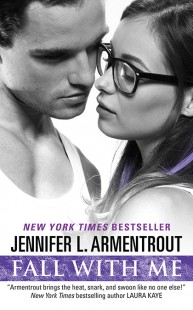 Fall with Me
(
Wait for You #4
)
by
J. Lynn, Jennifer L. Armentrout
Purchase on:
Amazon
, 
iBooks
Add to:
Goodreads
Synopsis:

Eleven months ago, bartender and weird-shirt-wearing extraordinaire Roxy and Officer Reece Anders had a one night stand. Well, kind of. She's been in love with him since she was fifteen, and he wishes that night they shared never happened. She's sworn him off forever, but the past and future collide, forcing her to rely on the one man who broke her heart not once, but twice.

Her best friend since birth has been in a long-term care facility since he became a victim of a hate crime years ago, and the person who put him in there is out of prison and wanting to make amends with him and Roxy. She's not sure she has room for forgiveness in her and when she begins to receive frightening messages and is on the receiving end of escalating violence, she thinks she knows who is to blame. The man who already destroyed one life already.

But Reece isn't convinced. The threats are too personal, and even if Roxy doesn't believe him, he's not willing to let anyone hurt her. Including himself. He's already messed up more than once when it comes to Roxy and he's not going to let history repeat itself.
Review:
Fall With Me was fun, sexy and charming!  I always enjoyed the scenes in the previous book with Roxy.  She worked at the bar that is owned by Jax and was a true friend to Calla.  She helped her out and always came across as funny and cute.  But I noticed every time that Reece, who is a cop and friend of Jax, would enter the bar, Roxy would try her hardest to avoid him.  I wanted to get to the bottom of what happened between the two of them.   And my oh my, the details of their past was shocking, fun, and I was rooting for them the whole time!
I wasn't going to think about any hard things, unless those hard things were a part of Reece's anatomy.
I smacked a hand over my mouth, but a giggle escaped nonetheless.
Roxy and Reece are childhood friends who seemed to take it too far one night.  Their past has haunted the both of them, but for entirely different reasons.  But not everything can stay in the past forever.  Especially when you have their chemistry!  Their banter was scorching hot!  Heck,  even when they were in the same room together, it was beyond clear that they belonged together.
One never knew when their life was about to be irrevocably altered. There was no warning. If anything, it always came when everything was calm and good.
But while the story may sound light and happy, muahahaha, it is not!  Fall With Me has a subtle creepiness to it that sneaks into the pages. It started to make me second guess the noises I was hearing and my surroundings.  Of course I read this book at night, which was the wrong decision.  That lingering creepy feeling had me walking around my dark house just so I could check my doors and windows to verify that yes everything was locked.  Because I knew that paranoid feeling wouldn't go away until I was certain that nothing could touch me.  But after checking my house, that feeling didn't go away.  That's because I kept thinking that this could happen to anyone. To you or me.  And that was insanely unsettling.
"No. Seriously. That's not a 'nothing.' I don't ever want to hear my sister's name and the word pole in the same sentence that involves dancing." Cam glanced at Katie, wielding a slotted spatula, causing Jacob to sidestep a spittle of grease. "No offense."
She shrugged a shoulder . "None taken. Only the few and the proud can handle it."
I scrunched my nose. "Isn't that the Marines' motto?"
"Yes," sighed Reece.
In the mix was also all of the characters that I have fallen in love with in the previous books.  I loved watching them interact with Roxy and Reece!  And while all of that was fun, one of my favorite things about this book was Reece.  Reece was crazy sexy.  He was demanding yet caring.  He was protective yet understanding.  He was one of those take charge guys who could easily make you melt.  And when Roxy described his SWAT team outfit, oh my gosh.  Soooo hot.  Unbelievably hot.  
So of course I had fun reading this book.  I quickly flew though the pages.  Friends, humor, sexiness and hot scenes?  Yes please!  But there was an undercurrent of seriousness that was within this story.  And now that I've had a day to think about it,  I am so glad this issue was present in Fall With Me.  Because it seems as though so many books gloss over the seriousness of this issue or portray it as something that you should desire.  But in real life, it isn't.  At all.   I am so thankful that I read Roxy and Reece's story, and I hope that they make appearances in the future books in this series.  Especially if Reece is wearing his SWAT uniform!
Related Posts