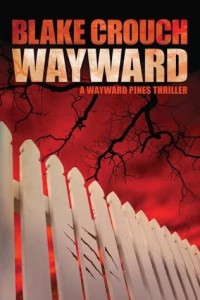 Wayward
(
Wayward Pines #2
)
by
Blake Crouch
Purchase on:
Amazon
, 
Book Depository
Add to:
Goodreads
Synopsis:

I'll follow Anna's lead here- Don't read blurb
"Hell is coming to you."
I have so much to say….but don't I always??? I want to write an amazing, detailed, long review, but that wouldn't do this series any good, I think. I believe that, while I would LOVE to go on and on and on about all the amazingness that is this series, it would stunt the curiosity I piqued in everyone with my first review of the beginning book. So, I'll keep it short and sweet with just a few points to make things curiouser and couriouser for everyone that chooses to read this:
All the world's a stage, and all the men and women merely players. They have their exits and their entrances; and one man in his time plays many parts.
Ethan: Ethan grew so much in this story. In book one, we didn't know a lot about him, and we didn't know what kind of guy he really was-What he was made of, if you will. We knew of his tryst, of his adoration for his wife. We knew he was stubborn beyond words…and that his determination, if nothing else, would keep him alive. So, essentially, in this one, we begin to see even more of his cleverness and quick wit, setting in stone his intelligence and willingness to make things right…and the helplessness….don't forget his reluctance and helplessness. They go hand in hand with this story. Let's see what he's made of.
"Do you hear that?" Ethan asked.
"Hear what?"
For five seconds, Ethan was silent on the line. "That's the sound of me not giving a fuck."
Atmosphere: The atmosphere, while still eerie, is blown to bits in this one after the big 'reveal' of book one. I can't say it's as creepy as it was in the first installment, but there was still an underhanded malice that made you question where things were going and how things could possibly get better for the town's residents. And since I am obsessed with my dear Ethan…this was a big appeal to me, the worrying.
For every perfect little town, there's something ugly underneath. No dream without the nightmare.

The Writing: Gahd, do I love Crouch's writing. It's virtually impossible not to become wholly immersed in this story with his writing style. In book one, sure, I could understand people not loving or being a bit put off about the amazing fragmented sentences (which I loved, if you can't tell), but I never had a problem with them. In this story, I was so sucked in that I didn't even notice it-I even picked up a new book because it was released yesterday (9/1) and thought, 'Wait, this isn't how you write!' So, as you can see, I am in love with his writing.
A shiv straight into Ethan's gut would've felt better.
He lost his breath.
Saw the world suddenly through a blur of tears.
Imagery: Beautiful. Vivid. Startling. What more can you ask for?
A millennium without air or light pollution made for pitch-black skies.
The stars didn't just appear anymore.
They exploded.
Diamonds on black velvet.
You couldn't tear your eyes away.
So, as you can see, I'm obsessed. So that's how I will end this: Read it, don't read it-that's your call. But I, my friends, am knee deep, up shit creek, whatever phrase you wana use, in love with this series.
YESTERDAY IS HISTORY.
Obsessed.
TOMORROW IS A MYSTERY.
Obsessed.
TODAY IS A GIFT.
Did I mention I'm obsessed?
Related Posts