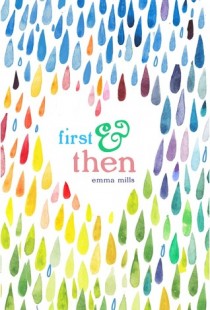 First & Then
by
Emma Mills
Purchase on:
Amazon
, 
Book Depository
Add to:
Goodreads
Synopsis:

Devon Tennyson wouldn't change a thing. She's happy watching Friday night games from the bleachers, silently crushing on best friend Cas, and blissfully ignoring the future after high school. But the universe has other plans. It delivers Devon's cousin Foster, an unrepentant social outlier with a surprising talent for football, and the obnoxiously superior and maddeningly attractive star running back, Ezra, right where she doesn't want them first into her P.E. class and then into every other aspect of her life.

Pride and Prejudice meets Friday Night Lights in this contemporary novel about falling in love with the unexpected boy, with a new brother, and with yourself.
▶ In the end, I got the impression that First & Then was trying to address way too many issues without really giving them the time of a day.
Cut off the Darcy-ish romance slooowly built that I genuinely enjoyed (with the important exception of one of the most anticlimactic ending I've ever read – Ugh, just ugh), the reader makes its way in a widespread confusion :
☑ You've got truthful "WTF" moment where you realize that you have no idea what the characters are doing – think scenes cut short, weird transitions, a general "WHERE DOES THAT EVEN COMES FROM?" feeling, and characters who pop up from nowhere.
☑ You've got important issues that aren't addressed properly/left unresolved : in a nutshell, a mum in rehab (maybe? I guess?), a teenage pregnancy (what is the point of Marabelle's character really?), a weird gambler-survivor guy (don't get me started about that Emir guy : who is this person and why should I care for him? Huh?), a crazy asshole who puts a psycho move when it's convenient (but we know nothing about him whatsoever, and guess what : it isn't handled at all either), an attempt at girl friendship (resolved in two pages) and big revelations that felt flat because they came out of nowhere. None of these issues are properly dealt with.

☑ You've got flat characters whose names I didn't bother to remember (except Cas, the so-called best friend, whose name I do remember but whose personality I never saw – not that I was interested in this jerk in the first place, to be honest).
☑ You've got an uneven pacing and an uneven writing, if that makes sense : if some parts made me really smile, others made me roll my eyes something fierce (because HELLO, cheesy lines), especially in the first 30% (that got me bored) and the last 40% (WTF and cheese blended together). Yes, I do realize that the only part that remains is the middle-ish 30-60%. Don't judge.
To be fair, I did appreciate Devon's growth toward her cousin, Foster, who's been living with her family since the beginning of the story. If I wanted to slap her at first, she started opening her eyes wider and slowly, slowly, became aware that fitting in wasn't the only life goal we could pursue. Good for you, girl. Note that I didn't hate her. I mostly felt indifferent to her, to be honest.
As I did appreciate several of Devon and Ezra's (non) interactions, because I have a soft spot for guys who have the communicating skills of a turtle. I really do. Don't ask.
Too bad everything felt flat and cheapened in the whole mess that was this novel. Sorry, I guess I'm just mad. I hate when the last thought that comes to my mind after closing a book is : WHAT WAS THE FUCKING POINT? You don't add important issues to a story only to let them hanging in the air somewhere.
[And you do NOT ruin a kissing scene I was looking forward to read. (hide spoile
*arc kindly provided by Macmillan Children's Publishing Group through Netgalley in exchange for an honest review*
Related Posts