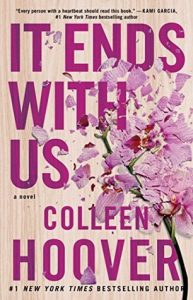 It Ends With Us
by
Colleen Hoover
Purchase on:
Amazon
, 
iBooks
Add to:
Goodreads
Synopsis:

Lily hasn't always had it easy, but that's never stopped her from working hard for the life she wants. She's come a long way from the small town in Maine where she grew up—she graduated from college, moved to Boston, and started her own business. So when she feels a spark with a gorgeous neurosurgeon named Ryle Kincaid, everything in Lily's life suddenly seems almost too good to be true.

Ryle is assertive, stubborn, maybe even a little arrogant. He's also sensitive, brilliant, and has a total soft spot for Lily. And the way he looks in scrubs certainly doesn't hurt. Lily can't get him out of her head. But Ryle's complete aversion to relationships is disturbing. Even as Lily finds herself becoming the exception to his "no dating" rule, she can't help but wonder what made him that way in the first place.

As questions about her new relationship overwhelm her, so do thoughts of Atlas Corrigan—her first love and a link to the past she left behind. He was her kindred spirit, her protector. When Atlas suddenly reappears, everything Lily has built with Ryle is threatened.
I. Am. DONE.
I do NOT like books that manipulate me. I do NOT like authors who think it teaches life lessons by making everything literally the WORST scenario possible. I do NOT like books that I endorse, tell 100 people to read (when I'm at 47%) because it was so amazing-wonderful-addicting-beautiful, and then have to eat crow because a million dreadful things have to happen to get to the fucking point.
And for those who ADORED this book, do NOT come at me and tell me I am wrong, didn't understand the message, whatever. I do NOT like being manipulated (SEE ABOVE) when I was already okay with how things would eventually turn out. I didn't need five more fucking stabs in the stomach to get the fucking message.
For those who keep talking about all their feelings and how they are having trouble writing a review because of all their feeeeeelings…that's manipulation you're feeling, people. And I am so mad I don't care who I'm offending. I loved the idea behind this book. I did. And even though I felt so much love in one way, I was okay with the devastation everyone spoke of. But then-All. That.
SHIT.
I will never forgive Hoover for this. Ever. I think I am FINALLY done this time. I am ALWAYS the black sheep on her books…and I have no fucking clue why I keep coming back for more. Probably because I loved Miles (THE ONLY BOOK I'VE EVER LOVED BY HER, making me the opposite of everyone, yet again) so much and want another win…but there's only so much bullshit I can ingest per author and she might have just met her quota.
And it's this author's twisted sense of life lessons we need to learn. Oh, and PS, I LOVED BOTH GUYS SO MUCH IT HURTS-so don't even try that one on me.
Sorry, guys. I slept on it, and I was even madder today. And I assume my attitude concerning this novel will only get worse, so it's best I post today and let it be.
Related Posts