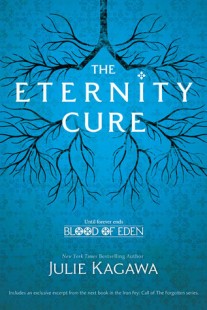 The Eternity Cure
(
Blood of Eden #2
)
by
Julie Kagawa
Purchase on:
Amazon
, 
iBooks
, 
Book Depository
Add to:
Goodreads
Synopsis:

In Allison Sekemoto's world, there is one rule left: Blood calls to blood

She has done the unthinkable: died so that she might continue to live. Cast out of Eden and separated from the boy she dared to love, Allie will follow the call of blood to save her creator, Kanin, from the psychotic vampire Sarren. But when the trail leads to Allie's birthplace in New Covington, what Allie finds there will change the world forever—and possibly end human and vampire existence.

There's a new plague on the rise, a strain of the Red Lung virus that wiped out most of humanity generations ago—and this strain is deadly to humans and vampires alike. The only hope for a cure lies in the secrets Kanin carries, if Allie can get to him in time.

Allison thought that immortality was forever. But now, with eternity itself hanging in the balance, the lines between human and monster will blur even further, and Allie must face another choice she could never have imagined having to make.
Review:
*Spoilers for The Immortal Rules (Blood of Eden #1)
*

Eternity Cure was hauntingly dark and I found myself easily lost in this twisted world that had me terrified for what was to come. Because let me tell you, I love to guess how a book is going to proceed, and I came nowhere near close to a few of the unexpected events that happened.  So I'll clue you into a fun little fact before you venture into this book – while Eternity Cure was addicting, it was also devastating at times.  It honestly felt as though someone reached into my heart and crushed it until there was nothing left.  And while it hurt so bad, my dark side loved the utter perfection of how the story proceeded.  Because the peril and that ending?!  Oh my gosh, this is the type of story that will undue me every single time.
"Come on then, bitch," the man beside me said, and grabbed my other arm, his face mean and eager. "Let's do this. I can go all night."
I smiled. "Can you now?" I said quietly.
And lunged at him with a roar, sinking my fangs into his throat.
What I want to talk about the most, sigh, I really can't spoiler – View Spoiler »Zeke! He became an equal to Allie! Not only does he still have his beautiful heart but his love for Allie and his bravery made me fall for him even harder! I mean just read this quote, sigh I love this side of Zeke:

"Does it worry you?" Zeke's voice was soft, menacing. "That the human you've been pushing all night will be guarding your dead body while the sun's up? Maybe you should've thought of that before you started talking about my father."
Jackal stared at Zeke, appraising. Zeke put a hand on one of his stakes and stared back. I tensed, ready to jump in if either of them went for the other.
After a moment, Jackal bared his fangs in a savage grin. "Well, color me shocked—the human actually has a pair. He might survive the Inner City, after all." ohhh and this…..I could read this line over and over again!

"Why didn't you stay in Eden?" I asked roughly, glaring at him. "You were home, Zeke. It was what you were looking for, what you always wanted. Why did you leave?"
He met my gaze, unwavering. "It wasn't home without you." « Hide Spoiler.  So much of this book contains spoilers, but those spoilers are so insanely good!  So I'll stick to what I can talk about, like Allie.  If you loved her in the first book, she is even better in Eternity Cure.  She has grown and learned so much from all of that life has thrown at her.  Allie is still the smart, compassionate, kick-ass heroine that I love!  While she tries her hardest to stick to her human morals while fighting her vampire demons, it was fascinating watching her struggle to hold onto her morality!  And she is tested time and time again because she embarks on a journey that seems almost impossible at times!  She's on the hunt for psycho vamp (best nickname ever…well besides the one she earns later on in the book) aka Sarren because he is holding Kanin captive.  But in her search for Kanin and Sarren, there are twists thrown at her. Such as a character that I easily despised at first.  But when my feelings changed from black and white to grey I was livid.  Because I started to laugh and even smile towards this character, and I didn't want to at all.  The characters she creates are so multi-faceted and real, it's easy to grasp their many sides unfortunately haha!
I didn't want to be in this underground labyrinth of death, with this vampire I didn't like and certainly didn't trust. Because watching him fling himself at the rabids, grinning demonically as he tore them limb from limb, reminded me too much of myself. That thing that I kept locked away, the beast that goaded me into raw animal rage and bloodlust. The part that made us dangerous to every human we encountered. The part that kept me from ever being with Zeke.
Probably one of my favorite things about this book, besides the characters I dearly love, was the jaw dropping peril.  I couldn't believe some of the things that happened.  Many times I would pause staring at my kindle thinking no way.  No way she took the story in that direction.  I thought I had to have read it wrong.  But nope, she did take it in those directions.  I got to a scene where I desperately tried my hardest to turn off my feelings.  But it was too late.  I was too invested, and I went right along with Allie and her feelings.  Because Julie Kagawa dangerously weaves together despair and a beautiful story.
Zeke was a brilliant light that cut through the evil and darkness and bloodlust, down to that tiny part struggling to stay alive. I'd been clinging to his memory, that small piece of hope, ever since I left Eden, and I couldn't let it go.
Oh, I couldn't let it go either!  So yeah, I am officially addicted to this series.  I love the world that she has created that is ruled by vampires.  And I love all of the characters who invoke such strong feelings in me!  Well love is too strong of a word for a character I definitely despise.  I kept hoping that fate would deliver this character a brutal case of death and you probably will too!  So if you haven't read this series yet, it's a definite must!
Save
Related Posts