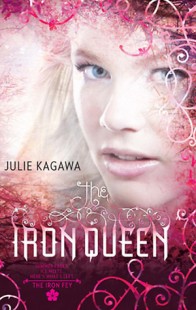 The Iron Queen
(
The Iron Fey #3
)
by
Julie Kagawa
Purchase on:
Amazon
, 
iBooks
, 
Book Depository
Add to:
Goodreads

I learned that love can transcend race and time, and that it can be beautiful and perfect and worth fighting for but also fragile and heartbreaking, and sometimes sacrifice is necessary. That sometimes it's you against the world, and there are no easy answers. That you have to know when to hold on…and when to let go.

God. Damn. It. Damn you, Julie Kagawa! What. Was. THAT?! That is not one, but two, TWO series where she has literally (I DO MEAN LITERALLY) killed me with the endings at the pique of the series. People. I am telling you now-I love peril and I love action and I LOVE the climax of a story but rarely am I a blubbering, incoherent mess of emotion during these aforementioned scenes. In The Iron Queen I laughed, I swooned, I cried, and I literally fucking fell apart as the ending unraveled. I didn't know what I was going to say about this book because it is just so hard to express how epic you believe it is in terms that others can interpret and apply to their own thoughts and beliefs, because once they get in their head that I think something is epic, they think surely something awesome happens that will blow them away…but everyone is different in their levels of astonishment and awe and I have learned that many times before-but I can't deny what I thought this book was: Epic.
Ash pulled back slightly, his silver eyes bright as he stared at me, his cool breath washing over my heated face.
"You are beautiful, you know that, right?" he murmured, all seriousness, one hand gently framing my cheek. "I know I don't say…things like that…as often as I should. I wanted to let you know."
Book three. Oooooh book three how will I explain you spoiler free for my friends who are considering reading this series? Something happened in book two that lead to undesirable circumstances for Prince Ash and completely ideal circumstances for Meghan…to an extent. So, we start book two with Ash and Meghan…in a precarious state they never imagined possible. After the events leading to this, the Iron Kingdom, the false Iron King, and all of his minions are after Meghan so they can bring her back to their land where her power can be used to fuel the false king…and make him the strongest of all of Nevernever-which would mean the end of the summer and winter courts (Prince Ash, Grim, and Puck included) and everyone that calls Faery home.
"One more thing," Ash said in his dangerous, soft voice as we turned away, and Glitch shot him a wary look. "If you do not return with her," Ash continued, staring him down, "if she comes to any harm while she is with you, I will turn the entire camp into a bloodbath. That is my promise, lieutenant."
Meghan has become a complete badass. She was good for most of the book and even most of the last book, but in this book, we see a fierce, strong-willed, and impressive girl who has done a complete turn around since book one. She had to make some tough decisions and she didn't always know what to do, but in the end, she kicks ass, and there was no way she couldn't have earned respect from everyone who reads of her battle against the false Iron King to save all of Nevernever. After all…the fate of the whole Fey world sits on her shoulders.
"You tell the false king he doesn't have to send anyone to get me," I said in the firmest voice I could manage. "I'm coming for him. I'm coming for him, and when I find him, I'm going to kill him."
And Ash. Oh Ash. I need my review gush session for the amaaaazing Prince Ash lol. But what is so funny about Mr. Ash is that….all he does is brood and tell Puck off-AND I CAN'T GET ENOUGH OF HIM! Whyyyy is this guy under my skin so deep? What is it about him that makes me squee and fangirl and obsess over him so? I don't know what makes him so special to me, but he is. His sole purpose has become to protect Meghan, to love her, to save her from those who mean her harm-his sole existence is this human girl who came out of nowhere and turned his dark world upside down, bringing him out of a deep depression and the darkness that has plagued him for years and drawing him back into the light. He is loyal, protective and now wears his heart on his sleeve…and I love him. (If I hadn't mentioned that before ;))
His lips touched my hair, very lightly. "I won't let anything happen to you," he murmured. "You are my heart, my life, my entire existence."
I don't think I'm going to say much more…my last three or four reviews (if you include the novella) have been more than forthcoming on information and, frankly, at this point, I've probably said too much. All I can say and express is how shocked, happy, and surprised I am that this series has became a favorite of mine-I think this just goes to show that it doesn't matter how out of your comfort zone a book or series is, it's how the author writes it. It's how that author appeals to you and draws you in and most importantly-how they execute it. An epic novel with an epic conclusion that I will not soon forget, I am anxious for book four and how Kagawa will wrap this all up. I am a jumbled ball of nerves…but it's the best feeling in the world.
He stopped and looked down, his voice dropping to a near whisper. "And I'm afraid. I'm afraid I'll fail you like I did Ariella, that the crimes of my past will ruin any chance we have at a future. That you'll realize who I really am, what I really am, and when I turn around you'll be gone."

Ugh, and AGAIN I have ran out of room to put my special quotes I had highlighted for this review and have to stop….but here are two quotes that I HAD TO SHARE…but can't. They are spoilered-look at them at your own risk.
View Spoiler » "My name is Ashallyn'darkmyr Tallyn, third son of the Unseelie Court…Let it be known–from this day forth, I vow to protect Meghan Chase, daughter of the Summer King, with my sword, my honor, and my life. Her desires are mine. Her wishes are mine. Should even the world stand against her, my blade will be at her side. And should it fail to protect her, let my own existence be forfeit. This I swear, on my honor, my True Name, and my life. From this day on…" His voice went even softer, but I still heard it as though he whispered it into my ear. "I am yours." « Hide Spoiler
annnnndddd the one that tore my heart out as I relentlessly sobbed-
View Spoiler »
A soft noise, almost a sob. Ash rose, hesitated, as if fighting the compulsion to obey. "I will always be your knight, Meghan Chase," he whispered in a strained voice, as if every moment he remained was painful to him. "And I swear, if there is a way for us to be together, I will find it. No matter how long it takes. If I have to chase your soul to the ends of eternity, I won't stop until I find you, I promise."
And then he was gone.
« Hide Spoiler
Gaaaaaah! And that concludes a little of why I was a mess. lol.
Related Posts