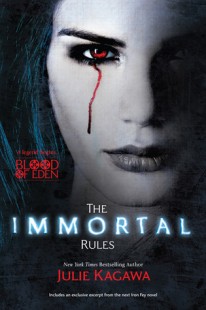 The Immortal Rules
(
Blood of Eden #1
)
by
Julie Kagawa
Purchase on:
Amazon
, 
iBooks
, 
Book Depository
Add to:
Goodreads

I might be a demon and a coward, and I might deserve to burn, but in the end, I didn't want to die. Even if it damned me to hell, I would always choose to live.

Hmm. A paranormal dystopian that was only okay for me….this makes me sad. My only wish is that the action in the second half of the novel was the pace of the whole book. This would have easily been a four star read if it had been. I want to make something crystal clear, though-while the beginning did not give me what I wanted, the second half was more than enough to encourage me to start the second immediately after. (I wanted to let people know this up front in case they know of my lengthy reviews and will not read much further than the opening-the second book is eons better right out of the gate-I'm loving it)
"One scary old lady," he corrected me, looking relieved to be out of the house. "You didn't hear what she told me when I got up-you're so cute I could put you in a pie. Tell me that's not the creepiest thing you've ever heard." His voice climbed a few octaves, turning shrill and breathy. "Today for dessert, we have apple pie, blueberry pie and Ezekiel pie."
I think my biggest problem was the fact that right off the bat I didn't necessarily feel like reading this book. It wasn't on the top of my list, but I read it anyway. This is a huuuuuge thing for me-it almost always ruins a story when I do that, so I probably just should have waited and I probably would have enjoyed it more. My next problem was most definitely the characters. Now, that's a complex statement that I'm going to have a hard time explaining.
You don't dwell on what you've lost, you just move on.
The characters were very well developed, they had depth and individual personality traits that separated them from the rest, and there were many developments that shaped, evolved, and changed them throughout the course of the novel. So what's my problem? Why did I not love these characters? They clearly were very interesting. They weren't whiney or unrealistic…in fact, I found every character to be completely believable. But for some odd reason, the only two characters I loved were Kanin, the mercurial but controlled vampire who changed her, and Allie herself. Perhaps I liked them best because these two were the darkest and most action oriented to follow. I'm not sure. Even Zeke, the human love interest didn't pull me in until about 70%. Ok, so I guess that means that at about 70%, I had three characters whose fates I cared for, but it took a while. Jeb, Zeke's 'father', was a deplorable character whom I despised, and then Stick, Allie's friend in the fringe before she was turned, was an even worse character. He was useless, always frightened, easily pushed around, and depended on Allie for everything-he was ungrateful even after everything she did for him, and I only wish we could have seen him ripped to shreds by the rabids.
"You are a monster." Kanin's deep voice droned in my head again, as I forced myself to move, to walk away. "You will always be a monster-there is no turning back from it. But what type of monster you become is entirely up to you."
Wow. This turned into a rant rather quickly, didn't it? Well I'm going to leave the rest of the characters to the imagination, because even if I didn't love them all, I did like a couple. So I just need to stop writing bios on each individual character. Ok. The plot. Now, the plot was extremely well developed, building amazing images from the beginning all the way to the end, making this a prime example of world building that even the toughest critics on here can appreciate….and oh my I just couldn't fall in love with it. It was so extremely balanced with the action-romance-peril-info-dump areas, and yet the story just wasn't a win for me. I still, after three days of finishing, can't put my finger on why the story didn't resonate with me. It was all so perfect! I am going to take a stab at it and say maybe it's all the religious beliefs or explanations and the journey to 'Eden'. I think it just bored me. I didn't expect that in a vampire/dystopian book and I think it took me off guard. And to add onto that, I think it was when she met the settlers (ie Zeke and Jeb and their whole group) on the way to Eden that I realized I just didn't like the progression of the story.
Ugh but I still just don't get why, religious beliefs of the Jeb character aside, I didn't fall in love with this!!! Sorry. I'm just so conflicted about the story. And Zeke. Poor, beautiful, naive Zeke. He was the sweetest, most loyal guy ever, and more than once he put his neck on the line not only for Allie, but for all the people in his group that he has grown to love. An all around good guy, Zeke manages to balance out the negativity of that little trek that I wish we could have skipped, which is saying something because I don't love traveling stories.
Naive, I thought at once. Naive, brave, selfless, incredible-and much too kind to survive this world. It'll break you in the end, if you keep going like this. Good things never last.
Ok. Ugh. I'll admit it. FINE. I also…sigh….I also got so grossed out. There. I said it. I felt a little dark on a couple sequences and they just brought me down. Probably because View Spoiler »One of the few characters I liked got ripped to shreds. Seriously. For sport. He got ripped. To. Shreds. I won't say who. « Hide Spoiler and also just the way it happened. It made me tear up and cringe in disgust-and not in the good 'Angelfall cringe' kind of way. I just…didn't love a few scenes. And I know that totally stems from my lack of love for the whole story.
To throw in a random positive one-liner here, Allie had these…visions…and I found them to be eerie, dark, (eeeep) perilous, and they excited me the most out of the whole book. They were awesome, and I can say with absolute certainty that book two has tons of this and I LOVE IT.
Overall, I guess I obviously liked this story enough to move onto the second and I even gave it a three and a half. No, I didn't do great explaining what I did enjoy about the story, but I just had to mix the good with the bad because, overall, I felt what was good came from the bad. You know what I mean? Like…Allie being turned vamp, her worst nightmare, made her even more badass. She met Kanin because she was a vamp. When, inevitably, Zeke and the others had to find out she was a vamp, it made the story pick up fifty notches and led to an amazing, albeit gruesome, ending that made me zoom to book two. Soooooo…the good came from the bad, and honestly, that's how I operate anyway. Almost always my favorite part of a book is when the perilous or climactic scenes happen (look at my name, duuuh

), so I guess I do like the darker reads and scenes, despite this totally random and negative review. This one just did not make the favorites shelves as I had expected. Damn.
Related Posts