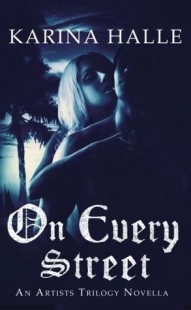 On Every Street
by
Karina Halle
Purchase on:
Amazon
, 
iBooks
Add to:
Goodreads
Synopsis:

When young con artist Ellie Watt decides to call herself Eden White and go after the drug lord who ruined her as a child, she never expects to fall for one of his henchmen. But Javier Bernal is no ordinary man. Subtly dangerous and overwhelmingly seductive, Eden finds herself passionately in love with Javier, the very person she's set-up to betray. With her body and heart in a heated battle against her deep need for revenge, no one will walk away from this con a winner.
Review:
*Spoilers for Sins and Needles
* *If you're on Team Javier, then you'll probably want to skip this review*
I loved Sins & Needles (My 5 Star Review can be found – here)!  I tumbled happily into Ellie and Camden's world, and fell madly in love with their twisted story.  But I was a little nervous to start the second book, Shooting Stars.  Because I was terrified of what could happen since Javier had captured Ellie.  Would she kiss him, touch him, do more?  Would her old feelings slowly reappear?  Would she betray Camden?  The Camden I am obsessed with and love!  So I realized that I needed to have a better understanding of Ellie and her past.  I wanted to know why she fell in love with Javier.  I wanted to see exactly what their love was like.  And I was hoping that I would slowly fall in love with their past.  That way I wouldn't be resentful or hold a grudge if Ellie did something stupid.  I know, I know, I'm making a HUGE guess on what could happen in book #2!  But it could happen, and I like to be emotionally prepared lol.  BUT, I should have stuck with my gut reaction while I contemplated reading this book, because it screamed at me to avoid this story at all costs!  I had a feeling that I would loathe watching Ellie with Javier be together and I was so right.  I hated Ellie and Javier together.  Hell I hated every single thing about Javier!
I could probably write a few pages on all of the reasons why I hate Javier, but I won't.  I'll just list my top three reasons instead. 🙂
Strike #1 – Instead of Javier coming off as sexy and suave, he just kept reminding me of a snake.  It felt as though he could wiggle himself out of any situation.  Time and time again he would slither out from underneath yet another sin that he would commit. I could rant about him asking for redemption (which I don't think he deserves). but instead I'll share a quote that made me shudder and laugh because SEE he is a snake! (Ellie went by Eden in the past)
"Eden," he whispered, squeezing my hand.
I looked up at him. He looked so serious, his dark brows knitted together.
"You've gotten under my skin," he said.
I wasn't expecting that.
"I don't think I'll ever be able to shed you."
Strike #2 – I hated the way he talked about sex.  His words felt dirty and not in the good way.  When Camden would talk about sex or talk while they were having sex…..ohhh sigh……it felt as though the words were pouring out of his heart.  You could feel the passion.  It was sexy and beautiful.  But with Javier, it never felt as though he was talking from his heart or his soul.  Maybe it's because he doesn't have either? (sorry, I have to throw a dig in here and there lol)  Here's his idea of sexy, which definitely isn't the same as mine.
"I want to come on every inch of your body," he whispered, and somehow it didn't sound dirty at all. It sounded clean, pure, like rainwater. "I want to rub it in you, like this, until it's a part of your skin. I want to stain you, Eden. I want myself embedded in your skin, in your heart, in your soul."
Strike #3 – I become annoyed when Javier would talk about owning Ellie or having her surrender to him.  No.  Just no.  Again, not sexy in my eyes.
"I won't hurt you," he said, reading my thoughts. "But you can't just hand over your virginity to me, Eden. I have to take it from you. I have to make you surrender to me , to everything, in every way possible. I want your heart, your soul, and your body. I want the you that you're hiding deep inside. I must have her."
So yeah, I despise Javier.  I tried my hardest to find anything redeemable or attractive in him, but I found nothing.  Nothing at all.  So now I am counting the seconds until Camden comes roaring back into the series and knocks Javier out for good!  Or kills him.  Tomatoes tomato, cause you know that either way will be fine by me as long as it happens.  Keeping my fingers crossed!  Come on Camden!!!
Save
Related Posts