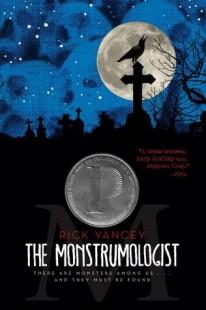 The Monstrumologist
(
The Monstrumologist #1
)
by
Rick Yancey
Purchase on:
Amazon
, 
iBooks
Add to:
Goodreads
Synopsis:

These are the secrets I have kept. This is the trust I never betrayed. But he is dead now and has been for more than forty years, the one who gave me his trust, the one for whom I kept these secrets. The one who saved me . . . and the one who cursed me.

So starts the diary of Will Henry, orphaned assistant to Dr. Pellinore Warthrop, a man with a most unusual specialty: monstrumology, the study of monsters. In his time with the doctor, Will has met many a mysterious late-night visitor, and seen things he never imagined were real. But when a grave robber comes calling in the middle of the night with a gruesome find, he brings with him their most deadly case yet.

A gothic tour de force that explores the darkest heart of man and monster and asks the question: When does man become the very thing he hunts?
If this book was a landscape, it would be the Sahara desert : perhaps beautiful from a distance, but so fucking dry that I wouldn't want to stay there more than 1 hour. I stopped at 67%, because there's just so much boredom I can take.
► Lack of … interest. What's the point of this? Oh, here's a monster. Look, his teeth are in his belly. This is a *insert Latin name to appear clever*. How wonderful. Now, you can eat your porridge, but just so you know, these creatures are invading New Jerusalem. What do you mean you don't care? SNAP TO, READER! SNAP TO!
I'm sorry but I can't.
Nothing fucking happens! I don't care if it's gross, I mean, I do have an history of disgust with maggots but in all honesty that's not at all what bothered me here. No. What annoyed the crap out of me is the fact that the plot felt way too simple to interest me, the whole thing punctuated with so many useless and slooooooow scenes that I struggled to keep my eyes open.
Not to mention that far from awakening my interest, the Latin names and other classics references felt somewhat pretentious to me, because they seemed completely out of phase with the simple plot.
► Lack of … depth in the characterization. Look, I love darkness. I love morally ambiguous characters. You know I do. Yet if I do like wondering what characters really think and analyzing their actions, in my opinion I haven't near enough material here to work with : everyone keeps telling me that Warthorpe is complex and multi-layered, but HUH? Really, HUH? To me he's one dimensional and pretty boring, and don't get me started about the stiff and repetitive dialogues which consistently failed to convince me.
Moreover, young Will Henry lacked a voice in my opinion. I know what you're thinking, "what's her problem? It's Will's POV!" except, yes it is but no it's not. The narrator isn't 12 years-old Will Henry, but the events are told years after they originally took place. As it is, I know how old Will Henry interprets them, and if his thoughts aren't (always) uninteresting, by no means do I have any insight about what he was thinking when he was younger. Come on. No 12 years-old would express an opinion in such a way. None.
To me, Warthorpe is pretty dry in his selfish manners and Will Henry acts like a spineless puppy. Please don't hate me, but I really didn't see anything else so far.
► Lack of … emotions. I don't mind the lack of romance, and several of my favorite books don't contain one bit of it. This being said, I need to feel at least ONE emotion – I know, I'm annoying.
What brings me to… the absence of fear. Scary, The Monstrumologist? Monsters don't scare me. Humans scare me on a daily basis – when I watch the news, when I read, when I talk to random people. Stupidity scares me to death. Clowns do scare me, but only because Stephen King screwed up my childhood. Monsters? Nope. Grossed-out? Maybe, but never scared. This book should have made my heart pound – sadly, it never did.
Anyway – blablabla, I didn't get it, blablabla, I don't care is all. So, okay, It's well-written. Okay. GOOD. Sadly I don't give a damn if I'm bored to death (it did escape the 1-star rating thanks to it, though).
*shrug*
I'm in the minority though, so don't let my review prevent you from reading it^^
Related Posts