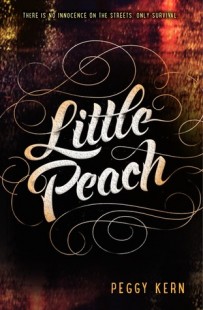 Little Peach
by
Peggy Kern
Purchase on:
Amazon
, 
Book Depository
Add to:
Goodreads
Synopsis:

What do you do if you're in trouble?

When Michelle runs away from her drug-addicted mother, she has just enough money to make it to New York City, where she hopes to move in with a friend. But once she arrives at the bustling Port Authority, she is confronted with the terrifying truth: she is alone and out of options.

Then she meets Devon, a good-looking, well-dressed guy who emerges from the crowd armed with a kind smile, a place for her to stay, and eyes that seem to understand exactly how she feels.

But Devon is not what he seems to be, and soon Michelle finds herself engulfed in the world of child prostitution where he becomes her "Daddy" and she his "Little Peach." It is a world of impossible choices, where the line between love and abuse, captor and savior, is blurred beyond recognition.

This hauntingly vivid story illustrates the human spirit's indomitable search for home, and one girl's struggle to survive.
Incredibly powerful and important. From page one hopelessness seized my throat because the truth is, I can't imagine. I can't understand. I don't come from money, but at every moment of my life I had someone I could count on. To think that there are people out there who have to face awful times alone breaks my heart. And these fucking words, overused and torn, seem void of meaning.
"What do you do if you're in trouble?
I wait for the answer to come to me. But there's only darkness and Calvin's voice and my own heart, pounding like feet on the pavement, running away, running away, running away.
Michelle's voice is wonderful in her simplicity. She rings true, and never does Peggy Kern allow her writing to sound fake and ornamental. This is realistic fiction done right, when the characters seem genuine and true to life, when the heavy issues dealt with aren't sugar-coated or hidden under a blanket of romance. For all of the young-adult contemporaries I read, Little Peach is the first tackling the oh so excruciating subject of child prostitution – or prostitution, for that matter. Why is that? Why, with all the books released every week, important issues like this one aren't covered? Of course harsh it is. Of course you're going to want to throw up and cry and wail. Of course we all need to escape reality sometimes and fluffy rainbows serve their purposes. But as much as I hate this world sometimes, I live in it. You do, too.

I can't imagine going through life with blinders constantly on, and there's so much atrocity in the news everyday that I know that most of us want to forget it and really, it's human. Yet I genuinely think that sometimes, we need to take an unblinking look at our world, even if it disturbs our bubble.
Perhaps it won't change anything, but we can't be sure now can we? For things to change we need to open our eyes about these subjects, we need to be aware and I'm really glad that talented and dedicated authors like Peggy Kern offer teenagers some ways to do it.
► All in all, here's a thought-inducing, eyes-opening page-turner with well-crafted and strong characters for whom I cared immensely. Strongly recommended.
Related Posts