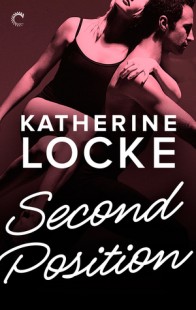 Second Position
(
District Ballet Company #1
)
by
Katherine Locke
Purchase on:
Amazon
, 
iBooks
Add to:
Goodreads
Synopsis:

Four years ago, a car accident ended Zedekiah Harrow's ballet career and sent Philadelphia Ballet principal dancer Alyona Miller spinning toward the breakdown that suspended her own. What they lost on the side of the road that day can never be replaced, and grief is always harshest under a spotlight...

Now twenty-three, Zed teaches music and theatre at a private school in Washington, D.C. and regularly attends AA meetings to keep the pain at bay. Aly has returned to D.C. to live with her mother while trying to recover from the mental and physical breakdown that forced her to take a leave of absence from the ballet world, and her adoring fans.

When Zed and Aly run into each other in a coffee shop, it's as if no time has passed at all. But without the buffer and escape of dance—and with so much lust, anger and heartbreak hanging between them—their renewed connection will either allow them to build the together they never had... or destroy the fragile recoveries they've only started to make.
I wish I could have stopped crying but alas, I guess that's what happens when you read such a poignant and beautiful story.
I regret nothing.
▨ I wish I could express how and why I think that Zed and Aly's journey should be read, but alas, I have this ball of emotions boiling in myself right now and I'm honestly afraid to let it go.
I still welcome all the overwhelming feels because sometimes, you just have to.
▨ I wish I could quote the hell out of this breathtaking and heartbreaking novel but then I would copy/paste the whole thing and alas, copyrights are a bitch.
Also, I really want you to try this book, and we wouldn't want you to know everything already, would we?
► This is, in my honest opinion, what New Adult should be about. No endless players and perfect girls who slut-shame like nobody's business. No fabricated drama and decisions that make no sense. No idiotic male-POV that anger me on men's behalf. No "that's not gonna fit" roll-eyes-worthy bullshit, either.
▨ I wish more NA novels could stay clear of all this crap and offer us more characters like Aly and Zed, fleshed-out and endearing and realistically flawed. I love them to pieces.
▨ I wish I wouldn't feel the urge to roll my eyes every time a strong issue is tackled in NA because I'm so tired of magic dicks and the likes.
► And yet, surprising and lyrical gems like this one make me remember – in the best way possible – why I never give up on any genre. Second Position is very character-driven, and is not perfect by any means (the secondary characters could have been more present & layered, and the plot is pretty simple) but I couldn't care less. The raw emotions, the beautiful writing and our adorable couple outweigh all the little flaws by far.
Thank you, Katherine Locke. With all my heart, thank you.
Related Posts