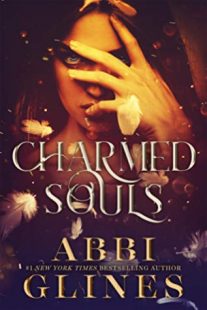 Charmed Souls
(
Black Souls #1
)
by
Abbi Glines
Purchase on:
Amazon
, 
iBooks
Add to:
Goodreads
Synopsis:

They say blood is thicker than water, but I was never proud of mine. A female born into the Kamlock bloodline was destined to possess three things they couldn't change—a crazy as hell mother, an unfair amount of beauty, and a Charmed soul that was as black as night.
All a Kamlock woman ever desired in life was to use her beauty to destroy wealthy men and take their riches. A century had passed since a generation of Kamlock sisters had been anything other than gold diggers.
All I ever wanted was to be free of them. I knew I couldn't change my cursed birth, but I could change its legacy. I had a job, I had friends, and I was slowly gaining my independence.
Until Rathe Scott crashed into my life and tore it apart.
He made me feel what I had spent my entire life never wanting to feel. He brought out a darkness I'd not known was inside me. And just when I thought I was becoming everything I had sworn I would never become…
He was gone.
Review:
I was the evil they all should fear.
Charmed Souls was the type of book that was easily devoured. The characters were effortless to connect with, the story line was beyond addicting and I loved how magic floated through the pages.  With friendship, a romance that had a forbidden feel to it and humor, Charmed Souls completely bewitched me and left me begging for more.  If you love paranormal romance or new adult stories then definitely add this one to your tbr!
The darkness had always calmed me. Even as a child, nighttime was my favorite. The quiet, the beauty of the stars, the comfort of being alone.
I liked Catalina, aka Cat, right away.  She stood up for herself, took care of her friends and worked her hardest to be good, since she was born into a toxic bloodline.  Cat was a witch, who not only cast spells and enchantments, but could also control some of the elements and see ghosts.  Her mother and sisters, oh my gosh you guys, they were trashy and mean.  They used their siren abilities to control and use men.  And take all of of their money.  Cat's tumultuous relationship with them hurt my heart, but it was addicting to watch since she stood up to them.  So Cat didn't let men get close to her, she would not be like her family.  Until Rathe walked into her world.
His dark expression was exciting. "You are going to fucking destroy me, and I will relish every moment."
Rathe moved in with Cat's best friends, Heath and Margo.  And Cat tried her best to keep her distance.  To act indifferent towards him.  Yet Rathe enraptured us in his spell and I wanted to know all there was about him.  He was kind, thoughtful and caring. Yet something simmered below the surface of him. It made his charm even more alluring. And while he was a player, I was intrigued that he seemed to only act as a friend towards Cat.  Especially when he seamlessly embed himself into her life.
"Maybe I'm crazy!"I called out to him, as I walked, trying to break the tension that had unintentionally built.
"Or maybe you're darker than you want to accept," was his response.
Charmed Souls felt like an addicting reality tv show, with paranormal aspects splashed across the pages.  This story was set during the college years and I loved watching the parties unfold. And while Cat lived at home with her family, I loved how she could escape to her friends apartments.  Unfortunately I can't say much more about this story, because it's best discovering it for yourself, but I loved Cat's cousin, Duely.  Be prepared for some TMI, but his heart was always in the right place.  Duely, Margo and Heath loved Cat inside and out.  It made my heart oh so happy since her home life didn't even have an inkling of that.
Things started clicking into place. Things I didn't want to connect. Things that I wanted to be a lie.
I thought I knew exactly where this story was going.  I even screamed outloud, I knew it!  Twice.  But there were some things that were twisted in a way that I didn't see coming.  It was beyond exciting and now I'm desperately waiting for that next book!  So yes, I definitely recommend Charmed Souls!  If you love magic, drama, a strong heroine and an addictive book boyfriend then definitely put this one on your list!
*I voluntarily read and reviewed an advanced copy of this book, provided by the author. All thoughts and opinions are my own.*
Related Posts