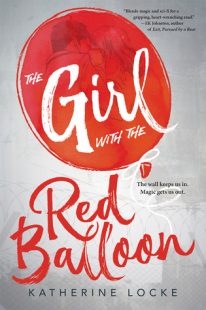 The Girl With the Red Balloon
(
The Balloonmakers #1
)
by
Katherine Locke
Purchase on:
Amazon
, 
iBooks
Add to:
Goodreads
Synopsis:

When sixteen-year-old Ellie Baum accidentally time-travels via red balloon to 1988 East Berlin, she's caught up in a conspiracy of history and magic. She meets members of an underground guild in East Berlin who use balloons and magic to help people escape over the Wall—but even to the balloon makers, Ellie's time travel is a mystery. When it becomes clear that someone is using dark magic to change history, Ellie must risk everything—including her only way home—to stop the process.
If you gave a girl a magic balloon, she'll become something else.
OKAY. Can I just say that if this isn't the best book I've read all  last year (I don't think I can take that position away from ACOL) then it's the one that's left the biggest impact on me. And it still takes the cake as second best book. I requested this after having read ONE great review but still wasn't fully prepared for what I was getting myself into. This book is a prime example of historical fiction and time travel done right—EVERYTHING about this book is done right. And as a person who love time travel that should really mean something.
Ellie is a modern day student who is in Germany on a study abroad trip. Her grandfather, who was actually a Jewish survivor of the Holocaust, used to tell her these stories about magic red balloons and how one actually saved his life while he was being transferred from a Polish ghetto to an internment camp. Oh a whim, she goes to grab it and ends up in East Germany in 1988.
The city hummed with a frenetic sort of energy, the kind that came when people say the light at the end of the tunnel and realized it wasn't the oncoming train. It was hope. The world was changing. We were along for the ride.
Now, I was born in 1991 and I'm going to tell you straight up that it was unbelievable for me to read about this place, one continent over, that had people living in that much fear only three years before I was born. I know that people in different places around the world are STILL living in that kind of fear but…this book in particular made me feel so sheltered. In all of my twenty six, almost twenty seven years I have NEVER known that kind of fear. And it just kills to know that I have it so easy when so many others don't. I think that this book is a good reminder of that. What's out there even still today.
But I digress. Let's get to the other parts of this book that had me laughing, SOBBING, and everything in between. Well let's see. First of all, ALL of the characters were amazing. Ellie, the main character is probably one of my favorite female protagonists of ALL TIME. Other than the small breakdown she has after being transported back in time (and I mean who WOULDN'T freak out about leaving YOUR time and friends and family) she is calm, cool, collected, sassy. UGH I  LOVE her. Kai and Mitzy are just as amazing. Oh—and by the way, this book is DIVERSE. Ellie is Jewish, Kai is Romani, and Mitzy is gay. And that's just who they are and we get to see how being those people in that time period affects their lives in a place that is so unforgiving.
For those of you who love romance, the stuff we get in here is SO BELIEVABLE AND WILL GIVE YOU BUTTERFLIES AND SO MUCH MOREEEEEE. I just want to cry thinking about it. I don't want to say any more honestly, you'll just have to read it and find out yourself. Not sure what direction book two will go in or who will be in it but I am already dying to get my hands on it.
If you give a girl a red balloon, she'll believe in magic and memory. If you give a girl a red balloon, she'll never want to let go.
Overall, this book just goes to show that one person, magic or no, has the ability to change the course of history with even just one decision—exactly the kind of book that we want to be reading in this day and age.
Related Posts