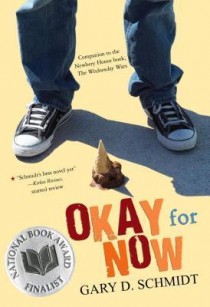 Okay for Now
by
Gary D. Schmidt
Purchase on:
Amazon
, 
Book Depository
Add to:
Goodreads
Synopsis:

In this stunning novel, Newbery Honor winner Gary D. Schmidt expertly weaves multiple themes of loss and recovery in a story teeming with distinctive, unusual characters and invaluable lessons about love, creativity, and survival.
There is something to be said for a book which manages to make me tear out on page 3 over a jacket, don't you think?
Indeed Okay for Now is a beautiful coming of age story which is every bit as powerful as what I expect from my favorite authors in the YA realistic genre, such as A.S. King, Melina Marchetta or Hannah Moskowitz.
What you need to know is that every character, even the weirdest of all, rings true, and above that, evolves throughout the story. Be prepared for this uncomfortable moment when you realize that no matter what you thought you knew, you were wrong. That no matter what you thought you felt, you'd change your mind. And let me tell you, here lies the absolute beauty of this novel, because isn't it often the same in real life? How many times did you presume something only to readjust your opinion after?
"Shut up. It's not like you – "
"Like I what? Like I what, Douggo? Do you ever wonder what it's like to be so angry that you… And then something happens, and after that, everyone figures that's what you're like, and that's what you're always going to be, and so you just decide to be it? But the whole time you're thinking, Am I going to be like him? Or am I already like him?"
How to emancipate from our family? How to express ourselves? How to break the cycle of abuse?
By no means there's a right answer to these questions, and I really appreciated that Gary D. Schmidt never attempted to drown the readers in pompous speeches and oh-so-meaningful conversations that always scream fake to me. In the contrary, Doug's family's journey is a long one, sometimes desperate, sometimes hopeful, and it was perfect as it was.
"But in The Dump, Angry Quiet was an old friend, and he moved in again. No one talked because we all wanted to scream."
As for Doug, his way of dealing with his issues is not something I would have expected to enjoy. I mean, birds. Can you see me frowning? I won't lie, I was skeptical at first : a teenager who draws birds to escape his shitty life? *in a hight pitched voice* Yeah, riiight. However, I am not one who doesn't know when to acknowledge her defeat, and defeat it is. I was WRONG. Yes, this kind of storyline can interest me, and even more, pull at my heart strings – wow. Now that was completely unexpected.
And do you know what was even more unexpected? Me going back to the drawings introducing every chapter to look at them closely, to try to analyze how Doug was forming that wing, that beak, even if I can't draw for the life of me (really, my students make fun of me when I sketch a man on the board. I'm that bad). But you know what? Doug made me care. About birds.
In all honesty, I thought that the way Doug's story was written, dismissing graphic descriptions in favor of suggestions, gave it so much more power. So much more emotion. Glued to the pages, I couldn't breathe at times, I have to admit. As Doug, I felt suffocated, stuck in the spirals of abuse. Not to mention these little sentences repeated along the way that either broke my heart or made me smile so, so big.
"You know what that feels like?"
Do you? Doug's voice felt so real that my heart was in my throat at the first sign of heartbreak. And oh boy. Does it contains heartbreak. I'm warning you here, the whole story can be read as a shout at the readers, as SOS calls nobody's been listening to. It hurts. I won't lie. I broke out in tears. Several times.
However, I wouldn't want you to think that the sadness overtakes everything – it doesn't. Clear the layers of hopelessness, and you'll be amazed to see how much life can surprise you. Beyond the reality of how hard it is to live when trapped in a cycle of spite and anger, Okay for Now offers us so much hope – it's truly beautiful.
"Maybe the Snowy Heron is going to come off pretty badly when the planes come together. Maybe. But he's still proud and beautiful. His head is high, and he's got this sharp beak that's facing out to the world.
He's okay for now."
Related Posts