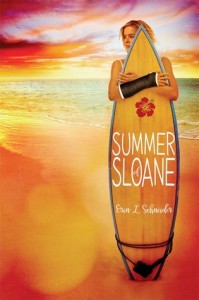 Summer of Sloane
by
Erin L. Schneider
Purchase on:
Amazon
, 
iBooks
, 
Book Depository
Add to:
Goodreads
Synopsis:

Warm Hawaiian sun. Lazy beach days. Flirty texts with her boyfriend back in Seattle.

These are the things seventeen-year-old Sloane McIntyre pictured when she imagined the summer she'd be spending at her mom's home in Hawaii with her twin brother, Penn. Instead, after learning an unthinkable secret about her boyfriend, Tyler, and best friend, Mick, all she has is a fractured hand and a completely shattered heart.

Once she arrives in Honolulu, though, Sloane hopes that Hawaii might just be the escape she needs. With beach bonfires, old friends, exotic food, and the wonders of a waterproof cast, there's no reason Sloane shouldn't enjoy her summer. And when she meets Finn McAllister, the handsome son of a hotel magnate who doesn't always play by the rules, she knows he's the perfect distraction from everything that's so wrong back home.

But it turns out a measly ocean isn't nearly enough to stop all the emails, texts, and voicemails from her ex-boyfriend and ex-best friend, desperate to explain away their betrayal. And as her casual connection with Finn grows deeper, Sloane's carefree summer might not be as easy to find as she'd hoped. Weighing years of history with Mick and Tyler against their deception, and the delicate possibility of new love, Sloane must decide when to forgive, and when to live for herself.
*ARC wish granted by Publishers/Netgalley in exchange for an honest review*
So I'm just going to admit it-I made an error in judgement. I saw this on netgalley. Saw it wasn't available. Saw the 'wish' button. Now, instead of being smart and just letting this one go, skeptical as I was, and moving on to another more well-deserved book…I wished for it. I mean, they never grant wishes anyway, do they?? Well, wrong. Wrong wrong wrong. Of course the one book I wish I wouldn't get I actually got, making it so I had to read it or my Netgalley percentage would go up.
And okay, I REALLY am so grateful I got a book I wished for…so grateful. But I can't help but hate that it had to be this one because after I clicked it, I knew it wasn't for me. So, instead of being a butthole and totally bashing this book (I hate bashing, I really really do. I have to be VERY angry to bash at all), I'm going to just do some bullet points of what worked for me and what didn't.
The Good:
-Finn
-Finn's personality
-Finn's protectiveness
-Finn's little jealousy
-Just…FINN.
Did I prove my point there?
The Bad:
-The writing (Cheesy-ooooh you know I hate the cheesy)
-The ex and best friend (I did not, for one minute, believe a friend would think she could do what she did and actually be forgiven the next day..or AT ALL, really..)
-The scenarios
-The way resolutions were handled
-The childish reactions to certain things
I mean, I could go on and on, but what would be the point. I feel bad enough as it is. If I think of anything that is absolutely pertinent to what would make my friends choose to read, or not read, I will add it. But, for now, I am happy just saying that pretty much nothing worked for me. It was a really cool, if not totally heartbreaking, idea…but execution is key, and that is precisely what this book lacked-Execution.
Related Posts