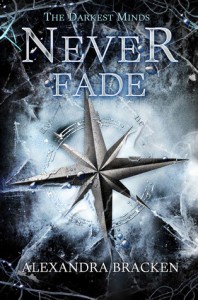 Never Fade
(
The Darkest Minds #2
)
by
Alexandra Bracken
Purchase on:
Amazon
, 
iBooks
Add to:
Goodreads
Ghosts don't haunt people-their memories do.

Epic. Gripping. Powerful. You know when you read a really great first book in a series? And when it ends with a cliffhanger that leaves you crushed and heartbroken, but begging for more? Well, TDM was like that, and here we are, left picking up the pieces…and begging for that inevitable moment when all is right in the world-Ruby's world…but it's become ours all the same. But when we finally get what we want, will it really be what we want?
If a heart could break once, it shouldn't have been able to happen again.
This review is going to be so hard because there is literally one thing I want to talk about…and it's the one thing that will spoil the end of book one. I suppose this is an ample warning that the possibility of spoilers from book one is high, but I will do my best to keep book one's spoilers to a minimum-because what makes this book so epic is stemmed from the cliffhanger of book one…and what makes this book all the sweeter.
"Safe." The word sounded hollow. He closed his eyes on it. "Don't go again," he whispered. "Don't go…where I can't follow, please, please, not again…"
Ruby is on a mission-a mission to get all the kids out of the Psi camps where they are mistreated and even killed, depending on what color ranking they are. But more than that, she's on a mission to forget the boy who inspired it all…View Spoiler » and to keep him safe no matter the cost-even her own happiness. When she made the agreement that the Children's League let Liam go in exchange for her cooperation, she thought she was making the best choice for his safety-but is he really safer? « Hide Spoiler Was that really the best choice? It plagues her every day, consuming her with want and heartache-but in the end, she feels like she did what was right…what was right for the guy she loves. View Spoiler » She would rather be apart from him than to see him become a monster by the league's hand, being broken down every day to be made a killer. But he would never leave on his own-not without Ruby. So she had to use her abilities to erase his memory…so he literally has no recollection of her or the moments they shared…though he swore he'd never forget her. « Hide Spoiler
His face was as open as it always was, so heartbreakingly perfect even with pain tightening the line of his mouth. His eyes were-they were so pale in this light, jumping from my eyes to my nose to my lips like he had never seen me before but never wanted to stop looking. An ache started at the center of my chest and worked its way out, twisting my insides until I finally forced myself to look away.
I absolutely loved this installment-my only complaint? That book three doesn't come out until September. We have the return of old characters, the introduction of new characters, and a mix of the two-I LOVED that. When Ruby is assigned a special mission, she has to find a way to ditch the league (at least the part that doesn't know anything about the assignment) and find a way to become invisible-she has to find a way to blend in and get to the disc that can change the course of all the camps and those trapped in them-but to get to this disc she must View Spoiler »find Liam-because he has it-without knowing he does. « Hide Spoiler.  And when she finds an opportunity to slip the league, she finds out that her friend and fellow league member, Jude, is being assigned to the deadly mission that she is using as a distraction to escape (he will most certainly be killed intentionally by dirty league members-thus why he was assigned to the mission) so she is forced to make a quick decision-bring Jude along in her escape…or leave him behind and risk him being taken out.
I knew what I'd been when I'd found them: a terrified splinter of a girl who had been shattered a long time ago. I had nothing, and no real place to go. Maybe I was still broken and would always be-but now, at least, I was piecing myself back together, lining up one jagged edge at a time.
I think we all know what Ruby decided to do-she is fierce, loyal, determined, and protective. She would never let a friend die or leave them behind to make her life easier. She is constantly putting herself in danger to protect others, and she lives for her friends. And this writing-it pulls you into the story until you become a part of it yourself and feel everything Ruby does and ache as she aches-you feel every pain and every vision and even her desperation-the writing is so vivid and painstakingly clear that it becomes impossible to look away from the page because it would totally break your connection-it just sucks you into every page and you don't want to be separated. It's that good.
"I don't like you," he repeated, his face bleak. "I don't like you?"
"Liam-" I started, alarmed.
"I can't-I can't think about anything or anyone else," he whispered. A hand drifted up, dragging back through his hair. "I can't think straight when you're around. I can't sleep. It feels like I can't breathe-I just-"
I adore this cast of characters. As I said in my first review, there really is never a character wasted. Even those new additions that seem like we could never really get attached to, I found myself bonded to them. Jude is one of those characters. He is young, loyal, and sweet-and even though he knows he was set up to be taken out, he believes in the good of the league-what they are fighting for. He sees the good in everything and is always a ray of sun on a crappy day-he is always there to pick up Ruby's mood. And then there's the return of Chubs-the ever uppity, rude, intelligent, but, as you probably guessed, loyal friend Ruby traveled with in book one. You are also probably wondering why the group got separated-I guess you need to read book one to find out. 😉
"I don't know what's wrong with me," he breathed out. "I feel like…I feel like I'm losing my damn mind, like your face has been carved into my heart, and I don't remember when, and I don't understand why, but the scar is there, and I can't get it to heal. It won't go. I can't make it fade. And you won't even look at me."
And there's…..drum roll please…..Liam. Liam, who would throw himself in front of a bus for his friends. Liam, who loves Ruby more than words can express. Liam, who needs Ruby's help more than he even knows…and is in mortal danger. He deserves every paragraph in this review, because his presence brings so much happiness, giddiness, and sweetness. Every moment with Liam was heart-wrenching, soul-crushing, butterfly-inducing awesomeness. I, at one point, was choking on the butterflies emerging in my stomach and could not stop gooning and making mooney eyes at my screen-I really invested the time for this story and it really payed off. I was so engrossed in this world and this story that all I could do was merely swat reality away-"Go away pesky dishes…shut up dog, I know you have to pee-but ten more minutes-PLEASE. I'll give you five treats and treats!" See? I was bargaining with my animal-pitiful.
"I'm…It's-it's like torture." His voice was strained, hardly even a whisper. "I think I'm losing it-I don't know what's happening, what happened, but I look at you, I look at you and I love you so much. Not because of anything you've said, or done, or anything at all. I look at you, and I just love you, and it terrifies me. It terrifies me what I would do for you. Please…you have to tell me….tell me I'm not crazy. Please just look at me."
My eyes drifted up to his, and it was over.
Twists, turns, danger, enemies you thought you'd never see again-they are here, people. I had even finished and was driving around yesterday, thinking-'Oh yay! I get to go home now-I'm so excited-More, Ruby, Liam, and Chubs adventures! Oh….wait…I finished this last night….' *cue crumpled, sad face*. I literally became deflated. I LOVED this world, I LOVED these characters, I LOVED this story. I am really going to miss them until September comes…no matter how many tears I have shed over these characters and what happens to them, I will never get enough-ever.
Related Posts