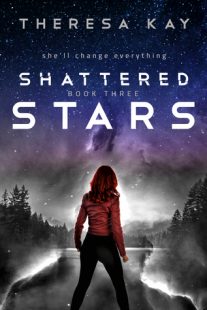 Shattered Stars
(
Broken Skies #3
)
by
Theresa Kay
Purchase on:
Amazon
, 
iBooks
Add to:
Goodreads
Synopsis:

Unexpected allies. Unexpected betrayals. Unexpected abilities.

The last thing Jax Mitchell ever wanted was to be a weapon. Her abilities are unpredictable at best, but with her twin lost, there's no one else with enough power to take on Jastren and his mental manipulations. She doesn't have to do it alone, though. Not only can she rely on the unwavering support of Lir, Rym, and her human friends, she also ends up with help from a surprising source.

Meanwhile, her twin brother Jace--his body controlled by Jastren, and the shattered pieces of his mind locked inside--has become a monster. The struggle to hold on to what's left of his humanity has left him weak and more confused than ever before. Every thought, every impulse, and every memory has the potential to destroy him--and everyone else around him.

The futures of both the humans and the E'rikon are on the line, but as ulterior motives and political machinations are revealed, it becomes clear that the betrayals aren't restricted to only one species. Can Jax and Lir get everyone to work together in time to prevent the two species from destroying each other? Can Jace find some measure of redemption for all he has done? And will Jax be able to harness her powers... without losing herself in the process?
Review:
*Spoilers for Broken Skies #1
& Fractured Suns #2 (but the 1st paragraph is safe to read)*
Shattered Stars was a brilliant and emotional conclusion to the Broken Skies trilogy!  It was action packed, emotionally gutting and I found myself on the edge of my seat desperately needing to know what was going to happen next.  I can't recommend this series enough!  If you haven't started this trilogy yet, definitely go grab the first book while it's free here.  I thought the best way to review the final book was to list some of the reasons why this series became an instant favorite of mine.  And they are –
✮ A realistic heroine that continually grows –
A few months ago I had one friend: Jace. Somehow along this strange journey, I've picked up a whole group of friends. Some of them have even become like family. A lump forms in my throat. I was so irritated with Jace for suggesting I needed to get out more, that I needed to try more… Who knew it'd be his kidnapping that precipitated my ability to overcome my fears? – Jax
Jax has come such a long way from being the girl who stumbled over her words and and had many panic attacks in Broken Skies.  I loved watching her progression throughout this trilogy as she grew into such a strong, confident woman!  But the best part was how much faith she found in herself.  She put herself in situations to help others, she protected her friends, and the lengths she went to learn her powers was impressive!  Jax is definitely one of my favorite heroines!
 ✮✮✮
✮ A swoon worthy book boyfriend –  
His eyes sparkle, and everything he's feeling washes over me. Desire. Lust. Nervousness. But, most of all, the warmth and light of love. He leans down and puts all of those emotions into a kiss.
From the first moment I met Lir, that charming, sarcastic alien quickly won my heart.  He pulled me in with his words and actions, and I loved seeing how sweet and thoughtful he could be to Jax.  And even though he made mistakes, it made me love him that much more.  I was completely infatuated with Lir, can you tell?  Plus in each book we got to see certain moments that showed how strong his love was towards Jax.  The things he did, ohhhh it was breathtaking.
✮✮✮
✮ A power couple –
He lifts my chin with two fingers and smiles softly. "Thank you."
"For what?"
"For pulling me out of there. For wanting to protect me"— a kiss to my forehead—"for being you,"— to the tip of my nose—"for being mine." His lips brush against mine, softly at first, then harder as he pulls me into his lap and I turn around to frame his hips with my legs. – Jax and Lir
Jax and Lir are now a force to be reckoned with.  While they each have their own strengths, together they seemed unstoppable.  And their faith in one another, along with the sacrifices they made was such a beautiful thing to watch.
✮✮✮
✮ So many other characters to love –
I stammer. "You know that. I mean, I couldn't even link with you out there in the courtyard. How exactly do you expect me to learn to fly this thing when I haven't even mastered the basics?"
Rym laughs. "The basics? Mind-to-mind communication isn't exactly basic."
"Still, you want to risk everyone's lives by letting me try to lift us up into the air and transport us hundreds of miles?"
"Why not? What better motivator is there than a life-or-death situation?" His expression is perfectly serious for a moment, then a snorting laugh escapes his mouth. – Jax and Rym
Flint, Rym, Jace, Peter, Emily, Stu, Ethan, and so many more became so important to me while I was reading this trilogy.  They each stood out, had their own voice and I loved how unique each of their personalities were.  I appreciated that  each of them played such an important part to this series.  And I loved even more how they helped weave the story together.  I dare you to try and not get attached to them too!
✮✮✮
✮ I was on the edge of my seat –
The color leeches from Daniel's face, and my smile only grows. He takes a step back, the gun in his hand forgotten. His bravado is gone. Every single drop. And this is going to be so much fun. – Jax
There were so many moments I was beyond nervous for what was going to happen next.  It wasn't just because there were so many characters I loved and I was terrified that they would die (oh gosh and some of them do die *sobs*), but it was because there was so much up in the air.  There were so many different variables and motives that it was hard to tell at times what would happen next.  Which made this series so much fun to devour figuring out all of the clues!  But at the same time, there were countless ways for them all to fail.  And it definitely seemed like failure would be so much easier than success at times.  So this book and series was a huge page turner for me.  I couldn't get enough of it.
✮✮✮
✮ Additional POVs –
I'm unpredictable. I'm dangerous. I'm absolutely in-fucking-sane. And I'm not going to get better. – Jace
In the first book, it was just Jax's POV.  Then in the second, we got to alternate between Jax and Lir.  And that made me love Lir even more.  But in this final book, we get to be in Jax and Jace's head, Jace is her brother if you need a refresher.  And to start off, I wasn't sure how to feel about that.  Yes I was gaining more knowledge about what was going on, but her brother's a little crazy ya know.  But as the story progressed, I started to realize that the knowledge we were gaining from Jace came at a huge price.  You see, I connected with him and his chapters gutted me to the core.  He was so broken and the pain and suffering he was going through was more horrific than I ever could have imagined.  The farther I got into this book, it felt as though I couldn't escape Jace's chapters without tears in my eyes.  His pain was so intense and raw.  But it was more than worth it because I never once thought the words Jace and redemption would ever be in the same sentence.  But wow, I was proven so wrong.  I loved having his POV added to the final book.
✮✮✮
The Broken Skies Trilogy was filled with peril, heartbreak, action, lies, betrayal, love and I was definitely glued to the pages.  I can only hope that all of my friends pick up this trilogy!  It's emotionally breathtaking and a must read!
***ARC was kindly provided by the author in exchange for an honest review***
Reading Order & Links:


Amazon

(click on covers)


Broken Skies #1
Reviews:
Jen

Fractured Suns #2
Reviews:
Jen

Shattered Stars #3
Reviews:


Jen
Save
Save
Save
Save
Save
Save
Related Posts