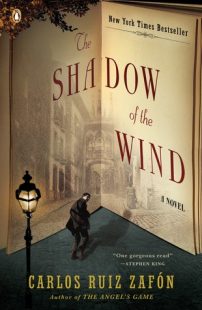 The Shadow of the Wind
(
The Cemetery of Forgotten Books #1
)
by
Carlos Ruiz Zafón
Purchase on:
Amazon
, 
iBooks
, 
Book Depository
Add to:
Goodreads
Synopsis:

Barcelona, 1945: A city slowly heals in the aftermath of the Spanish Civil War, and Daniel, an antiquarian book dealer's son who mourns the loss of his mother, finds solace in a mysterious book entitled The Shadow of the Wind, by one Julián Carax. But when he sets out to find the author's other works, he makes a shocking discovery: someone has been systematically destroying every copy of every book Carax has written. In fact, Daniel may have the last of Carax's books in existence. Soon Daniel's seemingly innocent quest opens a door into one of Barcelona's darkest secrets--an epic story of murder, madness, and doomed love.
2/2.5 stars. Look, it's not my thing to mince my words, so I'll give you my opinion and ultimately, you'll decide what to make of it anyway : as far as I'm concerned, The Shadow of the Wind is overrated and, to say the truth, a bit of a smokescreen. Despite its obvious qualities, I have to admit that I'm a little baffled of its status given that all the flaws, if found in some random YA book, would be called out without any doubt.
✘ Caricatures as characters, from Daniel the Romantic whose constant whining reminded me of some 18th Century hero (someone saves me from François-René de Chateaubriand, please), to the twisting-moustache villain whose mother, you guessed right, was a crazy bitch (mwahahahaha). As for the women (OMG, the WOMEN), they're either sexual creatures (often vile and manipulative, because of course *roll eyes*) or solely conceived for the Great Goal of Bearing children (or assuming their care). It's pretty simple, actually : the good girls are those who get pregnant or are desperate for it, and all women are portrayed through their looks. All of these characters were flat and forgettable in my book.
✘ Blatant sexism pouring through every page, and before you mention it, I KNOW, the society in 1945/1950 wasn't kind on women. I do know that, yet I don't believe that the portrayal of sexist behavior had to be so IN YOUR FACE. In the past I've read historical novels that let me furious about the way women were treated and categorized into little boxes (mother, virgin, whore, if you're asking) but in The Shadow of the Wind I never felt that the issue was handled or acknowledged, or barely. It was just THERE. All the time, and I'm not sure how I'm supposed to care about characters – Fermin and Daniel, for example – who constantly objectify women, when they're not busy expressing stereotypes like, "women can't do Maths", or, "women who let you touch them the first time are whores", etc, etc. I read the French translation, so I'm not going to write down the quotes, but they are EVERYWHERE. I felt like drowning.
✘ The instalove, anyone? Far from me the intent of spoiling the story to you, so I'll just say this : there are three couples in this story, and the THREE OF THEM suffer from major instalove (the kind where people see each other once, talk twice, and share iloveyous). What the hell?! Again, if this book was called The Storm and The Thorns, and some generic YA bullshit, it would have annoyed me, because I cannot feel invested in a romance if there's neither growth nor depth. Why in the world should I feel differently this time? I do not. Honestly? I couldn't care less.
✘ The resolution of the intrigue did not satisfy me, because I found the way it was revealed rather lazy. Sure, I did not expect it, but after having remained in the dark during 80% of the book, I was a little disappointed by the avalanche of information that was thrown in my face, in a info-dumping fashion. Even with the interesting (view spoiler)[meta narration (hide spoiler)], it felt like such a cop-out.
✔ The atmosphere is darkly enticing, captivating, even, and for me the real MC is Barcelona. Indeed I couldn't look away from the fascinating picture Carlos Ruiz Zafón created, from the vivid slices of life put into black and white letters. I wish the descriptions of Paris would have reached this level of brilliance, but I didn't really mind. Albeit the difficult times described, reading The Shadow of the Wind made me want to come back there, and I probably will very soon.
✔ The writing, if not free of some cheesy figures of speech – but it could be the translation – is addictive and compelling. From the first page I was hooked, and my interest didn't falter before reaching the second half (but I already explained why).
► All in all, The Shadow of the Wind was a disappointment for me. Perhaps my expectations were too high, but in the end, the story didn't convince me, and even the message – no matter how great it was, or wanted to be – felt a bit superficial because spoiled by the lack of depth of the characters.
*shrugs*
Related Posts