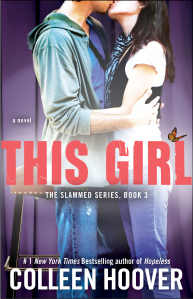 This Girl
(
Slammed #3
)
by
Colleen Hoover
Purchase on:
Amazon
, 
iBooks
, 
Book Depository
Add to:
Goodreads
Wow. I devoured This Girl. Probably 6 or 7 months ago I read Slammed and gave it only a 3 or so-I can't quite remember. It wasn't that I didn't like the story, because ultimately I read Point of Retreat and gave it 5 stars. I think I just hated that Will seemed to just be okay with everything or that he kept doing shit that would lead Layken on and then inevitably break her heart all over again. In his side of the story, we get to see how freaking obsessed he is with her and how hard the whole situation is for him.
We see how he would have done anything possible to be with her, even quit his job when that was what was supporting Caulder and himself.
I cannot express how undeniably sweet, and yes, CORNY, this novel was. It was the best kind of corny and I wouldn't have it any other way. I literally wanted to highlight something on every other page. Seriously-Every. Other. Page. Will's inner thoughts and turmoil were so adorable that I was second guessing how I ever thought he didn't care in the first Slammed. The story fills in little blanks that we never even knew existed, and that Will was never for one second a saint when it came to his teaching job or what he felt about the whole situation. I liked this-it was refreshing and it helped me to understand Will better. He is mature for his age, but still, at times, breaks down as a 21 year old with the burdens he carries should.
We get to see the present as well as the past in an alternation of chapters, and this helped us see they still have flaws, but ultimately love each other more than they ever could have imagined. They are so happy and their loving banter was enough to make anyone smile goofily.
Also-I wanted to litter my review with cute quotes but there were just so many I don't see how I could just do a few. So I decided to skip the quotes, lest my review become ALL about the adorable-ness that is Will.
All in all, I have to say based on Point of Retreat and This Girl, that obviously I like being in Will's far more than Layken's. Lake is very likeable, but Will is just something else. Colleen Hoover restored my faith in redoing stories from the male's POV, because not too long ago I found myself in the middle of a horribly written redo in male POV and it was, quite frankly, dreadful. So thank you Colleen Hoover for restoring my faith in the redone M POV, because I have always been a sucker for a guy's perspective. 😀
******
Wow. Just…wow. I really connected with this book. Review to come…and thank you Colleen Hoover 🙂
Related Posts