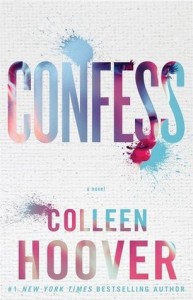 Confess
by
Colleen Hoover
Purchase on:
Amazon
, 
iBooks
Add to:
Goodreads
Synopsis:

From #1 New York Times bestselling author Colleen Hoover, a new novel about risking everything for love—and finding your heart somewhere between the truth and lies.

Auburn Reed has her entire life mapped out. Her goals are in sight and there's no room for mistakes. But when she walks into a Dallas art studio in search of a job, she doesn't expect to find a deep attraction to the enigmatic artist who works there, Owen Gentry.

For once, Auburn takes a risk and puts her heart in control, only to discover Owen is keeping major secrets from coming out. The magnitude of his past threatens to destroy everything important to Auburn, and the only way to get her life back on track is to cut Owen out of it.

The last thing Owen wants is to lose Auburn, but he can't seem to convince her that truth is sometimes as subjective as art. All he would have to do to save their relationship is confess. But in this case, the confession could be much more destructive than the actual sin…
"Are you here to save me?"
Hmmmm…it appears I'm on a roll this week. I'm not rating ANYTHING as I had expected. Me and Hoover have had a tremulous relationship, I'm the first to admit that. But after the epicness of Ugly Love (oh shhh) and the extreme fangirling that commenced after I fell in love with my dear Miles, I figured this next one would be the same in a lot of ways. Meaning, maybe I'd finally bridged that hurdle with her writing and I could maybe finally start connecting to all her books. I mean, I LOVE ART. I OBSESS over drawing and painting and what have you. What could possibly go wrong with a story that has a pretty decent female lead, an adorable good guy, and lots of beautiful artwork?? Apparently a lot, it seems.
I continue to stare at my feet, not wanting her to see in my face that I think she's crazy for agreeing to spend the weekend with me, because she deserves better than what I can give her. I don't however, think she deserves better than me.
Colleen Hoover seeps, if nothing else, passion into every one of her works. You feel her physically pushing love, adoration, energy, heart into her stories no matter the content. I may not love all the music, poetry, lyrical type writing, but many of you adore it-so why not keep doing it, if it works for her? She's an artist, in her own way, so she SHOULD keep expressing her passion in her books. If it ain't broke, don't fix it. The problem for me? It was broken. I didn't feel an ounce of the passion I've felt in her other stories. I'm not saying she didn't put effort into her story, I'm just saying it was missing something. Something that was a vital pulse this story lacked. I can't put my finger on it, but it wasn't there. And I think that's my problem-I just felt disconnected.
He pulls my legs until they're wrapped around his waist, and then he lifts me off the bar and directs us toward the living room without stopping our kiss. I try to ignore the smell of pizza being overcooked in the oven, because I don't want him to stop. But I'm also really, really hungry and don't want the pizza to burn.
The first 12% of this story I was very happy. I loved Owen and his cute little facial expressions and his optimistic attitude. I liked the mystery shrouding Auburn and her secret lawyer meetings and the loneliness that exuded from her with each of her walks to and from work. But for some reason, around 20%, something didn't feel right. I wasn't getting any butterflies I had gotten in the beginning and I was losing the tentative connection I'd had earlier. There were parts in the middle I loved-drunk scene, Target scene, etc. But as that passion, for me, started to fizzle, so did my interest. I'm not going to lie, I was going to DNF this at 55%. I knew all the little twists I needed to know and I just wasn't feeling it. But then I skimmed, a little, to get past a lot of the blah blah blah parts. I got past them and I moved on. I was still considering DNFing. Then something happened-I stopped skimming (almost completely! 😉 ) and started to become connected again around, oh, 65-70%? I can't be sure. And the story totally exploded for me. I got super into it and I was so glad I pushed myself to stick it out. If the rest of the story had half of that intensity, I'd have never been bored. The last 30% was by far my favorite, and I can't help but to be sad the rest of the story didn't grip me as deeply.
It's amazing how much distance one truth can create between two people.
To give you guys an idea of the characters, I'm just guna say a little about each. Owen was a sweetheart-if that isn't your thing, then pass on by. He was adorable, self-sacrificing, and sweet as candy. He had his sexy, protective moments, believe me-but more often than not he was very kind and funny. (It's funny that that isn't a huge turn on, book wise, for a lot of people) I love a break from the intense boys, every now and then, so I definitely did not mind. Auburn I really liked. She was funny (especially when drunk) and very hopeful. She had her own issues we don't find out about until later in the story, and normally I'm not into these kinds of twists, but this one kind of worked for me. And Trey. That dumbass. He was like those old time villains who twist their mustache while laughing maniacally. He was a little too…err…fake villain-ish for me. Almost unrealistic-but what do I know??
"I'm scared I'll never feel this again with anyone else," I whisper.
He squeezes my hands. "I'm scared you will."
I'm very sad this one wasn't a complete win for me. I'm always looking for the next great book to obsess and fangirl over, and this one just wasn't it. I didn't have HUGE expectations, but I had expectations, all the same. It even had a hint of that insta-love, at first, but it isn't what you'd ever guess. I think this story will touch many people, some more than most, based on your own personal experiences, but it definitely isn't for everyone, I don't think. It's slower than you'd expect from Hoover and, like I said, not as colorful or passionate as I'm used to seeing-No matter my previous opinions on her other stories, they are always painted so vividly for us and leave little to the imagination. I think a lot of people will feel the same way, but I guess time will tell.
*********************
Related Posts