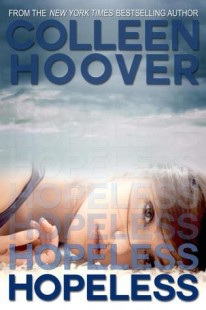 Hopeless
(
Hopeless #1
)
by
Colleen Hoover
Purchase on:
Amazon
, 
iBooks
, 
Book Depository
Add to:
Goodreads
I have been struggling for days on what to say about this novel. It's not because it wasn't good, because it was, but I felt just..blah after finishing it. I found myself pushing to finish, and struggling to not look at the tv screen as good reruns of Friends were playing…a feat that is not normally so hard for me when I am reading-I would much rather be reading a good book than watching reruns of my favorite television series'!.
When I first started Hopeless, I loved it. I thought, ok wow, I like the start of this, it's different. It was hard for me to focus at work and not want to hide behind my desk reading. But as the book progressed, I started to see myself drifting to other thoughts and places-and that really blows. It was all great material; I liked the twist, I liked finding out the reasons to why Sky was the way she was, why a certain tattoo was tattoed on Holder's arm, the romance blossoming throughout…but SOMETHING..was just missing for me. It just missed a beat somewhere, and that's where it lost a star for me.
For the record-I LOVED Holder the WHOLE way through. He was a great hero for the story. And I also loved Breckin and even Six. Let's not mistake my sense of something missing for the lack of characters' chemistry, because it was there. As was lots o' drama. Maybe people were just making such a big deal out of this book that I thought…Idk what I thought. I was HOPEing (haha) for more.
People who love Colleen Hoover, and even those who don't know or haven't heard of her, will love this book; it was just not 100% there for me.
Related Posts