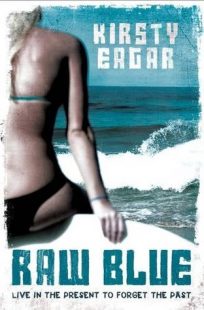 Raw Blue
by
Kirsty Eagar
Purchase on:
Amazon
, 
Book Depository
Add to:
Goodreads
Synopsis:

Carly has dropped out of uni to spend her days surfing and her nights working as a cook in a Manly cafe. Surfing is the one thing she loves doing... and the only thing that helps her stop thinking about what happened two years ago at schoolies week.

And then Carly meets Ryan, a local at the break, fresh out of jail. When Ryan learns the truth, Carly has to decide. Will she let the past bury her? Or can she let go of her anger and shame, and find the courage to be happy?
I came to realize that there's something quite magical in reading books that I can label without any doubt as realistic fiction : trapped in that state of harsh honesty, when they're the most vulnerable to any objective analysis, the characters never annoy me. Give me a special snowflake and my mind will rip any flaw to shreds – not because I'm mean, simply because I cannot help. No matter how much I'll want to enjoy the ride, I won't be able to get past all the little details that bug me.
[That moment, there, when he said that and acted out of character. That dialogue, then, when she told him that and what the hell, really]
It makes sense, actually : serve me archetypes and I will expect them to follow the implied guidelines. Yet if the characters don't shy away from complexity but on the contrary, if I end considering them as human beings, their flaws won't have the same impact : instead of infuriating me, they'll make them dear to me.
Carly, Ryan – Danny, even – are dear to me.
I won't lie, when I saw many reviews stating that Melina Marchetta fans would love this book, I stayed wary. I mean – Just how many times did I read that catchy line only to be disappointed? But for the first time ever, I stopped while reading and thought yes, this is it. There's no magic trick, though. Indeed that feeling doesn't come from the settings or even the issues dealt with, but with a simple while multifaceted truth, named Jonah, Taylor, Thomas, Ryan, Carly, Francesca….
These raw, multi-layered and messed-up characters grab you, remind you of random anecdotes from your past (also that cupboard there? Don't open it), drive you to call your mum because really, it's been a while, tear up but NO YOU DON'T FREAKING KNOW WHY SO WHO CARES THAT YOU KNOW NOTHING ABOUT SURF, you're having a moment there and –
"Shame isn't a quiet grey cloud,

shame is a drowning man

who claws his way on top of you, scratching and tearing your skin, pushing you under the surface."
ARGGGGG. I'll come back to review this book later. I sure cannot now. In the meantime, please give Raw Blue a chance, because its beautiful writing and its real emotions won't disappoint you. I'm sure many reviewers explained why way better than me, so go read their reviews, okay? At this point, I'm not sure I can talk about it more without shattering into pieces. Sorry about that.
TRIGGER WARNING : View Spoiler »rape « Hide Spoiler[rape (hide spoiler)]
Related Posts