Life:
I've been sick all week, which usually isn't too horrible because then I get to stay in bed all day and read.  But this time around I had a 102+ fever for 4 days and it has kicked my butt.  Things are turning around and I'm hoping that by Sunday I can get myself to Trader Joes.  It's a grocery store chain that I am obsessed with.  And it has over 60 or maybe 70 pumpkin items this time of year.  I have tried all of them.  Yup, I'm one of those people.  The kind that are truly obsessed with every single thing that is pumpkin.  I'm keeping my fingers crossed I can go shopping there this weekend and stock up on everything pumpkin!
In case you aren't familiar with our Friday Star Posts, we like to take a look at what's happened around here in the last week, what's coming up that we are excited about and anything else that we may have to share!
♥ Enjoy!
✩✮✩✮✩✮✩✮✩✮
Just Finished and Loved: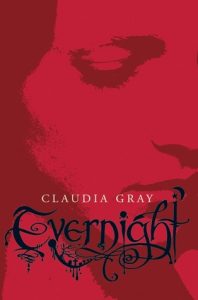 Evernight (Evernight #1) by Claudia Gray → Chelsea's Review
5 Stars! That moment when you realize you love a TOTALLY cliche book that almost all your friends (And most of the community) hates. I literally am laughing right now because, really, what are the odds that everyone hates a book I love. It's crazy.

Bianca wants to escape.
She's been uprooted from her small hometown and enrolled at Evernight Academy, an eerie Gothic boarding school where the students are somehow too perfect: smart, sleek, and almost predatory. Bianca knows she doesn't fit in.
Then she meets Lucas. He's not the "Evernight type" either, and he likes it that way. Lucas ignores the rules, stands up to the snobs, and warns Bianca to be careful—even when it comes to caring about him
"I couldn't stand it if they took it out on you," he tells Bianca, "and eventually they would."
But the connection between Bianca and Lucas can't be denied. Bianca will risk anything to be with Lucas, but dark secrets are fated to tear them apart . . . and to make Bianca question everything she's ever believed.
✩✮✩✮✩✮✩✮✩✮
Reading Next:
Glass Houses (The Morganville Vampires #1) by Rachel Caine
College freshman Claire Danvers has had enough of her nightmarish dorm situation, where the popular girls never let her forget just where she ranks in the school's social scene: somewhere less than zero.
When Claire heads off-campus, the imposing old house where she finds a room may not be much better. Her new roommates don't show many signs of life. But they'll have Claire's back when the town's deepest secrets come crawling out, hungry for fresh blood.
✩✮✩✮✩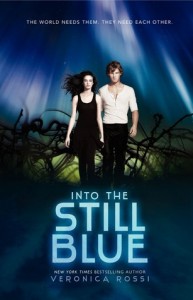 Into the Still Blue (Under the Never Sky, #3) by Veronica Rossi
The final book!  In the first book, Under the Never Sky, Exiled from her home, the enclosed city of Reverie, Aria knows her chances of surviving in the outer wasteland—known as The Death Shop—are slim. Then Aria meets an Outsider named Perry. He's wild—a savage—and her only hope of staying alive. A hunter for his tribe in a merciless landscape, Perry views Aria as sheltered and fragile—everything he would expect from a Dweller. But he needs Aria's help too; she alone holds the key to his redemption.  In alternating chapters told in Aria's and Perry's voices, Under the Never Sky subtly and powerfully captures the evolving relationship between these characters and sweeps readers away to a harsh but often beautiful world. Continuing with Through the Ever Night and concluding with Into the Still Blue, the Under the Never Sky trilogy has already been embraced by readers in twenty-six countries and been optioned for film by Warner Bros
✩✮✩✮✩✮✩✮✩✮
Upcoming Releases: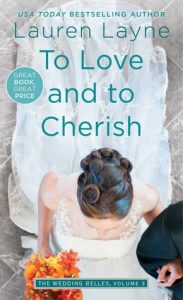 To Love and to Cherish (The Wedding Belles #3) by Lauren Layne (Releases 10/18)
Sex and the City meets The Wedding Planner in The Wedding Belles, a contemporary and witty romance series about three high-powered New York City women who can plan any wedding—but their own.
Alexis Morgan has spent the past eight years devoted to turning her tiny start-up into Manhattan's premiere wedding planning company, The Wedding Belles. Now that her business is thriving, it's time to turn towards her much neglected personal life, and Alexis approaches her relationships like she does everything else: with a plan. Not a part of that plan is Logan Harris, the silent partner in the Belles, and the one person who's been there for her since the very beginning. But Alexis needs someone fun, and Logan's all business, all the time—except when a late night at the office ends with an unexpected kiss that leaves the usually cool and together Alexis reeling.
Logan has lusted after Alexis since the day he walked into the tiny Harlem apartment that used to double as her office. But the ambitious wedding planner has always been untouchable…until now. Alexis has made it clear that she's on the dating market—and equally clear that he's not in the running. But when Alexis finds herself in need of a date for her sister's last minute wedding in Florida, Logan knows it's the perfect time to show Alexis that there's more to him than numbers and spreadsheets—and beneath the pinstripes and glasses lies a hot-blooded heartthrob. As Florida's sultry days turn into even hotter nights, Logan's out to convince Alexis that the fling of a lifetime could just maybe turn into forever…
✩✮✩✮✩
Gemina (The Illuminae Files #2) by Amie Kaufman & Jay Kristoff (Releases 10/18)
The 2nd book!  In the first book, Illuminae, This morning, Kady thought breaking up with Ezra was the hardest thing she'd have to do. This afternoon, her planet was invaded.
The year is 2575, and two rival megacorporations are at war over a planet that's little more than a speck at the edge of the universe. Now with enemy fire raining down on them, Kady and Ezra—who are barely even talking to each other—are forced to evacuate with a hostile warship in hot pursuit.
But their problems are just getting started. A plague has broken out and is mutating with terrifying results; the fleet's AI may actually be their enemy; and nobody in charge will say what's really going on. As Kady hacks into a web of data to find the truth, it's clear the only person who can help her is the ex-boyfriend she swore she'd never speak to again.
Told through a fascinating dossier of hacked documents—including emails, maps, files, IMs, medical reports, interviews, and more—Illuminae is the first book in a heart-stopping trilogy about lives interrupted, the price of truth, and the courage of everyday heroes.

✩✮✩✮✩
Check out the rest of our list of upcoming releases that we can't wait for → HERE
✩✮✩✮✩✮✩✮✩✮
Sales:
$0.99
$1.99
$2.99
$3.03+
Freebies:
Save
Save
Save
Save
Save
Save
Save
Save
Save
Save
Save
Save
Save
Save
Save
Save
Save
Save
Save
Save
Save
Save
Save
Save
Save
Save
Save
Save
Save
Save
Save
Save
Save
Save
Save
Save
Save
Save
Save
Save
Save
Save
Save
Save
Save
Save
Save
Save
Save
Save
Save
Save
Related Posts