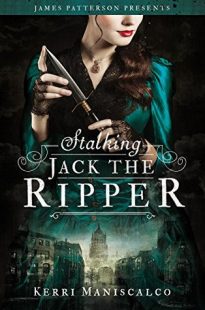 Stalking Jack the Ripper
(
Stalking Jack the Ripper
)
by
Kerri Maniscalco
Purchase on:
Amazon
, 
iBooks
, 
Book Depository
Add to:
Goodreads
Synopsis:

Seventeen-year-old Audrey Rose Wadsworth was born a lord's daughter, with a life of wealth and privilege stretched out before her. But between the social teas and silk dress fittings, she leads a forbidden secret life.

Against her stern father's wishes and society's expectations, Audrey often slips away to her uncle's laboratory to study the gruesome practice of forensic medicine. When her work on a string of savagely killed corpses drags Audrey into the investigation of a serial murderer, her search for answers brings her close to her own sheltered world
Wow okay this was super fun. I mean really – if you're in the market for YA Sherlock Holmes with a badass heroine and a super snarky (and charming) sidekick, definitely pick this up. I do have some mixed feelings about parts and I'll admit I skipped some chunks because ew, not for me. Some of the ending really rubbed me the wrong way, but you can see those details below in the spoiler tag.
Aubrey Rose is basically an unconventional female in her society. She's super into education and volunteers her time at her uncle's lab studying forensic science. And we get all the gory details, lol. So if you're here for that kinda thing, you'll enjoy it. If not, just skip over it. I'd say the story is just as enjoyable without the details of the… dead.
And then she meets the cocky, ever so flirty Thomas Cresswell who is pretty much Captain Carswell Thorne from the Lunar Chronicles reincarnate. Ohmigosh he is pretty much the reason I loved this book. The banter and everythinggggggg yessss give me more.
"Thomas smiled at my eye roll, puffing his chest up and standing with one foot proudly resting on a chair as if posing for a portrait. "I don't blame you, I am rather attractive. The tall, dark hero of your dreams, swooping in to save you with my vast intellect. You should accept my hand at once."
Anyway, a string of murders starts going down and as the story progresses, Aubrey starts to realize the murderer might be connected to her family somehow. And of course, Thomas is there to annoy Aubrey while she figures it all out.
"If I don't murder you this afternoon, it'll be a gift sent directly from God Himself, and I vow to attend services again," I said, holding a hand against my heart.
"I knew I'd get you to church eventually."
I would just like to say, for the record (and friends can vouch for me…) I KNEW WHO THE MURDER WAS ALL ALONG. So I win a cookie or something, right? I KNEW IT I KNEW IT I KNEW IT.
Anyway, I definitely was not into the saence part and I skipped it. Spirits are just not my thing, yo. I don't feel like I missed out on much.
***Minor spoilers below – don't read if you want to keep the mystery alive!***
As far as the ending, I definitely felt a bit of glee knowing I guessed the killer, but aside from that, it was just really sad. I actually even teared up a bit. And honestly, some of it really rubbed me the wrong way. (view spoiler)
But as far as the set up for the next book, I'm super on board with that. I'm already REALLY looking forward to it and trying to beg my way to an arc lol. Mostly I'm just hoping for lots of time with Thomas Cresswell, though I hope the banter stays alive!
Related Posts