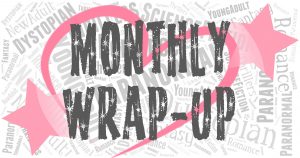 Life:
I'm officially back!  In case you don't remember, or you're new, I had surgery back in March.  Everything that could go wrong, did go wrong.  I had complications, horrific side affects from medicine at the hospital and then at home, I got extremely sick etc.  I went into surgery thinking that it was going to be a piece of cake, and it wasn't.  Because of that, I needed a break.  I needed time with my family, time to find my happiness again and time to heal.  And the healing has been a lot slower than planned.  But it's summer now, and that's my favorite time of the year!  Not only have I found lots of time to read at night.  But the days are the best!  My two little boys and I spend every minute we can at the beaches in Tahoe, at the pools or at the parks.  I love being outdoor in the sunshine and water!  It's my happy place.  I'm so thankful it's summer, and a hot one at that too woohoo!
I decided to start a Monthly Wrap-Up instead of our Weekly Wrap-Ups.   We'll take a look at what has happened around here in the last month.  That'll include what we read, any other posts we may have had, and books that we added to our ever-growing TBR.
♥ Enjoy!
✮✩✮✩✮✩✮✩✮
What We Read:
4.5 Stars:
✮I Knew You Were Trouble (Oxford #4) by Lauren Layne – Jen's Review

4 Stars:
✮Roar (Stormheart #1) by Cora Carmack – Brittney's Review

2.5 Stars:
✮All the Stars Left Behind by Ashley Graham – Jen's Review
✮Beauty of the Beast (Fairy Tale Retellings #1) by Rachel L. Dementer – Brittney's Review
✩✮✩✮✩✮✩✮✩✮
Favorite Book of the Month: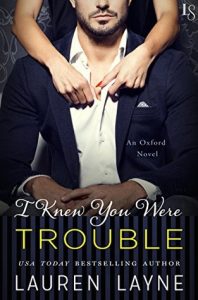 I Knew You Were Trouble (Oxford #4) by Lauren Layne – (Jen's Choice)
I'm a huge fan of the enemies to lovers trope!  And this one was so much fun!  It was sexy, angsty and had a fabulous epilogue.  Also, it can easily be read as a stand alone, you don't have to read the previous books.  Although I do recommend them.
Other Posts:
✮ Our Most Anticipated Releases for June
✮ Series We've Been Meaning To Read But Haven't Yet
✩✮✩✮✩✮✩✮✩✮
Added To My TBR:
Here are some of the books I added to my TBR in June.  No wonder my TBR is ridiculously long.  I always add more books than I have read that month lol!  And just a heads up – I don't include books that don't have a cover yet.
✩✮✩✮✩✮✩✮✩✮
Did you read any of the same books we did?  Or did we share the same favorite book?  If not, what was your favorite?  Or have you read any of the books I just added to my TBR?
Here's hoping you all had a wonderful June and cheers to July being just as fabulous!
I linked this Monthly Post to June 2017 Wrap-Up Round-Up Link-Up over at Feed Your Fiction Addiction. 🙂
Save
Related Posts