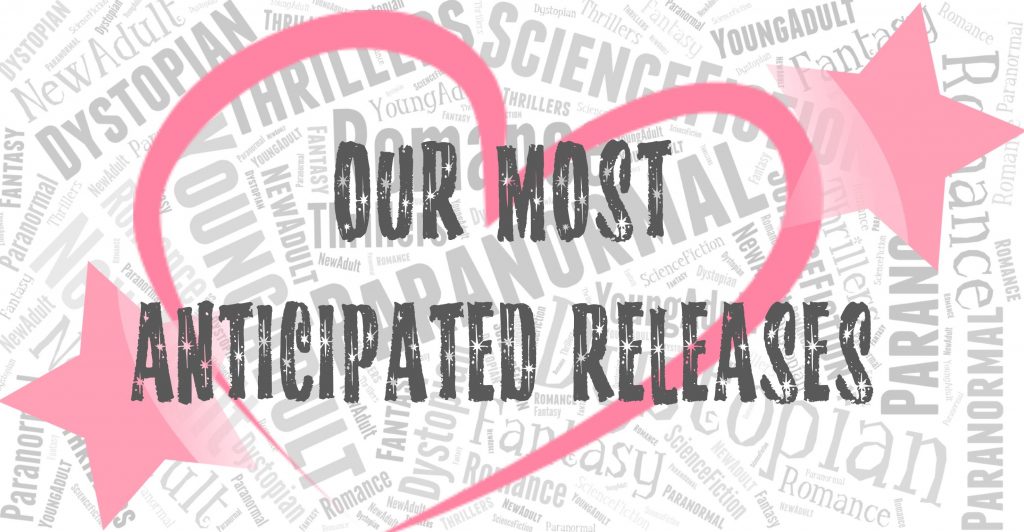 We love talking about books that we can't wait to read! And that includes the ones that haven't been released yet. So on the first day of every month, we'll share with you the books coming out that month that we're the most excited about. There's a link to Goodreads in case you want to add them to your tbr too! So here are the books we are counting down until they are released in July!
Swim. Eat. Shower. School. Snack. Swim. Swim. Swim. Dinner. Homework. Bed. Repeat.
All of Maggie's focus and free time is spent swimming.  She's not only striving to earn scholarships―she's training to qualify for the Olympics.  It helps that her best friend, Levi, is also on the team, and cheers her on. But Levi's already earned an Olympic tryout, so Maggie feels even more pressure to succeed.  And it's not until Maggie's away on a college visit that she realizes how much of the "typical" high school experience she's missed by being in the pool.
No one to shy away from a challenge, Maggie decides to squeeze the most out of her senior year.  First up? Making out with a guy.  And Levi could be the perfect candidate.  After all, they already spend a lot of time together.  But as Maggie slowly starts to uncover new feelings for Levi, how much is she willing to sacrifice in the water to win at love?
✩✮✩✮✩
No one is entirely certain what brings the Emperor Sikander to Shalingar. Until now, the idyllic kingdom has been immune to his many violent conquests. To keep the visit friendly, Princess Amrita has offered herself as his bride, sacrificing everything—family, her childhood love, and her freedom—to save her people. But her offer isn't enough.
The palace is soon under siege, and Amrita finds herself a fugitive, utterly alone but for an oracle named Thala, who was kept by Sikander as a slave and managed to escape amid the chaos. With nothing and no one else to turn to, Amrita and Thala are forced to rely on one another. But while Amrita feels responsible for her kingdom and sets out to warn her people, the newly free Thala has no such ties. She encourages Amrita to go on a quest to find the fabled Library of All Things, where it is possible for each of them to reverse their fates. To go back to before Sikander took everything from them. 
Stripped of all that she loves, caught between her rosy past and an unknown future, will Amrita be able to restore what was lost, or does another life—and another love—await?
✩✮✩✮✩
Delaney's entire world is thrown into chaos after she is mistaken for Lissa Olena, an alien princess hiding out on earth in order to escape an arranged marriage. Kidnapped by the princess' head bodyguard, Ruckus, and imprisoned in an alien palace, Delaney is forced to impersonate the princess until Olena can be found. If she fails, it will lead to an alien war and the eventual enslavement of the entire human race.
No pressure or anything.
Factor in Trystan―the princess' terrifying betrothed who is intent on unraveling all her secrets―and her own growing feelings for Ruckus, and Delaney is in way over her head.
✩✮✩✮✩
Ellie Hudson is the front-runner on the road to gold for the U.S. Olympic archery team. All she has to do is qualify at the trials in jolly old England. When Ellie makes some kind of crazy wrong turn in the caverns under Nottingham Castle—yes, that Nottingham—she ends up in medieval England.
Ellie doesn't care how she got to the Middle Ages; she just wants to go home before she gets the plague. But people are suffering in Nottingham, and Ellie has the skills to make it better. What's an ace archer to do while she's stuck in Sherwood Forest but make like Robin Hood?
Pulled into a past life as an outlaw, Ellie feels her present fading away next to daring do-gooding and a devilishly handsome knight. Only, Ellie is on the brink of rewriting history, and when she picks up her bow and arrow, her next shot could save her past—or doom civilization's future.
✩✮✩✮✩
Maddie's not impulsive. She's all about hard work and planning ahead. But one night, on a whim, she buys a lottery ticket. And then, to her astonishment —
She wins!
In a flash, Maddie's life is unrecognizable. No more stressing about college scholarships. Suddenly, she's talking about renting a yacht. And being in the spotlight at school is fun… until rumors start flying, and random people ask her for loans. Now, Maddie isn't sure who she can trust.
Except for Seth Nguyen, her funny, charming coworker at the local zoo. Seth doesn't seem aware of Maddie's big news. And, for some reason, she doesn't want to tell him. But what will happen if he learns her secret?
With tons of humor and heart, Kasie West delivers a million-dollar tale of winning, losing, and falling in love.
 ✩✮✩✮✩
So these are the books we can't wait to be released this month! Are you excited about any of these releases too? Or is there a book we missed that we should definitely check out? Let us know. ♥

Save
Save
Save
Save
Save
Save
Save
Save
Save
Save
Save
Save
Save
Save
Save
Related Posts