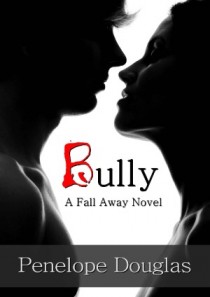 Bully
(
Fall Away #1
)
by
Penelope Douglas
Purchase on:
Amazon
, 
iBooks
, 
Book Depository
Add to:
Goodreads
*4.5 Stars….Maybe…Still not sure*

Taking a long breath, my eyes narrowed at him. "You've already made me cry countless times." I raised my middle finger to him slowly, and asked, "Do you know what this is?" I took my middle finger and patted the corner of my eye with it. "It's me, wiping away the last tear you'll ever get."

I'm extremely conflicted right now. I don't quite know what I expected, but it wasn't what I read. Or is it exactly as I had imagined? I just don't know. On the one hand, it was a very addicting story that had me itching to read it when I wasn't able to. On the other hand, the 'bullying' wasn't quite what I was thinking….It's all just so confusing lol.
We can be confused about what is good for us but not what we truly want.
Tate and Jared were best friends for years before high school. They did everything together, until the summer before their freshman year when Jared had to leave…he came back and was never the same. He ignored her, avoided her, and relentlessly bullied her in front of others. Tate didn't understand where her best friend and confidant went, and it essentially caused her to curl up in a ball and just take it.
While Jared mercilessly taunted and humiliated her, I found it unrealistic that Tate would take it as she did. I can't say I know what it's like to be bullied per se, but what I CAN identify with is that if I saw this going on, I don't know that I wouldn't approach an authoritative figure-call me a narc, but I would hate to see an innocent girl go through what she did while I stood back and watched. Sure, I've had my fair share of nasty girls attempt to do their worst, but nothing to the extent of what I witnessed in this story. I think my biggest point is: while I thoroughly enjoyed this story, I didn't get it and I didn't find it believable. Why, because of one summer, does Jared feel the need to take it all out on Tate? What happened that could have caused such inexcusable and alarming actions towards a supposed best friend? I just couldn't see how that would form such a 'hatred' towards someone he had considered himself close to-it didn't make sense.
Jared indulged in my misery like it was candy. He fed me to the wolves time and again, reveling in the unhappiness he caused. Jared, my friend, was completely gone, leaving a cold monster in his place.
It IS, however, the most realistic 'bullying' story I've read to date, and ALSO, it was very low in the cheese factor, which shocked me. There really wasn't any cheesy dialogue, and I can appreciate that. The bullying in most books tends to be catty and extremely unrealistic, which always turns me off. But in Bully, I enjoyed the dialogue and even Jared's ferocious looks and dialect toward Tate. The whole time I read, I was like, 'okay, sooooo she's just going to end up forgiving him? How will that work? It's going to be handled poorly, I just know it.' But in all reality, the way Tate handled herself was not horrible and even believable, to an extent. Sure, she grew a backbone while away in France (essentially overnight in book standards), but when it came to the tough stuff, getting to the nitty gritty on why Jared became such an asshole, she didn't just bend over and let him have it-she had residual and lasting feelings for him, sure, from the past, but she wasn't just willing to forget everything he had done, and I respect that greatly.
My other fear was that I wouldn't get why Jared all of a sudden cared again and how they could seamlessly become a couple at the end of it all. See? I had a lot of doubts. But the way everything transpired was okay with me and I ended up loving it. When things did start to turn around, I fell in love with Jared and I loved Tate's crass attitude towards everyone and everything. It was refreshing to see her losing the 'poor me' act and attempting to move on with her life. What started as a question mark about the story turned into a certainty and I started to fall for the not-so-unexpected relationship and root for what they once lost.
"I want to touch you." His words were against my lips now. "I want to feel what's mine. What's always been mine."
A great story with a lot of fun as well as some tough topics, I think Bully is an extremely enjoyable read. I feel like I only voiced my concerns in this review, but what I attempted to do was show what I doubted I would like and express how much I really and truly did enjoy it. There WERE some unbelievable aspects, as I mentioned before, but the overall story was so enjoyable I didn't much care. While it took me a while to finally decide to read this story, I'm glad I did. I will most likely read the story from his POV, and maybe then I will get an even better look at why Jared acted the way he did.
Yesterday lasts forever. Tomorrow comes never. Until you.

Related Posts