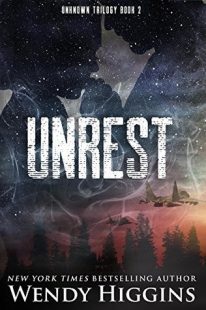 Unrest
(
Unknown #2
)
by
Wendy Higgins
Purchase on:
Amazon
, 
iBooks
Add to:
Goodreads
Synopsis:

Being on the run in the desert means food and sanctuary are hard to come by, but Amber Tate and her crew are not about to give up. Not after having the things they love brutally ripped from them by an unknown enemy who sent their world into the apocalypse.

Survival takes precedence, but once safe shelter is found, their guards fall and the emotions they've been holding in are finally released. Anger, insecurities...lust. In their tight quarters, Amber, Rylen, Tater, and Remy can't escape it. The past must be faced, and passions run even stronger in the darkest of times.

In the midst of unrest, their worlds are rocked again when they discover the truth about the war that's ruined their lives. They thought finding out the enemy's identity would give them the edge; instead it's revealed terrifying dangers they never thought possible.
Review:
*Spoilers for Unknown #1, but the first paragraph is safe to read. *
We were too trusting in our nature, as humans, we let them take control despite our reservations. I had ignored my instincts.
Never again.
Unrest was action packed, heart stopping and filled to the brim with emotion!  I absolutely loved the second book in this trilogy.  And just like the first, sadness and fear permeated throughout parts of the story.  It was something that felt impossible to shake off or ignore at times.  Especially when there were so many obstacles in their way.  But don't worry, there's tons of light too.  Friendships, love and laughter were splashed across the pages.  It all felt so heartwarming and beautifully real.  Unrest definitely had it all and I can't wait to read the final book in this trilogy!
Fear of the unknown threatened to make me cry out, but I strangled it back down. We had to move forward.
We had to survive and fight.
Unrest started off right where Unknown ended, and we found ourselves surrounded with heartache.  Without a true moment to grieve those that they had lost, they were on a mission to travel to safety.  And to get there, they had to embark on a terrifying journey.  With not enough gas, and food supplies dangerously low, they had a lot against then.  And if that wasn't enough, there was a stillness and fear that seemed to roll off of the desolate areas they drove through.  Every single minute of the day, their safety was on the line, and I was terrified for them.
We sat there, quiet under the gray winter sky of the desert. It made me wonder how many others were out there like us. Lost. Grieving. Looking for survivors.
The ten of them – Amber, Rylen, Remy, Tater, Devin, Sean, Texas Harry, Matt, and NY Josh – became so close.  They created a new family unit and I loved how everyone had each other's backs.  They cared so strongly for one another and the bond they created seemed unbreakable because of all of the horrors they faced together.  But I was beyond nervous and had fear in my heart.  Not only because of what they were all up against.  But because I was super attached to all of them.  And I saw how well that worked out for me becoming attached to Amber's family *sobs*.
My heart thumped rapidly, mixing with the white noise in my mind. Rylen and I were on the cusp of something. Something there would be no coming back from. Things between us would change today, for better or worse.
There were two relationships I loved the most though.  First, I loved that we got to see the full scope of Amber and Remy's relationship, she's Amber's bff btw.  They told each other their fears and confessed some of their most intimate secrets.  Their friendship wasn't always perfect, but it always felt real.  And they loved each other just as strongly as any real sisters would.  And secondly, of course I have to mention Amber and Rylen.  While they still seemed to be dancing around the possibility of something more, I just have to say something happened in this book that had me screaming….I won't tell you if it was a happy scream or one of anguish and pain, but my gosh it was huge.  I'm definitely talking about it in my review of the final book.  
They'd ripped everything, everything, from me. I wouldn't let terror and loss kill my spirit, not while there was still breath in my lungs and blood pumping through my heart.
I pressed my hand against the window and stared out at the dark night as one hot tear slid down my cheek, and I made a promise to my family. Remy. Rylen.
"I won't let it be for nothing."
There so much about the plot that I can't really talk about, but we did learn more about the War.  And the facts surrounding it chilled me to the core.  You see, it was creepy, horrifying and fascinating all rolled together.  And it made me feel even more overwhelmed with all that they were up against.  But thankfully hope, friendship, determination and love flooded the pages.  And I loved every single moment of this page turner!
PS There's a tease remark that had me laughing so hard I was crying.  Twice.  Oh my gosh, it was so great lol!
Reading Order & Links:
Amazon (click on covers), iBooks (click on titles) & Book Depository (click on book #)

Unknown #1
Reviews:
Jen

Unrest #2
Reviews:
Jen


Undone #3
Reviews:
Jen

Related Posts