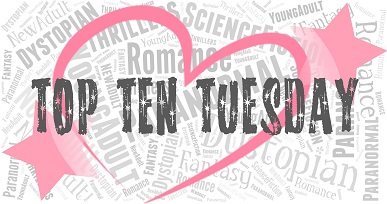 Top Ten Tuesday is a weekly meme hosted by That Artsy Reader Girl
This week is – Books That Have Been On Our TBR the Longest and We Still Haven't Read.  And they are….
| | |
| --- | --- |
| (Arielle's Choice) | (Arielle's Choice) |
1. Miss Peregrine's Home for Peculiar Children by Ransom Riggs
Amazon * Goodreads
A mysterious island.
An abandoned orphanage.
A strange collection of very curious photographs.
It all waits to be discovered in Miss Peregrine's Home for Peculiar Children, an unforgettable novel that mixes fiction and photography in a thrilling reading experience. As our story opens, a horrific family tragedy sets sixteen-year-old Jacob journeying to a remote island off the coast of Wales, where he discovers the crumbling ruins of Miss Peregrine's Home for Peculiar Children. As Jacob explores its abandoned bedrooms and hallways, it becomes clear that the children were more than just peculiar. They may have been dangerous. They may have been quarantined on a deserted island for good reason. And somehow—impossible though it seems—they may still be alive. A spine-tingling fantasy illustrated with haunting vintage photography, Miss Peregrine's Home for Peculiar Children will delight adults, teens, and anyone who relishes an adventure in the shadows.
2. The Diviners (The Diviners #1) by Libba Bray
Amazon * Goodreads
Evangeline O'Neill has been exiled from her boring old hometown and shipped off to the bustling streets of New York City–and she is ecstatic. It's 1926, and New York is filled with speakeasies, Ziegfeld girls, and rakish pickpockets. The only catch is that she has to live with her uncle Will and his unhealthy obsession with the occult. Evie worries he'll discover her darkest secret: a supernatural power that has only brought her trouble so far.
When the police find a murdered girl branded with a cryptic symbol and Will is called to the scene, Evie realizes her gift could help catch a serial killer. As Evie jumps headlong into a dance with a murderer, other stories unfurl in the city that never sleeps. And unknown to all, something dark and evil has awakened….

(Arielle's Choice)

 
(Arielle's Choice)

3. The Monstrumologist (The Monstrumologist #1) by Rick Yancey
Amazon * Goodreads
So begins the journal of Will Henry, orphaned assistant to Dr. Pellinore War throp, a man with a most unusual specialty: monstrumology, the study of monsters. In his time with the doctor, Will has met many a mysterious late-night visitor, and seen things he never imagined were real. But when a grave robber comes calling in the middle of the night with a gruesome find, he brings with him their most deadly case yet.
Critically acclaimed author Rick Yancey has written a gothic tour de force that explores the darkest heart of man and monster and asks the question: When does a man become the very thing he hunts?
4. Finnikin of the Rock (Lumatere Chronicles #1) by Melina Marchetta
Amazon * Goodreads
Finnikin was only a child during the five days of the unspeakable, when the royal family of Lumatere were brutally murdered, and an imposter seized the throne. Now a curse binds all who remain inside Lumatere's walls, and those who escaped roam the surrounding lands as exiles, persecuted and despairing, dying by the thousands in fever camps. In a narrative crackling with the tension of an imminent storm, Finnikin, now on the cusp of manhood, is compelled to join forces with an arrogant and enigmatic young novice named Evanjalin, who claims that her dark dreams will lead the exiles to a surviving royal child and a way to pierce the cursed barrier and regain the land of Lumatere. But Evanjalin's unpredictable behavior suggests that she is not what she seems — and the startling truth will test Finnikin's faith not only in her, but in all he knows to be true about himself and his destiny.
| | |
| --- | --- |
| (Jen's Choice) | (Jen's Choice) |
5. City of Bones (The Mortal Instruments #1) by Cassandra Clare
Amazon * Goodreads
When fifteen-year-old Clary Fray heads out to the Pandemonium Club in New York City, she hardly expects to witness a murder — much less a murder committed by three teenagers covered with strange tattoos and brandishing bizarre weapons. Then the body disappears into thin air. It's hard to call the police when the murderers are invisible to everyone else and when there is nothing — not even a smear of blood — to show that a boy has died. Or was he a boy?
This is Clary's first meeting with the Shadowhunters, warriors dedicated to ridding the earth of demons. It's also her first encounter with Jace, a Shadowhunter who looks a little like an angel and acts a lot like a jerk. Within twenty-four hours Clary is pulled into Jace's world with a vengeance, when her mother disappears and Clary herself is attacked by a demon. But why would demons be interested in ordinary mundanes like Clary and her mother? And how did Clary suddenly get the Sight? The Shadowhunters would like to know…
6. Hush, Hush (Hush, Hush #1) by Becca Fitzpatrick
Amazon * Goodreads
Nora Grey is responsible and smart and not inclined to be reckless. Her first mistake was falling for Patch. .
Patch has made countless mistakes and has a past that could be called anything but harmless. The best thing he ever did was fall for Nora. .
After getting paired together in biology, all Nora wants to do is stay away from Patch, but he always seems to be two steps ahead of her. She can feel his eyes on her even when he is nowhere around. She feels him nearby even when she is alone in her bedroom. And when her attraction can be denied no longer, she learns the secret about who Patch is and what led him to her, as well as the dark path he is about to lead her down. Despite all the questions she has about his past, in the end, there may be only one question they can ask each other: How far are you willing to fall?.
| | |
| --- | --- |
| (Jen's Choice) | (Jen's Choice) |
7. Frigid (Frigid #1) by J. Lynn, Jennifer L. Armentroutf
Amazon * Goodreads
For twenty-one-year-old Sydney, being in love with Kyler isn't anything new. They'd been best friends ever since he pushed her down on the playground and she made him eat a mud pie. Somewhere over the years, she fell for him and fell hard. The big problem with that? Kyler puts the 'man' in man-whore. He's never stayed with a girl longer than a few nights, and with it being their last year in college, Syd doesn't want to risk their friendship by declaring her love.
Kyler has always put Syd on a pedestal that was too high for him to reach. To him, she's perfect and she's everything. But the feelings he has for her, he's always hidden away or focused on any other female. After all, Kyler will always be the poor boy from the wrong side of tracks, and Syd will always be the one girl he can never have.
But when they're stranded together at a posh ski resort due to a massive Nor'easter, there's nothing stopping their red-hot feelings for each other from coming to the surface. Can their friendship survive the attraction? Better yet, can they survive at all? Because as the snow falls, someone is stalking them, and this ski trip may be a life-changer in more ways than one.
8. Vampire Academy (Vampire Academy #1) by Richelle Mead
Amazon * Goodreads
St. Vladimir's Academy isn't just any boarding school—it's a hidden place where vampires are educated in the ways of magic and half-human teens train to protect them. Rose Hathaway is a Dhampir, a bodyguard for her best friend Lissa, a Moroi Vampire Princess. They've been on the run, but now they're being dragged back to St. Vladimir's—the very place where they're most in danger. . . .
Rose and Lissa become enmeshed in forbidden romance, the Academy's ruthless social scene, and unspeakable nighttime rituals. But they must be careful lest the Strigoi—the world's fiercest and most dangerous vampires—make Lissa one of them forever.
| | |
| --- | --- |
| (Jen's Choice) | (Jen's Choice) |
9. Daughter of Smoke & Bone (Daughter of Smoke & Bone #1) by Laini Taylor
Amazon * Goodreads
Around the world, black handprints are appearing on doorways, scorched there by winged strangers who have crept through a slit in the sky.
In a dark and dusty shop, a devil's supply of human teeth grown dangerously low.
And in the tangled lanes of Prague, a young art student is about to be caught up in a brutal otherwordly war.
Meet Karou. She fills her sketchbooks with monsters that may or may not be real; she's prone to disappearing on mysterious "errands"; she speaks many languages–not all of them human; and her bright blue hair actually grows out of her head that color. Who is she? That is the question that haunts her, and she's about to find out.
When one of the strangers–beautiful, haunted Akiva–fixes his fire-colored eyes on her in an alley in Marrakesh, the result is blood and starlight, secrets unveiled, and a star-crossed love whose roots drink deep of a violent past. But will Karou live to regret learning the truth about herself?
10. Legend (Legend #1) by Marie Lu
Amazon * Goodreads
What was once the western United States is now home to the Republic, a nation perpetually at war with its neighbors. Born into an elite family in one of the Republic's wealthiest districts, fifteen-year-old June is a prodigy being groomed for success in the Republic's highest military circles. Born into the slums, fifteen-year-old Day is the country's most wanted criminal. But his motives may not be as malicious as they seem.
From very different worlds, June and Day have no reason to cross paths – until the day June's brother, Metias, is murdered and Day becomes the prime suspect. Caught in the ultimate game of cat and mouse, Day is in a race for his family's survival, while June seeks to avenge Metias's death. But in a shocking turn of events, the two uncover the truth of what has really brought them together, and the sinister lengths their country will go to keep its secrets.

So these are the Books That Have Been On Our TBR the Longest and We Still Haven't Read. Have you read any of these books already?  Or are they still on your tbrs too?  If not, then what book has been on your tbr the longest?

Related Posts