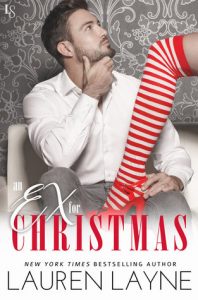 An Ex for Christmas
by
Lauren Layne
Purchase on:
Amazon
, 
iBooks
Add to:
Goodreads
Synopsis:

She's making a list—and checking it twice. But is there a nice guy among all her naughty exes? The New York Times bestselling author of Blurred Lines returns with a charming friends-to-lovers rom-com.

When a psychic tells spunky, superstitious Kelly Byrne that she's already met her true love, she becomes obsessed with the idea of tracking him down before Christmas. Kelly immediately writes up an "Ex List" and starts contacting old boyfriends to figure out which one is the one. When her college sweetheart rolls into town, Kelly convinces herself that they're meant to be. The trouble is, sparks are flying with someone she's never given a chance: her best friend, Mark.

Mark Blakely has watched the guys on Kelly's list break her heart, and he's not looking forward to watching them do it all over again. Mark's always been there for her, but the timing's never worked out for their relationship to be something more. Now, just as Mark is ready to move on, the sexual tension between them is suddenly off the charts. With Christmas morning around the corner, he just hopes Kelly will wake up and realize that everything she wants has been right in front of her all along.
"I meant that I'm not usually. Not before." 
"Not before…?"
I feel him smile against my neck, stubbornly refusing to answer. I smile, too, because I know what he's not saying.
Not before me.
Anyone who has been around long enough knows that LL used to be my absolute favorite author. Without any doubts, when asked, it was LL. Fast-forward a couple years annddddd…that answer isn't the same. It's not that I don't like her-I do. But, after a while, it all became a bit contrived, to me.
"Mark hates Christmas," I inject, tired of being ignored.
Both men look at me. Mark frowns. "I do not."
I look up at him. "Okay, you don't hate it, but you don't really get into it. You never get a tree, you won't hang lights, you wouldn't even let me put a wreath on your door last year."
"Because it was white and had a pink bow."
"It was flocked, and pink and white were very in that year."
Somewhere along the way, and I'm not sure when, I lost that connection I had held steadfast to. I stopped picking up every book because I wasn't laughing and swooning as much…and it broke my heart. But, here we are, and LL wrote a Christmas book and…well…it was Christmas. So why not?
"Where's his snowman costume?" I call to Mark.
"Burned it."
"I hope you didn't put it in the washing machine—it's hand wash only," I say, picking up my peppermint martini and heading back into the kitchen.
"Yeah, Kelly. I hand washed a dog sweater. Sounds just like me."
Well. I don't know. There was just way too much that bothered me:
-Clueless heroine
-Single POV (CANNOT believe I'm saying that, but I needed to hear what Mark was thinking, frankly. She was just too much)
-Boring
I don't know! I can't even remember all the reasons! It just did not work for me. I eventually fell hard for Mark, but it took forever. I like gruff men, but without being in his head he just seemed flat…until when I fell for him, obviously lol. At that point, he became the thing I held onto, the guy I couldn't stop reading about…and hating Kelly for hurting. He was just…so so loyal. Ugh. Amazing.
Mark stamps out my babbling with a searing kiss. "I've wanted," he says against my mouth, a little gruffly. "God, how I've wanted."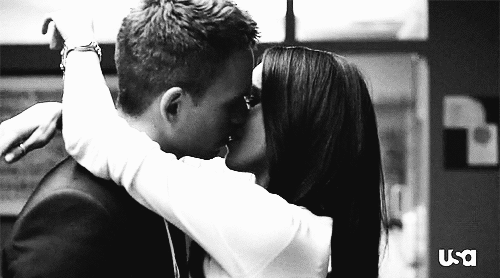 And, frankly, I found the blurb a bit misleading, like…why tell us that Mark wants her to wake up and smell the roses, but then not let us be in his head to hear that? Just…odd. Odd odd odd.
"Ask me," he orders, pinning my wrists over my head with one hand.
"Ask you what?" I say, a little breathless.
"Ask me what you asked the damn ball."
I swallow. "Should I sleep with Mark again?"
His smile is slow and confident as he slowly lowers his body to mine. "It is certain."
Like I said, somewhere along the way LL stopped being my 'go-to' contemp gal. And for real, it kills me to say that. But it is what it is and I can't fake loving something. I loved their friendship. I loved the shared dog, backyard, etc. But when your heroine is as dumb as Kelly was-well. It's just too much.
"You'll never guess what happened to me at the train station," I say, leaning forward excitedly.
"Hmm?" he asks, less excitedly.
"Okay, if I tell you, you have to not roll your eyes and tell me I'm a crackpot. Promise?"
"No."
That's about what I was expecting.
PS-OH! And it really sucks, it does, because I loved Kelly's humor. She had the funniest dialogue…I just couldn't get past the stupidity, unfortunately.
Related Posts