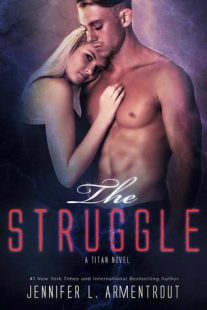 The Struggle
(
Titan #3
)
by
Jennifer L. Armentrout
Purchase on:
Amazon
, 
iBooks
Add to:
Goodreads
Synopsis:

A bloody path has been chosen…

The war against the Titans continues, and they remain determined to wreak havoc on the world, but Seth has become something all gods fear. Now the most dangerous, most absolute power no longer resides in those who have been freed from their tombs.

The Great War fought by the few is coming…

All may doubt and fear what Seth has become. All except the one woman who might be his final chance at redemption. Josie will do anything to prove that Seth is on their side, but fate has a nasty way of changing lives, of changing people.

In the end, the sun will fall…

The only way they can save the future and save themselves is by facing the unknown together. It will take more than trust and faith. It will take love and the kind of strength not easily broken. No matter what, their lives will never be the same.

For what the gods have feared has come to pass. The end of the old is here and the beginning of the new has been ushered in…
Review:
The Struggle had me on the edge of my seat, and I thought my emotions would burst out of me!  With pages filled to the brim with sacrifice, redemption, forgiveness, friendship and love, I couldn't help but continue to fall madly in love with this series.  It was such a huge win!  And I loved that the characters constantly pulled at my heart, it made me turn the pages that much faster.  So yes, I loved every single thing about The Struggle, and I can't wait to see how it's going to wrap up in the final book!
Doing the right thing had never felt more wrong than it did right then.
Maybe that was how it always felt.
I wouldn't know.
It was so rare when I actually did the right thing. – Seth
*Cries* Seth continued to break my heart.  I hated that he only saw the bad in himself.  And every time he hurt others, it weighed so heavily on his shoulders.  So his emotional anguish easily became mine, and I ached to make it better for him.  But there's finally a but in this series, because something happened in The Struggle that was a game changer.  And I loved how it all unwound and how Seth took control.  And on top of that, Seth had Josie, even when he didn't realize it.  She refused to walk away from him. No matter what happened.
Locating the other two demigods was what my father—Apollo—had ordered me to do, but that had fallen way down my priority list, and I didn't even care. Didn't give a flying Pegasus about what that said about me, because no one, no one had ever fought for Seth before.
And I would.
I would fight till my dying breath for him. – Josie
I've said it before, but I love Josie!  Not only because of her realistic take on this world, but because of how she viewed Seth!  I loved her for that! I loved that she was going to fight for Seth!  That she planned to prove to him that he deserved love.  And that they both deserved to stand side by side in the upcoming battle.  But while that may have been her focus and goal, the situation changed.  And this became Josie's most emotional book so far.
"Oh my god," I whispered. "No. No way."
This couldn't be happening. I couldn't be here. Panic unfurled in my chest. My gaze swung around the room as my pulse pounded erratically. Oh god, I couldn't be here. – Josie
Josie's pain ripped me to shreds.  Her suffering was so horrific, that at times it felt like I couldn't breathe and that I was choking on her emotions.  There was no escaping the horror in Josie's thoughts and surroundings.  So I found myself with so many tears, and I couldn't get them to stop. Even when there was a moment of solidity or bonding, I found myself with tears in my eyes.  Again. The pain that came off of Josie, and some of the others, just went straight through my heart.
"Well, maybe you should try to control your murderous impulses," Aiden suggested. "You never know when the gods might actually be useful."
Seth snorted as he placed the last of the eggs on a plate. "That is just as likely as you actually being useful."
One side of Aiden's lips kicked up. "You know, I think you have a crush on me."
But this book wasn't just about Seth and Josie.  Friendship was such a strong theme, and I was beyond ecstatic that many of our favorites from The Covenant Series could be found in The Struggle.  Alex and Aiden played an even bigger role in this book. And on top of that, we got another favorite character, who made an appearance. Oh my gosh, I screamed when they appeared on the page!  So if you loved The Covenant Series, then you're going to love seeing this face again, along with all of our other favorites too *smiles hugely*.  
"If something happened to you again?" Lighting shot between the clouds, lighting up the sky in brilliant white. "I would burn this fucking world to the ground and then I would destroy Olympus." – Seth
The Struggle was beyond amazing and that ending, oh, it was breathtaking.  I'm so excited to see how the final book is going to play out!  I just known that it's going to be beyond epic!!
"The Army of Awesome reunited at last." Deacon grinned while his brother sighed heavily. "It's been a long time coming."
See?!?!  Amazing I tell you!!!!
Related Posts