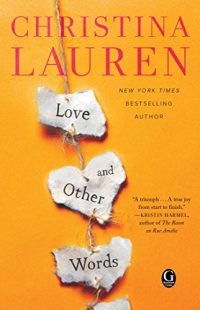 Love and Other Words
by
Christina Lauren
Purchase on:
Amazon
, 
iBooks
, 
Book Depository
Add to:
Goodreads
Synopsis:

The heart may hide, but it never forgets.

The first women's fiction novel from New York Times and #1 international bestselling author Christina Lauren (Autoboyography, Dating You / Hating You).

Macy Sorensen is settling into an ambitious if emotionally tepid routine: work hard as a new pediatrics resident, plan her wedding to an older, financially secure man, keep her head down and heart tucked away.

But when she runs into Elliot Petropoulos—the first and only love of her life—the careful bubble she's constructed begins to dissolve. Once upon a time, Elliot was Macy's entire world—growing from her gangly teen friend into the man who coaxed her heart open again after the loss of her mother…only to break it on the very night he declared his love for her.

Told in alternating timelines between Then and Now, teenage Elliot and Macy grow from friends to much more—spending weekends and lazy summers together in a house outside of San Francisco reading books, sharing favorite words, and talking through their growing pains and triumphs. As adults, they have become strangers to one another until their chance reunion. Although their memories are obscured by the agony of what happened that night so many years ago, Elliot will come to understand the truth behind Macy's decade-long silence, and will have to overcome the past and himself to revive her faith in the possibility of an all-consuming love.
It never occurred to me that love could be anything other than all-consuming. Even as a child, I knew I never wanted anything less.
WELL, WELL, WELL. Another freakin home run by these lovely ladies. I honestly had no idea that they had come out with another book until a few days ago when I was browsing Amazon, desperate for a book to read. I gave birth to my daughter TWO weeks ago today (!!!) but instead of having all this time at home to read, I seem to be a little preoccupied (lol go figure). However, when I came across this and read the synopsis, I knew that this would be the book to get me back on track….Surprise, surprise I read it in a day.
He's my person. He's always been my person. My best friend, my confidant, probably the love of my life. And I've spend the last eleven years being angry and self-righteous. But at the end of the day, he tore a hole in us, and fate ripped it wide open.
It's a story of the past and present lives of Macy and Elliot. How they met and eventually would fall in love—to the present where we find out they haven't talked or even seen each other in about ten years. They bump into each other in a random coffee shop and the rest of the chapters in the present are about them slowly reconnecting.
"You had to have known that I'd been here, waiting." 
There were two major aspects to this book that I loved, especially because they were executed perfectly: the boy next door/ friends-to-lovers tropes and the flashback chapters. There have been so many romances that I've read with flashbacks that have been done horribly wrong. Either there just isn't enough substance to them and I've felt like I have been left in the dark OR the major point of conflict in the past that leads to why the couple is having problems in the present is a stupid misunderstanding that I can't believe is realistic in any way. That was not the case here. Without giving anything away, I found that Macy's reason for getting the hell out of dodge when she did was entirely reasonable (even if it was heartbreaking and I wish for Elliot's sake that it hadn't taken that long for them to talk about it). I also just was obsessed with those past chapters in general. Ugh. I mean come on, how could I NOT fall in love with these characters who fell in love over READING. In a cute little nook. Packed with books. And they always ask each other what their favorite word is every time they meet up. I HOPE MY DAUGHTER FALLS IN LOVE LIKE THAT. I would literally die lol. 
I did also love the present chapters too, don't get me wrong. It was so wonderful seeing these too reconnect after all those years. Macy is actually engaged to another man, too, but of course Elliot never crosses any lines and there isn't any cheating. Basically, the two realize that it's pointless being with other people when they can only give a fraction of themselves over. Macy struggles with it a little more because she's seen her father lose her mother and how much pain that caused him. She doesn't know if she can handle any more heartbreak in her life so she decides an easy, comfortable relationship is something she'd rather be a part of. That is, until she sees Elliot again…
I don't know what else to do, so I simply mouth the word Yes. Yes, I'm yours. Yes, I'm ready. Yes, I love you.
Seriously, please read this book. It's such a sweet story of two young people that are soul mates who have connected over books and words and who find their way back to each other even after tragedy rips them apart. I really think it would be impossible to be disappointed.
Related Posts