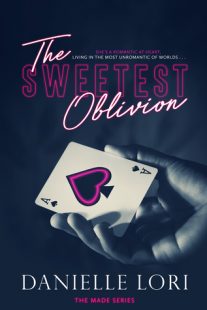 The Sweetest Oblivion
(
Made #1
)
by
Danielle Lori
Purchase on:
Amazon
, 
iBooks
, 
Book Depository
Add to:
Goodreads
Synopsis:

She's a romantic at heart, living in the most unromantic of worlds . . .

Nicknamed Sweet Abelli for her docile nature, Elena smiles on cue and has a charming response for everything. She's the favored daughter, the perfect mafia principessa . . . or was.

Now, all she can see in the mirror's reflection is blood staining her hands like crimson paint.

They say first impressions are everything . . .

In the murky waters of New York's underworld, Elena's sister is arranged to marry Nicolas Russo. A Made Man, a boss, a cheat—even measured against mafia standards. His reputation stretches far and wide and is darker than his black suits and ties. After his and Elena's first encounter ends with an accidental glare on her part, she realizes he's just as rude as he is handsome.

She doesn't like the man or anything he stands for, though that doesn't stop her heart from pattering like rain against glass when he's near, nor the shiver that ghosts down her spine at the sound of his voice.

And he's always near. Telling her what to do. Making her feel hotter than any future brother-in-law should. Elena may be the Sweet Abelli on the outside, but she's beginning to learn she has a taste for the darkness, for rough hands, cigarettes, and whiskey-colored eyes. Having already escaped one scandal, however, she can hardly afford to be swept up in another.

Besides, even if he were hers, everyone knows you don't fall in love with a Made Man . . . right?

This is a standalone forbidden romance.
Review:
The Sweetest Oblivion was the most wonderful surprise ever!  It was addicting, seductive and had some of the best sexual tension I've ever read.  The characters and story felt so real that the world around me disappeared each time I picked up this story.  I was completely enraptured by this forbidden tale and I can't recommend it enough!
He took a small step forward.
As if we were the same poles of a magnet, I took one back.
He dropped his hand to his side, the slightest bit of amusement coming to life in his eyes as if I'd just done a trick that entertained him. I suddenly had the distinct feeling I didn't want to be his entertainment. And an even stronger feeling that I already was.
Elena Abelli could be considered a princess in the mafia.  Her Italian family was deeply embedded and their marriages weren't for love, they were arranged.  But because of an enormous past mistake, that left blood on her hands, she was passed over to be wed.  Her younger sister was to take her place and marry Nicholas Russo, aka Nico, one of the most notorious men in the mafia.
"For thinking I'm a psychopath, you don't seem to fear being alone with me."
"I can scream. Loudly."
He glanced at me, like my words had an entirely different meaning— like he might like to hear me scream. My breathing became shallow.
From the moment that Elena and Nico met, sparks ignited and exploded.  Sexual tension seeped into every single instance they were near each other.  Even when they were surrounded by others, there was always this charge between them.  It didn't matter if they were at a family gathering or if it was just a moment in passing, any time they were near one another it felt bigger than life.  But he was engaged to her sister. They shouldn't feel that way, yet there was no way either of them could deny it.
His palm ran from my hip to my lower stomach. Heat curled inside me with the smallest amount of pressure from his hand. Each finger burned through the fabric while his lips brushed the nape of my neck. My insides were melting, dissolving into nothing but memory as he softly bit down and then licked the skin. I gripped the edge of the countertop, a moan crawling up my throat.
As the days passed, Elena and Nico started to push the limits for what was acceptable.  And things that seemed so simple were made beyond erotic.  I was left hanging onto every single breath, touch and look they had towards one another.  I was completely enraptured to see what would happen between them.  I found myself wanting to push them together, just so they could touch or be near each other again.
I wanted to fuck her and ruin her for anyone else. I wanted to crush her wings and then put them back together again so she'd become dependent on me. I wanted her to need me. That dark, possessive, and dangerous feeling crawled through me every time she crossed my path.
Elena Abelli was my vice, and fuck if I'd let it kill me. – Nico
The characters in this story added to my addiction.  Elena was always such a people pleaser, but from the moment she met Nico she was herself.  She had no problem pushing his buttons, being brutally honest with him and also letting her deepest desires rule her.  Even though Elena had her insecurities, she was a strong woman who I absolutely loved. And as for her interest in Nico?  I so got it. Nico was seductive but dangerous. He had a traumatic past, but he was a smart business man and got further than anyone else his age.  He was respected, feared and lusted after. And I found myself completely engrossed in everything that was Nico and his alpha ways. Especially when I read some of the chapters in his pov!  But those moments when Elena and Nico were together, they made me laugh, smile, swoon and fall deeply in love.  
He cupped me between the legs. "This is also the nicest puss—"
"Nico," I cut him off, every inch of my skin warming.
He chuckled.
I loved the sound of his laugh, the way the warm timbre ghosted down my spine.
I shivered.
The Sweetest Oblivion was crazy hot and I loved every minute of it!  The world they lived in could be so dark at times, and while there were some twisted moments, I was completely fascinated by it all.  On top of being addicted to their world, Elena and Nico, I loved so many of the side characters. The meddling Grandma, her sister and cousins and even some of Nico's relatives too.  The people in their lives filled up their world and it was all so colorful and emotional.  I was left hoping to catch many glances of them in the next book that's supposed to be about a different couple.  I can't wait to read everything else this author writes and I can't recommend The Sweetest Oblivion enough!
*I voluntarily read and reviewed a copy of this book, provided by the author. All thoughts and opinions are my own.*
Related Posts