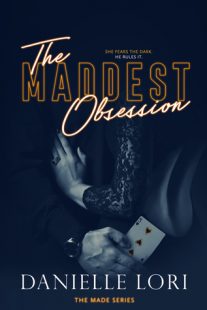 The Maddest Obsession
(
Made #2
)
by
Danielle Lori
Purchase on:
Amazon
, 
iBooks
, 
Book Depository
Add to:
Goodreads
Synopsis:

She fears the dark.
He rules it.

Her dresses are too tight, her heels too tall. She laughs too loudly, eats without decorum, and mixes up most sayings in the book. Little do most know it's just a sparkly disguise, there to hide one panic attack at a time.

Nobody can crack Gianna's facade . . . no one anyway, until he comes along.

Most see a paragon of morality; a special agent upholding the law. In the New York underworld, others know him as a hustler, a killer, his nature as cold as the heart of ice in his chest. Christian Allister has always followed the life plan he'd envisioned in his youth, beneath the harsh lights of a frigid, damp cell. With a proclivity for order and the number three, he's never been tempted to veer off course. But perhaps one should never say never . . .

One winter night and their lives intertwine. She hates him—his stone-cold demeanor, his arrogance and too-perceptive eye—but over the years, even as their games consist of insulting each other's looks and intelligence, she begins to live to play with him.

Nowhere in Christian's plans had he ever prepared for Gianna. She's chaos embodied, not his type, and married, but none of that can stop his eyes from following her wherever she goes.

All along, she doesn't even know that she's his—his frustration, his fascination.

His maddest obsession.

*Can be read as a standalone, though it is recommended you read The Sweetest Oblivion first to avoid spoilers from Book #1
Review:
The Maddest Obsession captivated my attention and was absolutely addicting!  With violent and intimate moments swirled together, I was completely consumed.  The sexual tension was drawn out to perfection and I loved that it was an opposites attract story.  So when you combine all of that with writing that had an almost hypnotic feel to it, it made this story impossible to put down.  If you're a fan of hate to love or mafia romance, then you definitely have to pick up this book!
His grip on my wrists tightened, and my eyes grew half-lidded from the pressure.
So, this was what it felt like to be touched by him . . .
Addictive.
I loved how this story was laid out.  We started off getting caught up with Gianna's past and then moved into the present.  There were moments here and there that meshed with The Sweetest Oblivion and I was fascinated to get a different look at what happened.  And while we were mainly in Gianna's head, we also spent some chapters with Christian too.  Just our first chapter with Gianna, we watched her intact with Christian at jail. Gianna got locked up for having drugs and Christian was the Fed who got her out.  I was already smiling and laughing at them, but I was intrigued too.  It felt like Gianna was the one who had so much light to her, whereas a darkness radiated out of Christian and it ended up devouring me until that very last page.
He was cool, icy control.
But something burned hot beneath the surface.
Something shrouded by ice for so long.
I wanted to watch it melt. To unravel him until I understood every layer.
I knew it was dangerous.
I even knew I wouldn't win.
But sometimes, even the best gambler doesn't know when to quit.
I already knew I liked Gianna from The Sweetest Oblivion.  She danced to her own rhythm, even though she was raised in the mafia.  From rooting for the underdogs, to the way she dressed – Christian described one of her outfits best as Britney Spears' and Kurt Cobain's love child lol, to even the way she interacted with others, I absolutely loved Gianna!  But I loved even more that she had a backbone, was fierce and that she used her voice.  She definitely needed all of that since her life could be so harsh at times.  She was stuck in the mafia.  Drugs at times consumed her.  She was told who to marry.  Yet no matter what was thrown at her, she still had that lightness in her.
Each brush of his lips was a douse of gasoline on fire inside me. A hazy wave inside my mind . A wasteful breath I couldn't inhale. I turned my head to the side so I could find the air to speak.
Christian Allister on the other hand, felt like the polar opposite to Gianna.  He was a Fed who was  involved in the mafia.  And the more time we spent with Christian, I saw a man who had so many shades of grey that they bled together and lead him again and again to the dark side.  He went by his own rules and he didn't let others dominate him.  He was cold, calculated and in control.  And when we got a peak into how dark Christian was, my mind was blown.  Yet it was impossible for me not to love him, especially when he was around Gianna and let his guard down for a second.  Christian was seductive, dark, protective and I was obsessed with him.
He fisted my shirt and dragged me closer, pressing the next words to my ear. "I'm going to ruin every part of your body for any other man, malyshka, and you're going to thank me when I'm done."
I was making a deal with the devil.
And I couldn't even find the grace to save myself.
When they were near each other, they exploded off of the pages.  I couldn't stop the smiles when they would mess with each other.  The games or the way they would toy with one another could be so funny, but at other moments it could be harsh and cruel.  It didn't matter though, because every single time it was filled with the best sexual tension.  This book was extremely sexual and sigh worthy.  But it was also filled with emotions and I found myself with tears in my eyes a few times.  Like when Christian would open up to Gianna with just one line.  It was so intense that it felt like the breath got knocked out of me.  It was amazing how just one sentence could pack so much emotion.
"I thought you were done with me, Gianna."
Oh.
I was. I am, I wanted to say, but the press of his lips against the hollow of my ear stole my breath and voice. All I could do was shake my head because I couldn't bear to let this end, not yet.
"Say it."
I shook my head again, but my mouth betrayed me. "I'm not."
So yes, I definitely recommend this book!  The Maddest Obsession was sinfully hot, beautifully layered and packed with emotion.  It was impossible for me not to be obsessed with this book.  And while this can be read as a standalone, I highly recommend starting with The Sweetest Oblivion.  You'll meet both Gianna and Christian there and it was an amazing story too!  So if you love emotional stories, complex characters and sexual tension then definitely add this one to your tbr!
His hand on me, rough, and covered in the blood of all his enemies— and most likely innocents— shouldn't affect me the way it did. But I was burning up, and I needed more. So much more.
PS I loved watching Christian and Ace's relationship.  It's complicated and convoluted.  And the way they both screwed with each other?!  Ohhhh it was so good!  And on the other end I loved the sweet friendship Gianna had with Elena.  I loved getting to see our favorites from The Sweetest Oblivion!
Related Posts