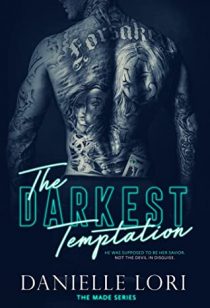 The Darkest Temptation
(
Made #3
)
by
Danielle Lori
Add to:
Goodreads
Synopsis:

A fortune teller once told Mila she'd find a man who would take her breath away. She refrained from telling her it would be literally while Mila ran for her life.

Having always done what is expected of her, Mila dresses the part, only dates college boys with exemplary backgrounds, and doesn't ask questions. Not about her papa's absences or his refusal to let her set foot in her birthplace—Russia.

Suffocated by the rules and unanswered questions, Mila does what she's always wanted to. She boards a plane to Moscow.

She never expected to fall for a man on the way. One with unexplained wealth, tattoos on his hands, and secrets in his eyes. But it doesn't take long for his caress to become a rough grasp muffling her screams.

Revenge is a dish best served cold. Unfortunately, a Russian winter is the coldest of them all, and Mila soon learns the only way to escape intact is to do the impossible and thaw her captor's heart.
Review:
Inked fingers may be holding my wrists captive, but they'd also saved and avenged me.
The Darkest Temptation was hypnotic, sexy and impossible to put down.  If you aren't familiar with Danielle Lori's writing, it's intoxicating and uniquely beautiful at times.  Her words wrap themselves around your heart and soul and the story refuses to let you go.  And for a book that could be so dark at times, I laughed a lot.  But I also cried tears while my heart broke.  So if you're a fan of romance that is dark, then definitely add this book to your tbr!
He stared at me for what felt like a long time. And then I watched something violent sweep away the lust in his eyes. Stepping back, his shoulders tense, he left me cold while I struggled to catch my breath.
Mila lived a life of luxury, but had a father who wasn't around a lot.  With his current business trip, her father had been gone for three months.  He even missed her birthday. With a sense of dread, Mila flew to Russia to figure out what was going on. Upon arrival, she was left with even more questions. And before she could figure out what was truly going on, Mila's life turned horrific in the blink of an eye.
Heart racing against my ribcage, I held his gaze.
"No."
He watched me for a second, and then he was on me so fast a scream rose up my throat.
I loved Mila!  She was brave and fearless at times.  She stood up for what she believed in and spoke her mind.  So when she crashed into a dark and seductive man, I was captivated too.  Ronan was a mystery.  We were both unsure of what to think of him at first, especially since he seemed to have a wealth of secrets.  And even though there was a coldness to him, that didn't feel like it would ever thaw.  He pulled Mila deep into his spell.  But the next thing she knew, she was a hostage.  Life was nothing like it was before.
Resentment expanded in my chest. I needed to see a human response from him. I needed to know I had a chance at surviving him.
There were so many clues Mila missed or pushed aside throughout her life.  So when they started to come together, I was as shocked as Mila.  I felt her confusion, anger, grief and sadness.  And when we got to the second part of this story, a lot of those feelings got shoved onto Ronan.  That's because we got to see ALL of him and he could be dark as fuck.  He used her.  He hurt her.  And how he could flip from being so cold, deathly calm or compassionate in the matter of a second terrified me.  Ronan was a constant contrast and he went from charming to the devil in disguise.
I didn't want this.
But my body wasn't convinced as he kissed a path down my neck and ran his mouth between my breasts. He was surprisingly gentle. So gentle, I resented it.
I wanted him to hurt me.
I wanted pain.
Because then, I could feel only hatred.
But, there's always a but isn't there.  From the beginning, there was an attraction between Mila and Ronan.  Their banter was fabulous too.  You could feel it radiating from the pages.  It was intoxicating and sexy.  And while Mila was captive, none of that went away.  Now I need to mention that this book touches on dubcon – dubious consent.  There was no rape.  I can't handle that at all.  But in this book, yes he kissed her when she was tied up.  He touched her too.  But it felt different because they had already hooked up before she became his captive.  When he touched her, mentally she wanted to stab him, but physically her body betrayed her.  And when she was at her limit or emotionally checked out, he'd stop.  Walk away.  So this felt like a huge grey area to me.
"You're trying to Stockholm syndrome me."
I thought he wanted to laugh. "I don't think that's a verb."
"Like I need grammar advice from someone who uses 'fuck' as a noun, verb, and adverb in a single sentence."
"Fuck is versatile."
"Not that versatile."
Did I hate Ronan during a few of the scenes?  Hell yes!  I wanted to stab him at times.  But Danielle is beyond talented with twisting my emotions around.  I fell in love with Ronan as the story progressed further and further.  Especially since we got quite a few chapters in his voice.  Hearing his thoughts humanized him.  We got to see all of his sides.  I loved those moments the best, but my lips are zipped to what they entail.  You'll have to discover them yourselves.
Consumed by fire and ice, I arched against him, desperate for contact, for friction, for absolution.
But hell had brought me here.
And hell would get me out.
If you've read the other books in this series, you're going to love seeing Christian and Gianna again!  There are surprises, lips zipped again.  All I can say is that I laughed so hard with Gianna in a scene, that I had tears pouring down my face.  Plus I really liked Yulia, I don't know what that says about me lol.  You'll see what I mean *covers face*.  And Khaos was my third favorite character in this book, I heart him so much!
Disaster loomed in the distance, but the heat of his body washed away the coldness inside me. I used to despise his size and strength; now I leaned into it knowing he wouldn't let me fall. Yet.
The Darkest Temptation was seductively mesmerizing and dark.  It was a mixture or yellows and grays splashed across the pages.  And I got pulled down deep into their twisted world.  It was impossible for my emotions not to consume me.  So if you're looking for a book that'll keep you turning the pages, and your heart on the line, then definitely look at putting this one on your tbr!
*I voluntarily read and reviewed an advanced copy of this book, provided by the author. All thoughts and opinions are my own.*
Related Posts