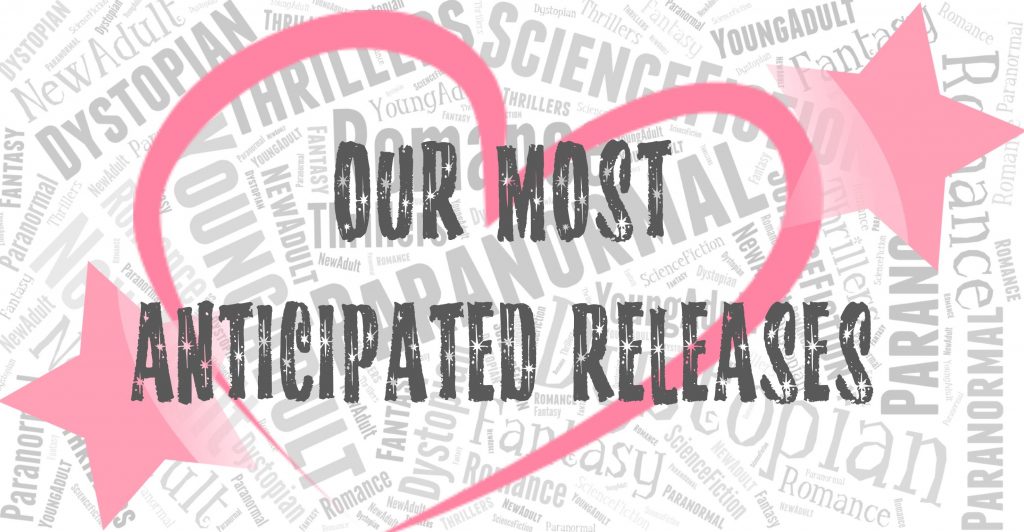 We love talking about books that we can't wait to read! And that includes the ones that haven't been released yet. So around the first day of every month, we'll share with you the books coming out that we're the most excited about. There's a link to Goodreads in case you want to add them to your tbr too! So here are the books we are counting down until they are released in September.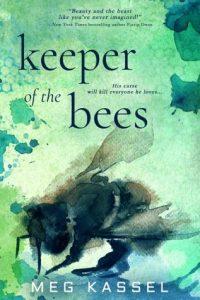 Releases 9/04 – Keeper of the Bees by Meg Kassel
Dresden is cursed. His chest houses a hive of bees that he can't stop from stinging people with psychosis-inducing venom. His face is a shifting montage of all the people who have died because of those stings. And he has been this way for centuries―since he was eighteen and magic flowed through his homeland, corrupting its people.

He follows harbingers of death, so at least his curse only affects those about to die anyway. But when he arrives in a Midwest town marked for death, he encounters Essie, a seventeen-year-old girl who suffers from debilitating delusions and hallucinations. His bees want to sting her on sight. But Essie doesn't see a monster when she looks at Dresden.

Essie is fascinated and delighted by his changing features. Risking his own life, he holds back his bees and spares her. What starts out as a simple act of mercy ends up unraveling Dresden's solitary life and Essie's tormented one. Their impossible romance might even be powerful enough to unravel a centuries-old curse.

Each book in the Black Bird of the Gallows series is STANDALONE:
* Black Bird of the Gallows
* Keeper of the Bees
✩✮✩✮✩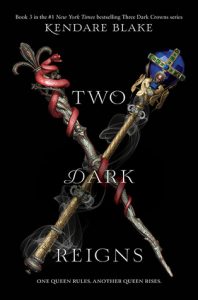 Releases 9/04 – Two Dark Reigns (Three Dark Crowns #3) by Kendare Blake
Queen Katharine has waited her entire life to wear the crown. But now that she finally has it, the murmurs of dissent grow louder by the day. There's also the alarming issue of whether or not her sisters are actually dead—or if they're waiting in the wings to usurp the throne.

Mirabella and Arsinoe are alive, but in hiding on the minland and dealing with a nightmare of their own: being visited repeatedly by a specter they think might be the fabled Blue Queen. Though she says nothing, her rotting, bony finger pointing out to sea is clear enough: return to Fennbirn.  

Jules, too, is in a strange place—in disguise. And her only confidants, a war-gifted girl named Emilia and her oracle friend Mathilde, are urging her to take on a role she can't imagine filling: a legion-cursed queen who will lead a rebel army to Katharine's doorstep.

This is an uprising that the mysterious Blue Queen may have more to do with than anyone could have guessed—or expected.
✩✮✩✮✩
Releases 9/04 – Sadie by Courtney Summers
A missing girl on a journey of revenge and a Serial—like podcast following the clues she's left behind.

Sadie hasn't had an easy life. Growing up on her own, she's been raising her sister Mattie in an isolated small town, trying her best to provide a normal life and keep their heads above water.

But when Mattie is found dead, Sadie's entire world crumbles. After a somewhat botched police investigation, Sadie is determined to bring her sister's killer to justice and hits the road following a few meager clues to find him.

When West McCray—a radio personality working on a segment about small, forgotten towns in America—overhears Sadie's story at a local gas station, he becomes obsessed with finding the missing girl. He starts his own podcast as he tracks Sadie's journey, trying to figure out what happened, hoping to find her before it's too late.

Courtney Summers has written the breakout book of her career. Sadie is propulsive and harrowing and will keep you riveted until the last page.
✩✮✩✮✩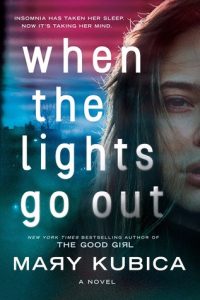 Releases 9/04 – When the Lights Go Out by Mary Kubicaf
Jessie Sloane is on the path to rebuilding her life after years of caring for her ailing mother. She rents a new apartment and applies for college. But when the college informs her that her social security number has raised a red flag, Jessie discovers a shocking detail that causes her to doubt everything she's ever known.

Finding herself suddenly at the center of a bizarre mystery, Jessie tumbles down a rabbit hole, which is only exacerbated by grief and a relentless lack of sleep. As days pass and the insomnia worsens, it plays with Jessie's mind. Her judgment is blurred, her thoughts are hampered by fatigue. Jessie begins to see things until she can no longer tell the difference between what's real and what she's only imagined.

Meanwhile, twenty years earlier and two hundred and fifty miles away, another woman's split-second decision may hold the key to Jessie's secret past. Has Jessie's whole life been a lie or have her delusions gotten the best of her?
✩✮✩✮✩
Releases 9/25 – Hot Winter Nights (Heartbreaker Bay #6) by Jill Shalvis
Who needs mistletoe?

Most people wouldn't think of a bad Santa case as the perfect Christmas gift. Then again, Molly Malone, office manager at Hunt Investigations, isn't most people, and she could really use a distraction from the fantasies she's been having since spending the night with her very secret crush, Lucas Knight. Nothing happened, not that Lucas knows that—but Molly just wants to enjoy being a little naughty for once . . .

Whiskey and pain meds for almost-healed bullet wounds don't mix. Lucas needs to remember that next time he's shot on the job, which may be sooner rather than later if Molly's brother, Joe, finds out about them. Lucas can't believe he's drawing a blank on his (supposedly) passionate tryst with Molly, who's the hottest, smartest, strongest woman he's ever known. Strong enough to kick his butt if she discovers he's been assigned to babysit her on her first case. And hot enough to melt his cold heart this Christmas.
✩✮✩✮✩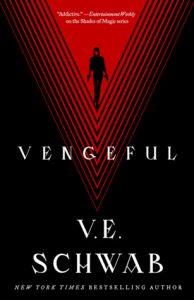 Releases 9/25 – Vengeful (The Villains #2) by V.E. Schwab
Magneto and Professor X. Superman and Lex Luthor. Victor Vale and Eli Ever. Sydney and Serena Clarke. Great partnerships, now soured on the vine.

But Marcella Riggins needs no one. Flush from her brush with death, she's finally gained the control she's always sought―and will use her new-found power to bring the city of Merit to its knees. She'll do whatever it takes, collecting her own sidekicks, and leveraging the two most infamous EOs, Victor Vale and Eli Ever, against each other once more.

With Marcella's rise, new enmities create opportunity–and the stage of Merit City will once again be set for a final, terrible reckoning.
✩✮✩✮✩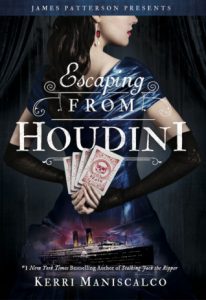 Releases 9/18 – Escaping from Houdini (Stalking Jack the Ripper #3) by Kerri Maniscalco
Audrey Rose Wadsworth and her partner-in-crime-investigation, Thomas Cresswell, are en route to New York to help solve another blood-soaked mystery. Embarking on a week-long voyage across the Atlantic on the opulent RMS Etruria, they're delighted to discover a traveling troupe of circus performers, fortune tellers, and a certain charismatic young escape artist entertaining the first-class passengers nightly.

But then, privileged young women begin to go missing without explanation, and a series of brutal slayings shocks the entire ship. The disturbing influence of the Moonlight Carnival pervades the decks as the murders grow ever more freakish, with nowhere to escape except the unforgiving sea. It's up to Audrey Rose and Thomas to piece together the gruesome investigation as even more passengers die before reaching their destination. But with clues to the next victim pointing to someone she loves, can Audrey Rose unravel the mystery before the killer's horrifying finale?
✩✮✩✮✩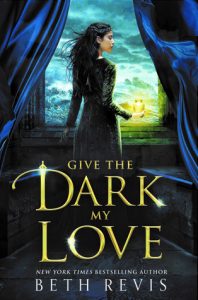 Releases 9/25 – Give the Dark My Love (Give the Dark My Love #1) by Beth Revis
Seventeen-year-old Nedra Brysstain leaves her home in the rural, northern territories of Lunar Island to attend the prestigious Yugen Academy with only one goal in mind: master the trade of medicinal alchemy. A scholarship student matriculating with the children of Lunar Island's wealthiest and most powerful families, Nedra doesn't quite fit in with the other kids at Yugen.

Until she meets Greggori "Grey" Astor. Grey is immediately taken by the brilliant and stubborn Nedra, who he notices is especially invested in her studies. And that's for a good reason: a deadly plague has been sweeping through the north, and it's making its way toward the cities. With her family's life–and the lives of all of Lunar Island's citizens–on the line, Nedra is determined to find a cure for the plague.

Grey and Nedra grow close, but as the sickness spreads and the body count rises, Nedra becomes desperate to find a cure. Soon, she finds herself diving into alchemy's most dangerous corners–and when she turns to the most forbidden practice of all, necromancy, even Grey might not be able to pull her from the darkness.
✩✮✩✮✩
So these are the books we can't wait to be released this month! Are you excited about any of these releases too? Or is there a book we missed that we should definitely check out? Let us know. ♥
Related Posts